Learn how you can use Plex Media Center to manage, stream and share all of your own media, and more from the net to just about any device you own
Plex Media Center is a freeware media center software that not only plays back most formats of the most common media types, but also does it across platforms and devices and even throws in an interface designed for large screensto make it one of the most powerful media center solutions we've come across.
What is Plex?
Plex or Plex Media Center is a partially open source, XBMC-like, freeware media center software which uses the 10-foot user interface (Interface designed for large screens). It expands the way in which you can play media on your devices by adding remote capabilities, and also providing a host of features thereby increasing functionality. It also allows you to manage and play videos, photos, music, movies and podcasts efficiently. The main component of Plex is its front end Plex Media Center which operates from a local or remote computer running the Plex Media Server. Plex also has an integrated online service which provides plugins for online content from sites such as Netflix, CNN etc. The best part about using Plex is that it works directly from your browser and supports a range of multimedia formats and as a media center it can play most audio and video file formats. It can also display and play content from sources such as USB Flash drives, CD/DVD-ROM drives, internet sources and also your local area network. The software also supports HD video decoding of H.264 video files. You can control Plex using mobile apps too. So in a nutshell you can stream your added content remotely from portable iOS or Android devices or at a computer terminal by just getting logged into your Plex Media Server.
Getting started with Plex Media Center
Before you start using Plex, you first need to set it up by downloading it. So head over to and download Plex for your particular operating system. Once you've finished downloading it, you should start the Plex installation wizard and complete the installation. It may ask you to provide permission for installing "Bonjour x86" , which is a component of Plex, so choose "Yes" and finish the setup.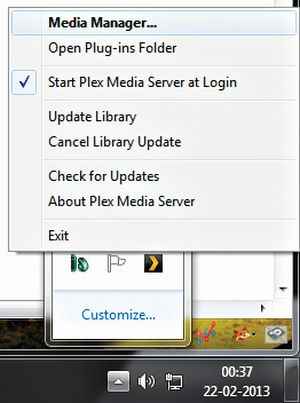 Select Media Manager from Plex's tray icon
When you finish installation, a Plex icon gets added to your system tray in the notifications area. You need to right-click the icon and select "Media Manager". You'll notice that your default web browser opens up and you are greeted by Plex. Now you need to register yourself by providing your email ID and other credentials. Once you have an ID, login to your account and assign a name for your media server by going into Preferences (even when you don't assign a name for your server, Plex adds your default system name as the Media Server name)
Adding content to your Plex Media Server
Now you'll have to start adding content to your Plex Media Server for streaming. Start by adding movies, music, videos and photos from your computer by browsing for files and selecting folders which contain such media. For e.g. To add a particular movie to your Plex Media Server, Click "Add Section" or " " button on your Library menu > Select the type of Media (in this case Movies) > Name your Movie Library > Click "Add Folder". Browse for your Movies folder on your computer, then select a particular folder which has your desired content. Add Folder > Add Section. When you finish this process,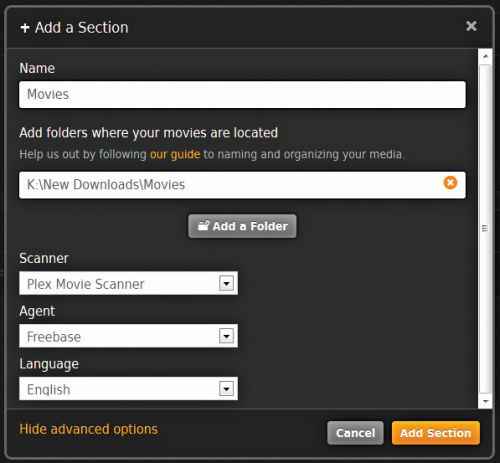 Follow the easy instructions and add content to your Library
Plex Media Server starts scanning the selected files for content and adds them to your Movies library. You need to follow the same procedure to add any other type of media on Plex. Once media is added to your "Media Library", Plex downloads the media information for all of the added content from the Internet.
Managing content
One of the many uses of Plex is that you can manage your added media contentvery efficiently. To do this Plex provides users with the option to add sections in your library. Using sections, you can separate files and distribute them to where you want them to be or you can just organise your library. If you have selected a wrong path or a wrong folder for your section, don't worry as you can select "Edit Section" and change the path of the section to the one you desire. Or if you don't need a particular section of the Library on your Plex Media Server, you can delete the section altogether. You also have an option to refresh a section and let Plex see if there are any changes in your folders and let Plex update the Media library accordingly. Selecting "Turbo Scan" will quick scan the provided path for changes and selecting "Deep Scan" will scan the system thoroughly for even the most minute changes.
When inside a section in your library, you can use the various sorting features to sort your files according to the added dates, release date, name, rating, duration and also resolution. Users can also filter the content based on various parameters such as Genre, Year, Actor, Director etc. which makes managing and consuming your content a child's play. Plex Media Server also provides users with an "Analyze Media" option which analyzes all media in the library section and captures information about how to optimally playback the media. Real time updation features of Plex downloads information about all the media files from the internet.
Streaming Internet content
You can not only add your local media folders to Plex but also add video channels from a list of channels within the Server. Once you select a channel, Plex patches that channel onto your Channel grid and you can stream videos from the selected channels, it's that simple.
If for eg., you want to add Youtube or TED to your list of channels, just head over to your Plex Media Server > Click "Add Channel" > Select the desired channel (in this case Youtube or TED) > Click "Install". Once installed you can browse the added channel.
Sharing media content using myPlex
Plex also provides users some social elements as using Plex you can share your media content with others; but doing so, requires a myPlex account. You can log in to "myPlex" using your previously created Plex account details in the Plex Media Server. Once signed into myPlex, check "Publish Server" (not required in some cases where Plex automatically selects this as default) and your media content is available for sharing. You can then add friends by sending them invitations and even get recommendations.
myPlex also provides you with a "Plex it!" button which you need to drag across to your bookmarks bar and save. With it you can save a video to your queue just by clicking the "Plex it!" bookmark and the video on the current page gets added to the queue and you get notified about this by a panel which appears on the left side of the web page. This is very similar to how some Read-it-later apps and extensions work. Your myPlex account also provides you with the functionality of Emailing your desired video page by just sending it to your "unique queue email address" which is shown at the bottom of your myPlex home page. Every link which you send to this particular address gets added to your myPlex queue. You can save this unique queue email address and email links from your iPhone, iPad or your Android device.

Drag this button to your bookmark bar from your myPlex page
Using Plex on DLNA enabled devices
Since Plex is a cross platform enabled Media Center, it also has support for DLNA devices. You can enable DLNA and use Plex to stream internet channels to several portable devices.
To enable DLNA, go to Settings > Plex Media Server > "DLNA" > Check "enable DLNA" > Save.
You can also select the advanced options in this sub-menu and edit DLNA client preferences to use more features. Installing the Plex Media Center on your portable devices adds DLNA functionality for using Plex.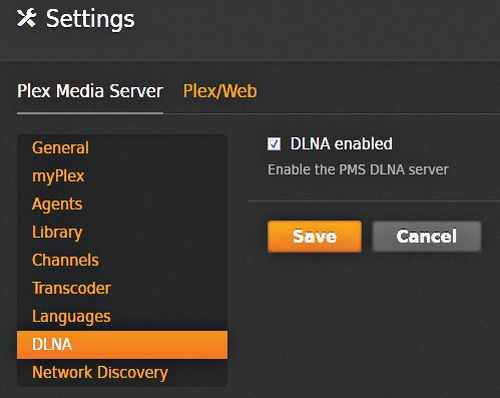 The DLNA Settings page
Other features of Plex
You can download and install the paid and premium version of Plex for your respective Android or iOS smartphones and tablets and enjoy using Plex in its full glory on a portable device. You can also download the free Plex Remote app from the Google Play Store or the Apple App store and patch your iOS or Android device to your Plex Media server. You just need to enter your server name and IP address on your device and it will then enable you to control playback or selection using your mobile device. It really makes the job easy.
Video transcoding options can also be tweaked in the "Settings" menu on your Plex Media Server to allow for higher bitrates for better connections.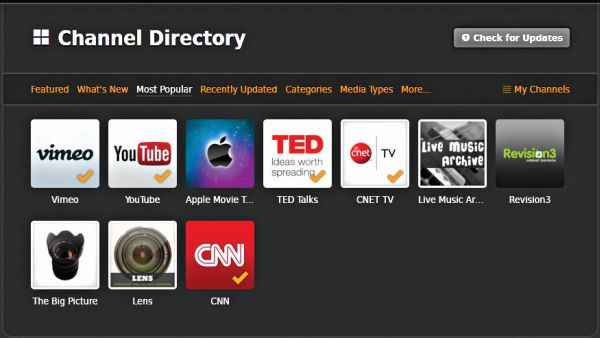 This is how the Plex Channel directory looks like
Plex Plug-ins
Plex being a versatile media centre also allows for installation of third party plug-ins for better use and improving functionality. Some of the Plex plug-ins offer extended support for Televisions running Plex Media center. A few of the widely used Plex plugins are - NBC Olympics, Flickr and Feed Me. You can find moreplug-ins here:
http://dgit.in/Xsq3fv