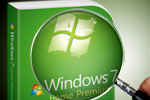 Ready for Windows 7 SP1? The final version of Microsoft's first update pack for its Windows 7 operating system should be arriving soon for end users, as the company has indicated that the final build of SP1 is already in the hands of original equipment manufacturers (OEMs).
A posting to Microsoft's Russian Technet website confirmed this fact and said that SP1 would be released publicly on Friday, but it was unclear at the time whether Microsoft was referring to a batch of partners or a full Web release of the update pack. Since Microsoft typically releases its major updates on "Patch Tuesday," as it's called, consumers will have to wait until January 18, at the earliest, to see the arrival of Windows 7 SP1.
More fuel toward the speculation of a January SP1 release was added in November, when Microsoft launched its Service Pack Blocker Tool—a software program that businesses can use to prevent machines from automatically updating to a new incarnation of the OS for up to 12 months from its release. If the company sticks to the scheduling of year's past, the Service Pack Blocker Tool typically arrives two months before the release of the final service pack to the public.
[RELATED_ARTICLE]And several Torrent sites are already allegedly hosting the final build of SP1: 7601.17514.win7sp1_rtm.101119-1850. We recommend you wait until the final version comes through Microsoft itself, as to confirm that you're getting the correct batch of modifications to your operating system versus, say, a Trojan-infected mess.
Just how much you'll actually have to download, however, remains up in the air. It's been roughly three months since the launch of the SP1 release candidate, which clocked in 860 megabytes of patches, fixes, and updates for the operating system. There's been no word out of Microsoft as to how the various tweaks to the operating system made since then will affect the final size of the update package—the Torrent version, so far, clocks in at 1.40 gigabytes.
However, the contents of which is expected to remain unchanged from Microsoft's initial position: Unlike SP1 packs for previous operating systems, Windows 7 SP1 isn't going to come bundled with a host of new features. For most consumers, it's updates-only on this one, folks: security fixes, bug squashing, and general tweaks to the operating system.

Copyright © 2010 Ziff Davis Publishing Holdings Inc.