Yes, Thinkdigit.com is now Digit.in
For the past 13 years, we've been steadfast in our mission to be your most trusted friend when it comes to everything you may want to or should know about technology. That's why we are thrilled (and dare we say, proud) to reveal this brand new version of Digit. We're now simply, Digit, a name that almost everyone interested in technology over the last decade (and more) has grown familiar with. We are celebrating our 13th anniversary with this spanking new website, which has been re-engineered for a better experience. Here's a quick walk through of what has changed and how we intend to deliver a much improved online version of Digit with our new site- digit.in
Responsive design
Digit.in is tailored for a seamless experience across all device form factors. By going responsive, we are ensuring the best viewing experience and easy navigation across desktops, laptops, smartphones and tablets.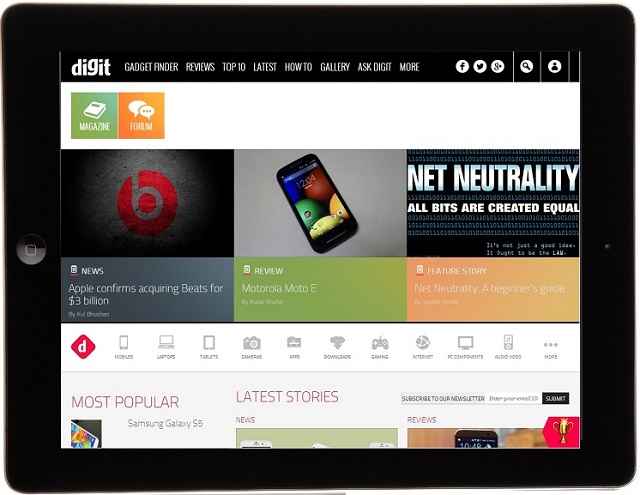 Infinite scroll
With Infinite scroll you can feed your voracious appetite for consuming content on mobile devices as our new site loads more content as you scroll down the screen. If you're in the mood to browse through headlines, you no longer need to leave our homepage! Just keep scrolling the page and the stories will keep flowing on and on and on...
Find, Compare and Buy gadgets
The all new Gadget Finder will ensure that you find any gadget you're looking for effortlessly and quickly. We've also added a bunch of filters just in case you want to really be precise about what you're looking for. Our comparison engine with visual representation of key specifications make it easy for you to spot the difference via a single glance. And yes, we haven't ignored the pricing bit- every product in our database has pricing info from popular online stores.

Got a question? Just use "Ask Digit"
We know how frustrating it can be when your tech doesn't work the way it's supposed to. With Ask Digit, you can post your questions and have them answered by both, the Digit team and senior community members. Ask Digit is an easy to use tool, simply click on the "Ask Digit" option from the top site navigation bar, punch in your query and it's done!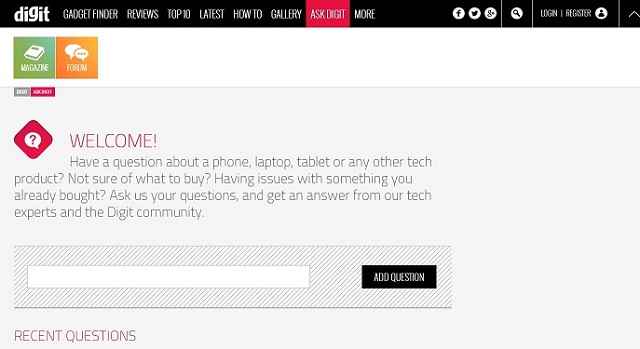 Single Sign-On system
Existing forum members can simply logon to the site using their current ids to make use of the new site features (commenting, discussions, rewards program, contests and more). Existing forum members are required to click on the fourth icon highlighted in the image below to sign-in with their id. While new members can register for all special site features and our forum via a single sign-on system. Our single sign-on module supports social media profiles, making registering a one-click process!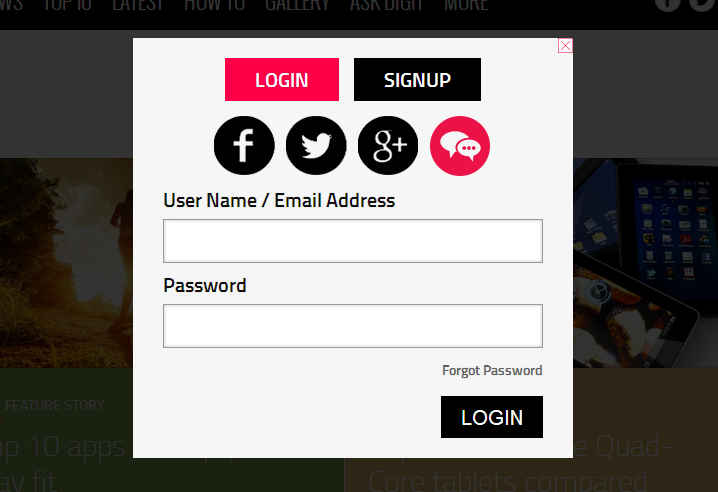 More Content Types
Digit Top 10 is a result of your ever increasing love for our product shootouts. Find the best products across all popular product categories on the basis of ratings and reviews from Digit Test Lab experts. Don't miss our new "Top Apps" section to get a curated list of the best apps across multiple categories and platforms. Android, iOS & Windows Phone, we've got it all covered!

Slideshows and Video stories
With the new site, we are focusing a lot more on visual stories. We encourage you to checkout some of our latest slideshow features that showcase latest gadgets, product comparisons and even offer visual buying guides.
Larger, More Gorgeous Images
We know sometimes you just want to look at cool photos of the latest and hottest gadgets. Keeping that in mind, we've made sure that every story is complemented by a large, good looking image to make your reading experience all the more pleasurable.
Always-on Navigation Bar
The new universal navigation bar will always be around in the browser frame, making it easy for you to quickly jump to different sections.
Search
We have fine-tuned our search engine to give you relevant results which are sorted by content types, making it easy to find the content that you are looking for.
Rewards Program
Yes, Digit readers get rewarded for reading, sharing, commenting and engaging with the site. Register yourself on the site and see the points ticker take-off as you spend more time on the site. Move up the ranks as your status changes from a "Beginner" to a "Tech Guru" and avail special benefits for being one!
We've spent quite a bit of time bringing the new Digit.in to your browser and we really hope you like it. However, you may run across some bugs while browsing the site. Do point them out to us on email at editor@digit.in
Soham Raninga
Online Editor, Digit
editor@digit.in
Other Popular Deals
Samsung Galaxy J8 (2018) 64 GB...

Rs. 14391 *

Buy Now

Redmi 5 (Black, 3GB RAM, 32GB...

Rs. 9999

Buy Now

Honor 8 Lite 64 GB (Black)

Rs. 12253 *

Buy Now
*Includes Cashback
​