So you think Google, Yahoo and Bing are the only search engines around? Well, you aren't entirely wrong, but five-year old Twitter too has a search functionality, and although it may not be comparable to the search giants, it still serves over a billion search queries a day. On Twitter, a search can be for a particular term, but more often it is for a term which begins with a hashtag.
Twitter recently changed to a Java server called Blender, which has reportedly made its search function upto three times faster.
Seen below is a graph, which Twitter engineer Krishna Gade has used to illustrate the drop in search latencies. The week prior to launching Blender, the search queries around the Japan tsunami and the earthquake resulted in a spike in the latency.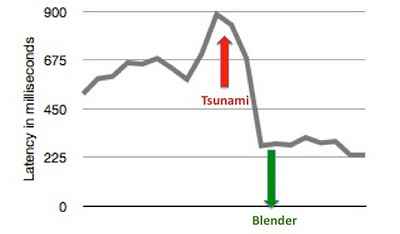 According to the Twitter Engineering blog, the search latency has come down from 800ms to around 250ms and the CPU load on the front-end servers has been cut into half. This essentially means that Twitter can handle more requests per machine, thus requiring investment in fewer servers and a fast response.
To know more about the inefficiencies of the former Ruby-on-Rails front-end servers and how present day Blender works go here.

Hopefully, now we should expect less encounters with the (in)famous Twitter fail whale.