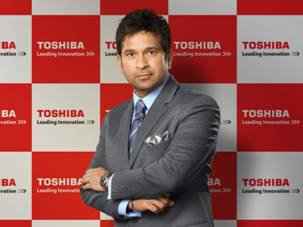 Toshiba Corporation has reportedly roped in the "Master Blaster" and "The Legendary Genius", Sachin Tendulkar as its brand ambassador across its wide range of product categories like: laptops, LCD TVs, Home Appliances and for establishing corporate brand image in India. Sachin is a globally acclaimed Indian cricketer who has built his reputation over a couple of decades, with his innumerable records and glorious achievements in the cricketing arena and often single-handedly winning the match for his team.
With Sachin at the helm as the brand ambassador, Toshiba is all set to receive the psychological boost for launching an extensive cross-product media campaign and conveying the message of "Excellence in Quality, Technology & Design".
Justifying the reasons for choosing Sachin as Toshiba's brand ambassador for India, Mr. Kenji Urai, Managing Director, Toshiba India Private Limited has reportedly said, "Cricket is the most popular sport in India and Sachin, the most formidable and popular cricketer, is an influential figure. His cricketing achievements and constant quest for high performance is in line with Toshiba's "Leading Innovation" tagline, where Toshiba aims to offer products with innovation in high Quality, leading-edge Technology and stylish Design.
Speaking of his brand endorsement for Toshiba, Sachin Tendulkar has reportedly stated, "Toshiba is all about excellence in Quality, Technology and Design. They believe in perfection and innovation which has also been the guiding force throughout my career. I am extremely happy to be a part of Toshiba family."
Holding the reigns as the brand ambassador for Toshiba, Sachin is proposed to feature in Toshiba advertisements across major media sources for its laptops, LCD TVs and home appliances. It has been deemed that Toshiba's leading technology and quality, coupled with the iconic image of Sachin's prowess in cricket, would bring positive results and success for the brand.