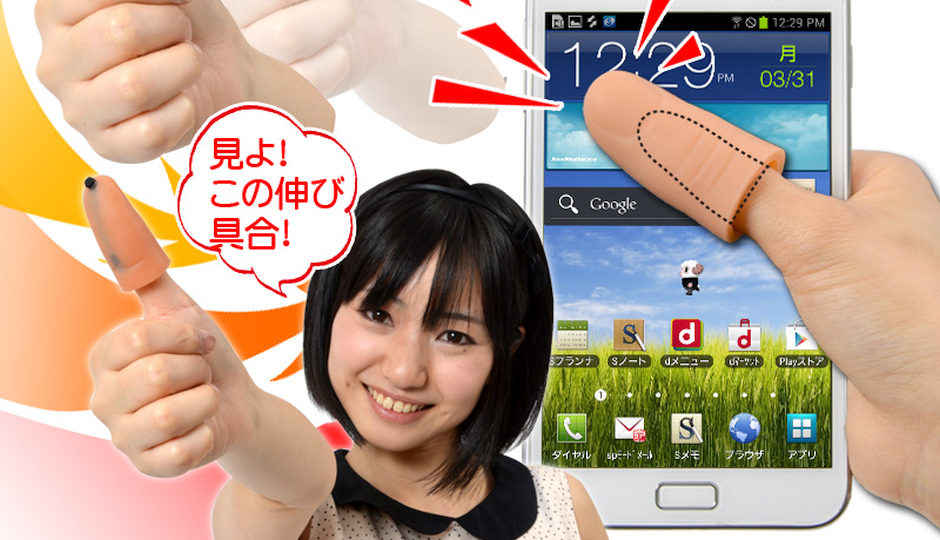 With smartphone displays becoming bigger and bigger, it has become difficult for some users to use their gigantic screen. To solve this problem, a Japanese manufacturer Thanko, has launched a thumb-shaped stylus, designed for smartphones that can extend your finger by .59 inches.
Smartphone screens have become considerably bigger in the last few years, with manufacturers launching devices that are as large as some 7-inch tablets, while some are even bigger. Large displays are good for watching movies, surfing the web, viewing photos, and playing games on. But if you have small hands, then trying to use your smartphone with one hand can be pretty frustrating.
Thanko, a Japan-based manufacturer has come up with a unique product- a thumb shaped stylus made entirely of silicon, that looks like a prosthetic that can extend your thumb by 15mm (.59) inch and make it easy to reach across big screens. The thumb extender weighs 11 grams and costs approximately $15.
This product may actually prove useful for people who want to operate their phablets with one hand. For now the product is only available in Japan, so you might not get a chance to buy it anytime soon. Thanko has previously launched products like the Thanko Flick Finger Mouse, a gesture controlled device that you can put on your finger and manipulate your PC without touching it.
Do you think that this thumb extender stylus is a great idea? Share your views in the comments section below.
Source: Thanko.jp