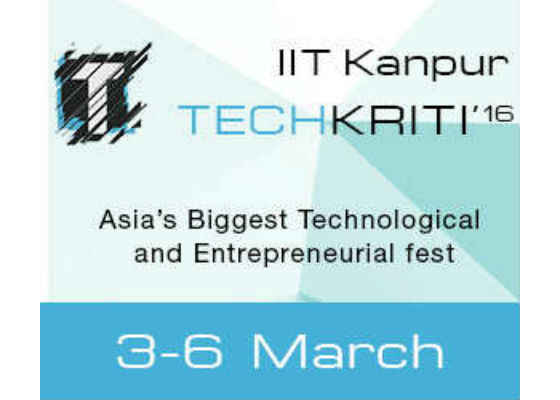 1. Gesture controlled Gaming:
Imagine flicking your finger and having a character unleash a volley of bullets on a screen. This is the experience of gesture controlled gaming. See it happen this Techkriti '16 in this exhibition.
2. Smart Vehicle Expo:
Everyone likes the idea of innovative vehicles and this exhibition brings them to you.
Hovertrax is a portable, double-wheeled, self-balancing device that reacts to every move made with superior stabilisation.
A mono-wheel bike is a one-wheeled single-track vehicle similar to a unicycle.
Solowheel is a self-balancing one-wheeled electric vehicle for personal transportation.
See a concise display of these vehicles in this exhibition.
3. Super bikes expo:
Bikes are the epitome of 'cool' and thus, we bring to you this exhibition where you will see the coolest bikes that are around.
4. Smart Technology expo:
Ever wondered how to turn your problems around and provide smart, technological solutions? See it happen in action with the WiFi Dustbin and Charging Valet tray.
The WiFi Dustbin is the brainchild of Prateek Agarwal and Raj Desai. When someone puts trash in the bin, the bin flashes a unique code, which can be used to gain access to free WiFi. This innovative idea was inspired by systems in countries like Denmark and Finland.
A Charging Valet tray is a unique device that allows the charging of smartphones and other devices without having to plug them in power sockets.
5. Smart Technologies:
Tech aficionados, gear up for this exhibition, which will bring to you technological wonders such as Manav, bionic arm, autonomous drones and brain sensing.
Manav is India's first 3D printed humanoid robot which was developed in the laboratory of A-SET Training and Research Institutes by Diwakar Vaish (head Robotics and Research, A-SET Training and Research Institutes) in late December 2014.
Bionic arms are an amalgamation of technology and biology that culminate into a device which has the functionality of a human arm and can be used as prosthetics.
Who doesn't know about the joy and wonder automated drones bring to us when we watch them fly? Come and see this wonder unfold in this exhibition.
6. Automated Chess:
For all the chess enthusiasts, Techkriti '16 brings to you an exhibition on automated chess. Be ready to marvel at the technology at work, which is a completely automated chess board that enables the user to play chess against a computer and even against a human opponent present at any place in the world via the internet on a physical board.
7. Golf Simulator
Prepare to be enthralled by a golf simulator this Techkriti and let your sporty side rejoice.
8. Vintage Car expo
Car lovers will be tantalized by this exhibition which includes a 1914 Rolls Royce, a 1918 Rolls Royce, a 1934 Ford and a 1944 Ford.
Other Popular Deals
Samsung A7 2016 Edition Golden

Rs. 18990 *

Buy Now

Nokia 1 (Dark Blue, 1GB RAM,...

Rs. 4000

Buy Now

Redmi Note 5 Pro (Gold, 4GB...

Rs. 12450

Buy Now
*Includes Cashback
​