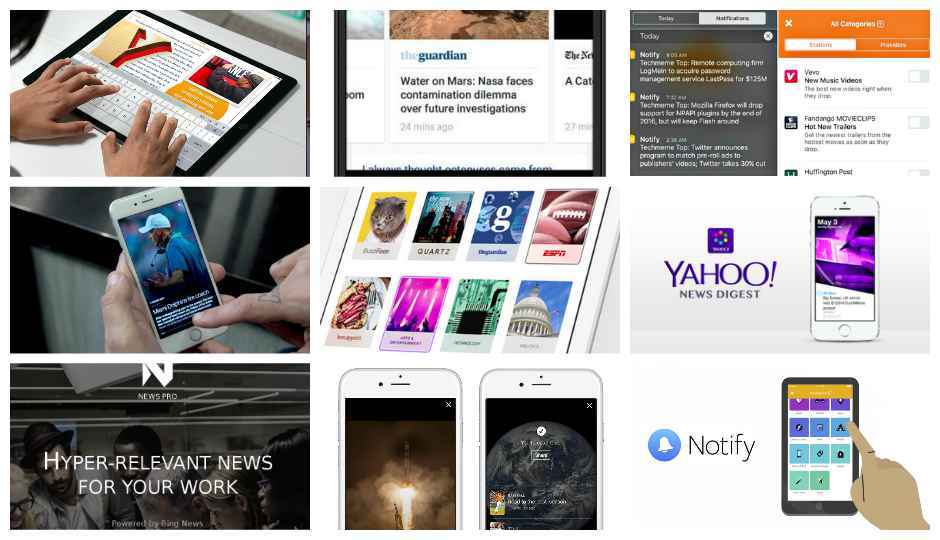 Before a magazine or a newspaper comes into being, it goes through various painstaking processes. Reporters are deployed, articles are written, images are curated, font sizes are decided, complex software is used to create visually appealing covers and finally content is printed and distributed for you to enjoy. But, things have changed. Haven't they?

While many print publictations still follow this cumbersome process just to get news to the few who still read physical copies, the real content consumption no longer happens at the publisher's end. It happens in places like Facebook or Twitter or Google or Apple or Yahoo, or the slew of apps that promise to keep us updated and connected every second of our lives.

The new newsmakers
Tech companies are known to adopt creative marketing strategies and right now, the trend is clearly tilting towards monetising user content. In the recent past, we have seen most major tech companies enter the news and media arena, pushing out publishers to retain as many of us as they can, on their own platforms.

Apple made its News app available with the rollout of iOS 9. "You no longer need to move from app to app to stay informed," says the page advertising the Apple News app on the company's website. The app presents users with contetnt from 70+ publishers including - The New York Times, New Yorker, Quartz, Vanity Fair and more. Apple News is also expected to adopt a subscription based model soon, allowing publishers to charge for their content.

Facebook introduced a standalone news app called 'Notify' in November. Notify includes content from the likes of CNN, Buzzfeed and other popular media publications. So whether you're into sports, celebrities, news, movies, music or shopping, Notify sends you notifications from selected "stations" across a variety of categories.

Google initiated the Accelerated Mobile Pages (AMP) platform to load content faster by providing programming infrastructure to publishers. The project relies on AMP HTML, a new open framework built entirely out of existing web technologies, which allows websites to build light-weight webpages. Nearly 30 global publishers signed up for the AMP initiative

Twitter launched the Moments service to provide users with curated Tweets from top stories. There is also an option of integrating the Periscope app, which allows live-streaming and viewing of content. The company is also planning to go beyond its 140 character limit, which could then be another viable place to offer news content.

Microsoft has also been in the news distribution market for a while and has just launched a new iOS news app called News Pro, which aims at providing users with news stories related to their work.

Yahoo has been a news player for a long time now and runs apps such as the Yahoo News Digest, to offer political, entertainmnet, tech and other such stories

Clearly, competition is heating up in the content space but the battle is ensuing not between publishers and publications, but between tech companies vying for our attention. It's also no surprise that the most popular interface will win this battle. The only question is - which one?

So, what does this mean for the content of the future?

It is a well known fact that the internet and the avenues of its access are only going to expand in the future. For tech companies to build content, it's as simple as a handshake with content publishers and then building some code. Every major tech company that we engage with today is feeding us with our daily dose of information and admit it or not, we are addicted. What would Facebook be without a customised news feed and autoplay videos? What would Twitter be if media companies decided to delist from the platform and start their own? Obviously, the popularity of these platforms will ensure such a situation never occurs, but it makes for a grave realisaton - Not only the data generated by us but also the data consumed by us, is (and will be in the future) largely controlled by the technology industry.
---
Did You Know: Amazon and Netflix are this year's biggest buyers of films and documentaries showcased at the Sundance film festival .
---
Interestingly enough, if reading content curated by tech companies is a disturbing fact, what's more worrying is the fact that all these tech companies are also pushing to provide internet services. Facebook has Free Basics, Google has its Loon project, Microsoft is partnering with local governments to provide free WiFi hotspots. So now, not only are tech companies our content providers but they will soon be responsible for providing us with internet access as well. Hence, it is absolutely neccessary for us as consumers to make an informed choice when relying on tech platforms for news consumption. But, is the choice really ours to make?
Other Popular Deals
Samsung A7 2016 Edition Golden

Rs. 18990 *

Buy Now

Mi A2 (Black, 4GB RAM, 64GB...

Rs. 13999

Buy Now

Redmi Y2 (Gold, 3GB RAM, 32GB...

Rs. 7999

Buy Now
*Includes Cashback
​