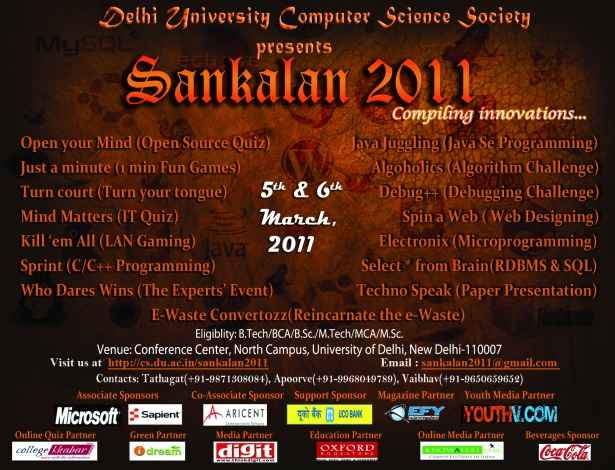 Sankalan, the annual technical festival of the Department of Computer Science, University of Delhi, is an amalgamation of diverse people, various events and numerous fields of information technology.
Sankalan is not just a technical event but a platform which brings together ingenious minds that can showcase their exuberant talents. One of the most prestigious technical festivals in India, the fest has been associated with eminent guests, exciting (and excited) participants, as well as esteemed dignitaries from the education and IT industry. Moreover, many feel that the air of transparency and simplicity of the whole fest and its processes mark the uniqueness of the event.
Some participants fancy their chances in coding events while others like to outperform in Turn Court. Some express their technical thoughts through a paper presentation while others display their interest in LAN gaming. This very diversity in the events is what many feel make Sankalan a larger than life experience, where flair and talent can be seen in its multifarious forms. Inspiring talks through professionals and knowledge sharing by technical gurus also leave an impact in the minds of aspiring engineers and technocrats.
[RELATED_ARTICLE]Some consider the grandeur of Sankalan to be best seen in its fast rising student participation every year. The growth has been exponential. With the likes of Microsoft and Aricent, many renowned companies have endowed Sankalan's events from time to time. I-Dream has also helped them to make the festival a clean and green one, which would recycle all its e-waste.
This year's Sankalan seeks to embed the theme of Open Source, and thereby open its door to a new era, a newer world. An initiative is taken to emerge with free thoughts and sharing the knowledge worldwide.
The organisers of Sankalan 2011 envision a splendid performance of participants this time around, and have endeavored to provide attendees with the best. They have striven to "emerge with a perfect blend of learning and fun in the form of exciting and energetic events." Sankalan 2011 welcomes all on 5th and 6th March 2011, and to join in the celebrations of a new and open world.
May the Source be with you!