Reports of burglaries have become so common in the media that they have started sounding clichéd to the denizens of our urban concrete jungle. Quite often burglaries entail not just loss of material wealth, but also the very tragic loss of lives. Then there is the threat posed by fire. Most of the buildings are typically encumbered with myriad elements that can easily serve as a catalyst for a fire to break out. While many of us follow the method of security known as "let's pray to God that nothing bad will happen to our home or office," a multitude of electronic security solutions are available to protect our precious belongings from falling prey to fire or burglary. When Robin Sinha bought his house in New Delhi, he wanted to have an extra layer of safety to protect his wife and one year old kid, during the hours that he would be away working in his office.
"The crime rate in my city continues to go up on a day-to-day basis, and I didn't want to take any chances," he says, "so I decided to go in for Electronic Security, which comprises CCTV system at the main door, and an alarm system." Today, there is simply no dearth of excellent security systems that incorporate hi-tech wizardry of next-gen electronics. With many companies in the fray, for making and marketing such systems, there is enough competition to keep prices at a reasonable level. Electronic security systems are available to suit all kinds of needs and budgets. Robin Sinha is a middle class IT professional, but the amount that he spent in installing the security system in his house has, in his own reasoning, turned out to be worth the peae of mind and the new sense of security that he and his family can now bask in.
Two Indian companies, Zicom and Micro Technologies, have garnered a lot of buzz when it comes to electronic security devices. They are into providing tools for home and office security and prevention of vehicle theft. You can buy their systems online or from myriad retail outlets across the country. Some of the equipment that these companies manufacture certainly seems conducive to raising the confidence levels of residents. For instance, with Zicom Safehomes, the company is offering an "i-alert 24/7 service." This is an emergency response system that is active 24x7, 365 days. If any emergency situation is detected in your house, the system immediately sends a signal to the i-alert 24x7 service for appropriate action. Similarly, Micro Technologies, in its home security system, is offering an emergency SMS service, through which you can receive alerts.
A congested modern urban environment can easily turn into the breeding ground for myriad threats and so it makes sense for the residents and office owners to take assistance of electronic security measures.
Keeping the home safe
Imagine the plight of a family that in the thick of night is sleeping soundly at home, when out of nowhere a gang of burglars turn up. Soon the family is tied up, and the burglars have a free run of the house. In order to avoid such an eventuality we need to stop burglars from gaining entry. That is where electronic devices such as magnetic sensors, glass break detectors and microwave motion detectors, come in. These are efficient in foiling intrusion attempts. The Microwave Motion Detector uses sophisticated technology to detect human body movement within the range of a protected area. The digital processing used in this system ensures high level of immunity from false alarms. In case of an intrusion, a loud hooter (enough to be heard in the entire building), will go off. If such an arrangement is in place, alerts are sent to a 24/7 monitoring station and in the form of SMS to the subscribed numbers.
Another interesting item for home security is the CCTV system. This system of two-way communication is a great tool for viewing and interacting with any visitor without having to open the door. You can observe suspicious movements outside your door by activating the camera through the indoor unit. The system comes in many different models from which the user can choose after taking into consideration the budget and safety requirements of a house. For safety from fire related hazards, you can also opt for smoke detectors and the gas leak detectors. However, smoke detectors may not be useful in a house where people smoke as cigarette smoke is notoriously prone to triggering the system. All electronic security systems must draw their power through the grid, so somewhere down the line there's going to be an addition to electricity bills.
Residents in high-rise buildings can go in for a product, which in the lexicon of electronic surveillance is known as multi-apartment video door phone. The main advantage of this system is that it provides two layers of security - the first at the building's gate, and the second at the resident's door. The system envisages a panel at the main gate of the building that has a keypad on which any visitor has to press the number of the apartment he intends to visit. This will lead to a chime in the home unit of the desired apartment. The main advantage of this system is that it performs the task of a watchman. You don't have to hire extra security personnel either, and the building saves money that it would normally pay as watchman's salary. When a visitor arrives at the gate, and he presses the number of the apartment, the owner of that apartment will be able to talk to the visitor via intercom and verify their identity. After that the owner presses a button in the interface while in the apartment to open the main gate.
As most of these systems are powered by rechargeable batteries, they're not affected by power cuts. However, once the systems are installed in their homes, home owners have to ensure that the rechargeable batteries are working in perfect order. The most common mistake that people make is that they don't take maintenance too seriously. There could also be dispute between different members of the society over who would actually foot the bill for a system such as a multi-apartment video door phone. But if installed properly, and maintained at regular intervals, such a system can definitely add to the sense of security.
Car Security
In USA, a car is stolen every 26 seconds, and in urban India the trend is not encouraging either. The good news is that most of the car thieves are low-tech guys and can be beaten at their game with the use of multiple security solutions. In India, the most common car theft system in use is the one with a loud siren, alerting the driver, who hopefully is within earshot. The siren can be triggered due to unauthorised entry, glass breakage, sudden movement, and perimeter violation.

Vehicle owners can also opt for mechanical immobilisers and electronic immobilisers that will completely lock the vehicle's engine in case the system detects any kind of foul play. Some car companies currently offer a system, where a GPS device comes hidden in the vehicle. In case of theft, the GPS system can be activated through remote control and used for tracking the vehicle.
Securing the Office Space
The threats that an office faces from a burglar or from an element like fire is the same as residential premises. So essentially, you can install similar devices in offices too. The only thing is that the office security systems will have to take into account specific factors such as the number of employees working at the facility, the surface area, and entry and exit points in the complex. After a study of such factors, a security system that is unique to the needs of the facility can be developed. If the office is processing lot of sensitive information, then systems such as mobile signal jammers can also be used. In fact Zicom is currently offering a private mobile signal jammer, which is capable of jamming cellular network in its vicinity. Then there are CCTV systems that incorporate latest IP network technology, and make it is possible for you to have a view of what is happening in the premises from any part of the world.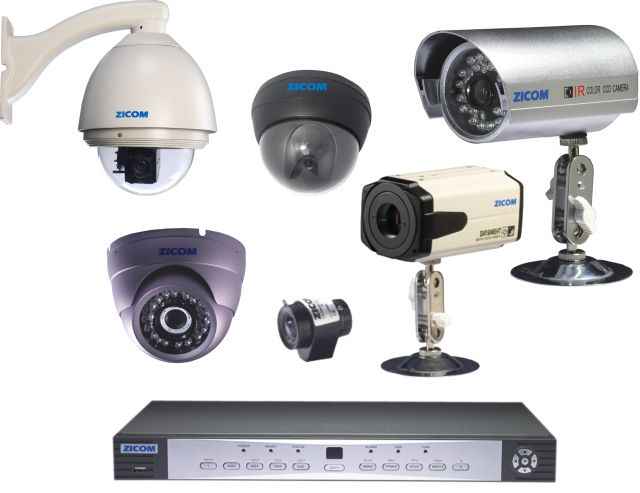 In case of an intrusion or any untoward incident there will be video evidence, available on a user-friendly interface from which you can chronologically retrieve data and use it to aid investigation. A biometric access control system is fairly common these days and is used in several large complexes to identify employees. Identification can also be done through retina scan, which is considered most secure. However, every new layer of security that an office installs might also have the effect of slowing down the day-to-day functions of the establishment. So to remain efficient, a business organisation has to develop an electronic system that is capable of seamlessly processing large numbers of employees and visitors. In large factories and in establishments such as airports, railways stations, across the country such systems are already in place.
With sensible usage of electronic security systems, we can easily ensure that the horrors surrounding losses arising from theft or fire can be avoided to a large extent.
Interview with Anand Swaminathan, Director, Zicom Retails
What kind security system do you think a normal middle class home needs to install?
There are two types of security systems for a household namely - Home Alarm System and Video Door phone. While Video Door Phone is a stand-alone system to detect and prevent intrusion; 'Home Alarm System' is a holistic system, which protects a household on the parameters of intrusion, motion, glass break, fire and gas leak. In case an event is detected by the system, then the Hooter will start sounding an alarm.
How difficult is it to use and maintain such security systems?
It is not difficult at all to use these security systems, which come with user-friendly applications that are easy to operate. Like any other electronic items, they are susceptible to dust, moisture etc. so if proper care is taken and regular upkeep is maintained, then the system will keep on giving good service. Plus, Zicom also has an online trouble-shooting centre, where a user can get any query answered.
Tell us about your best-selling home security systems?
Video Door Phone is our best-selling home security system. This system gives you the ability to peep out of the front door from any room of the house and interact with the visitor without opening the door. We have an extensive range of aesthetically designed and elegant looking Video Door Phones to suit every buyer's need. The product range consists of Black & White with Handset, Black & White Hands free, Large Screen Colour Handsfree, and Large Screen Colour Handsfree with Photoframe.
What initiatives are you taking to bring about growth in your company?
We are focussing on penetrating deeper into the market. We plan to appoint 5000 dealers in the next 2-3 years. Our plan envisages a focus on corporate and institutional segment, where the business potential is very high. Recently we have put in place a direct sales team, which will exclusively focus on the builders and architects vertical.
Who is your main competitor in India?
Competition is getting hotter by the day, especially in the corporate segment. But the good news is that now we are seeing branded entrants in this market and so there is a level playing field unlike in the past, when we were having competition from unbranded Made in China products.
Other Popular Deals
Samsung A7 2016 Edition Golden

Rs. 18990 *

Buy Now

Redmi Y2 (Dark Grey, 4GB RAM,...

Rs. 10999

Buy Now

Redmi Note 5 Pro (Gold, 4GB...

Rs. 11999

Buy Now
*Includes Cashback
​