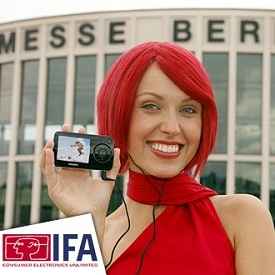 The hottest new tech is on display at the IFA technology trade show in Berlin this week and PCMag has been there to pass along all the juicy details. Here's a roundup of some of the top new products we've seen so far in Germany.
Tablets and 3D Headline the Show
Our
preview of IFA
offers the scoop on what everyone was buzzing about ahead of the show. That included 3D technology from the likes of LG, which has two new 23-inch 3D monitors, and Panasonic, which unveiled a prototype 3D Lumix camera and the HDC-Z10000 3D camcorder. Tablets are also big news at IFA, with Sony unveiling its Tablet P and Tablet S slates, while Samsung, Toshiba, Lenovo, and others are also offering peeks at their latest tablet devices.
Cloud Car from Ford
Like cars? Ford
unveiled the Evos
, a concept car that is a slick-looking fastback with DeLorean-style hinged gullwing doors and a lithium-ion plug-in "powersplit" hybrid powertrain that works with the cloud to maximize fuel efficiency. Using information about your predicted route, emission zone restrictions, and current weather conditions, the car would automatically know when to switch between electric and traditional fuel to save energy.
A Galaxy Not So Far Away
Samsung
expanded its Galaxy family
with the announcement of a 7.7-inch Galaxy Tab tablet, and the Galaxy Note, a smartphone that blurs the tablet-phone line with its sprawling 5-inch screen and bundled stylus for quick memo-taking, or what Samsung terms "free-idea capturing."
[RELATED_ARTICLE]
Android Touch, Anyone?
Aiming squarely at the app-happy iPod touch, Sony
showed off a prototype
of an Android-based Walkman music player at IFA. Basically, the player is an Android phone without the phone, and with beefed-up music-specific features, including a hook into Sony's cloud-based Music Unlimited Service, which serves up more than 10 million songs. The best part, though, is full access to all the apps in the Android store.
The Write Stuff
Smart for its simplicity,
the Boogie Board Rip eWriter
uses a no-power LCD with a stylus to let you jot down notes, illustrations, or anything you can scrawl, and transfer them to your computer where you can archive or share them as PDFs.
Thin is In from Toshiba
At 7.7mm (0.3 inches), Toshiba's
new 10.1-inch AT200 tablet
running Android Honeycomb is the thinnest tablet released so far. It even manages to out-svelte the super-skinny Samsung Galaxy Tab 10.1 by a millimeter. Toshiba had the AT200 tethered and locked to the table at its IFA booth, so it was tough to get a true feel of its weight, but at 19.7 ounces, it's certainly not heavy. And it manages to be lighter than the Galaxy Tab by 0.2 ounces despite its brushed-metal back, which is classier looking than the Galaxy Tab's plastic back panel.
Better 3D TV, But Still Not Great
Nine months ago Toshiba showed off one of the first television panels that delivered 3D content without glasses. The results were, well, mixed—a demo on a 65-inch 3D display at CES produced a wobbly, dizzying, and downright nauseating experience. Here at IFA, the company is
displaying the same panel technology
, but in a 55-inch screen that will make its debut in an actual HDTV, the 55ZL2, which will go on sale in Germany in December. The good news is that Toshiba has improved the panel so that the 3D is no longer physically painful to watch, but, sadly, it's still just not a great experience. Copyright © 2010 Ziff Davis Publishing Holdings Inc.