By Team Digit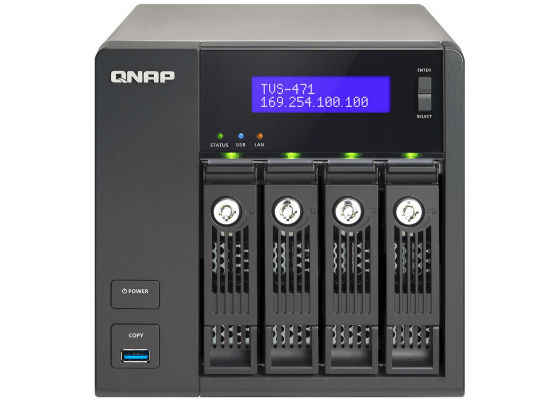 Previously we touched upon how video editing has gone mainstream and how you should get the right kind of storage for your video editing needs. We also looked at and highlighted QNAP's TVS-x71 series based TVS-471 Turbo vNAS storage solution which featured a host of amazingly useful features that make it a great choice for video editors. The QNAP TVS-471 is a really powerful and feature-rich NAS solution that is well built and is primarily designed for tasks that require quick Input/Output operations. If you're someone with quick storage needs then the TVS-471 with its high performance and a huge list of features is the storage solution that you should look for. It's also a good choice for small and medium-sized businesses (SMBs). Let's take a look at the specifications and features of the QNAP TVS-471 first and understand what it has to offer.
Features and Specifications:
The QNAP TVS-471 is the Turbo NAS solution that offers two different specifications namely:
The TVS-471-PT-4G which is powered by a Dual-core Intel G3250 processor running at 3.2GHz
And the model that we received that is the TVS-471-i3-4G which comes with a Dual-core Intel Core i3-4150 @3.5GHz
Apart from the difference in processors and a slight difference in their operating temperatures, both the variants of the QNAP TVS-471 Turbo NAS solution are identical in terms of features and specifications and you can take a look at the entire list of specifications at the end of this article.
Blazing fast performance:
The TVS-471 is powered by the Haswell based Intel Core i3 but Core i5 and Core i7 based options are also available. Since this NAS solution supports 6Gbps hard drives and 10Gb Ethernet, it can theoretically deliver up to 151,000 IOPS (Input/Output Operations Per Second) and over 2,300 MB/s throughput. As users have an option of selecting from among various processor configurations available depending on their demands, they can make sure that the option that they go for suits their use case scenario the best way possible. Especially because depending on tasks like real-time 4K video playback or transcoding and even running a virtualization station, a user can select what he/she requires.
Be the boss of video:
Since the TVS-x71 series of NAS solutions are completely 4K ready, the hardware on them allows you to seamlessly play 4K, 2K, 1080p and 720p videos. The system is also capable of delivering amazing real-time 4K and 1080p video conversion or transcoding while also allowing multiple connected users or clients to do the same. Using the various utilities that are provided by QNAP, you can further extend the video playback and storage functionalities of this NAS system apart from transcoding.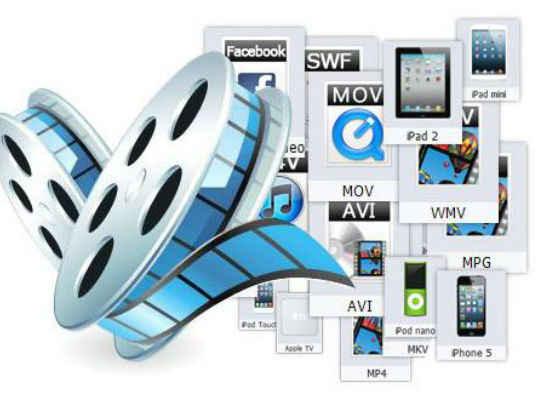 Caption: The TVS-471 is a bliss especially when it comes to using it mainly for video purposes. It's a powerful toy for discerning video editors
Real-time Remote Replication (RTRR):
Using Real-time Remote Replication built into the TVS-x71 series of NAS Solutions, you can easily backup, share and manage data which is really helpful. It also allows for scheduled data backup to a remote FTP server or even a remotely connected Turbo NAS from a local folder which offers a lot of flexibility. You can also backup data to a remote server on a timely or scheduled basis using the built-in rsync protocol. Apart from the flexibility, you also save time because the backup time is decreased as well. Cloud services aren't ignored either as data can be backed up to cloud storage services such as Dropbox, Google Cloud, Microsoft Azure and many more with ease.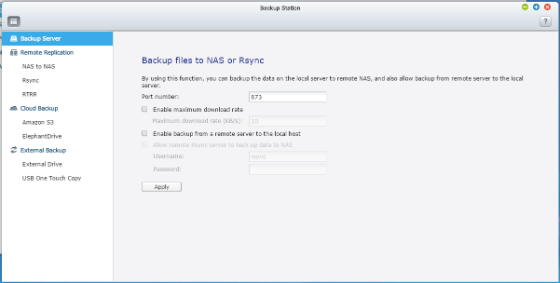 Caption: Using the Backup Station on the QNAP TVS-471
Security:
Security is a major aspect of any storage solution as it's very important to protect your data from potential threats. This is precisely why having powerful security on a storage solution is imperative. The QNAP TVS-x71 series of NAS solutions offer full NAS encryption using volume-based encryption technology which makes sure that the data stored on the solution is very well protected.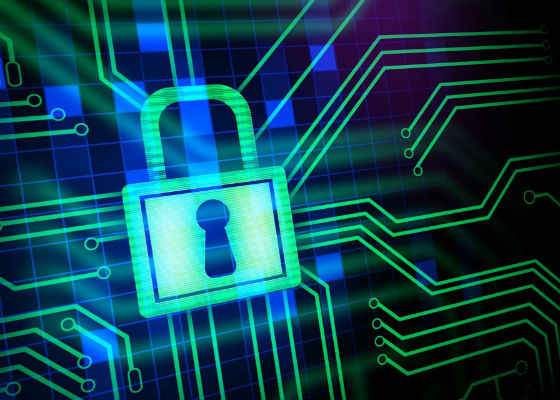 Caption: The QNAP TVS-471 offers complete NAS encryption for data security
Other interesting possibilities and roles for the QNAP TVS-471:
Even when we've spoken so much about the various features and specifications of the TVS-471, it doesn't end there. Apart from being a great choice as a storage solution for video editors, it can fit in other roles as well. Let's look at what other responsibilities the QNAP TVS-471 can stand up to, shall we:
Getting more out of the TVS-471 with virtualization:
When you already have a host of so many interesting features at your disposal, it's always a surprise to keep finding more that you can do with a device. In this case, the people at QNAP have made sure to add more functionality to the TVS-x71 series of NAS storage solutions by offering virtualization support. Using Virtualization Station which is composed of storage management and virtualization technology, users can turn the TVS-471 into an appliance server while also allowing you to install Virtual Machines (VMs) with operating systems like UNIX, Windows, Linux and even Android. This makes it easy for you to create and run multiple virtual machines and run multiple operating systems. What this does is cut down on costs for new physical servers as Virtual Machines let you do all you would want that too using only the NAS system. Using Virtualization Station to use the operating system of your choice makes it child's play as anyone can easily operate VMs on the QNAP TVS-471.

Caption: The Virtualization Station
A solution for high-end surveillance:
The QNAP TVS-x71 series of NAS solutions offer a wide range of possibilities and one of the interesting ones is providing a complete professional surveillance solution for continuous security. Everyone has something that's dear to them which is why it becomes important to safeguard it. Using the Surveillance Station application available for QNAP's Turbo NAS solutions, you can turn the TVS-471 into a high-end professional Network Video Recorder system that offers 24/7 recording, playback and real-time monitoring. The Surveillance Station also offers Intelligent Video Analytics (IVA) and supports more than 2,700 IP camera models. What's more is that you can use the Vcam app on your Android or iOS device to monitor any channel on the surveillance system while also letting you turn your smart portable mobile device into a network camera as well.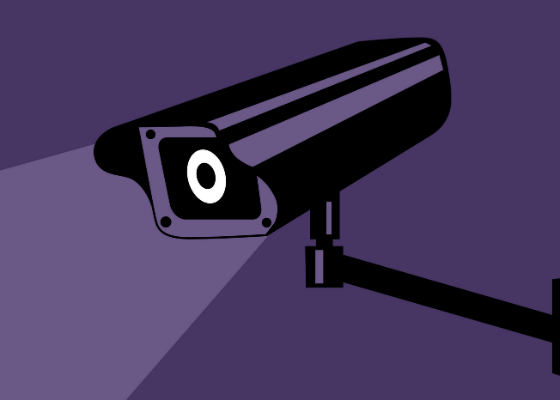 Caption: Surveillance Station provides a professional network surveillance system with plenty of important features.
Full-fledged PC functionality:
With the TVS-471, you not only buy an incredible Turbo NAS solution but you also get a fully functional PC because of QvPC technology that includes Virtual Machine integration, cloud integration and more. You just plug a monitor using an HDMI cable, plug in a keyboard and a mouse and you're good to go. Apart from that, you also get the option of installing and using various apps that are tailor-made for the TVS-471 to make your PC experience complete.
Possible configurations with the TVS-471:
Caching SSD based configuration:
Since the TVS-471 provides support for 2.5" drives including SSDs, it also supports SSD caching which not only increases performance by boosting IOPS but it also increases overall operational efficiency. You can ideally reduce the I/O latency by up to 3 times for your storage volumes on the NAS. Video editing or virtualisation for instance heavily demand quick IOPS which is why, having a SSD as a caching SSD paired with HDDs can work wonders as you not only get speed but you also save money.
Hot Spare:
Hot Spare can provide you a fail safe mechanism in case of a hard drive failure. You can use a drive as a hot spare in the array of drives setup in TVS-471 as the system supports RAID 5+ hot spare. Having a hot spare provides reliability as an active hot spare jumps into action instantly when a component fails. Thus making it sure that your system is reliable even in case of a failure.

Caption: Hot spare or hot standby system configuration
RAID:
Apart from regular direct drive configuration, you of course have the option of using RAID and the supported RAID types include Single Disk, JBOD, RAID 0, 1, 5, 6, 10, 5 + hot spare on the QNAP TVS-471. This gives you lot of flexibility as you can create a setup based on your demands. Be it simple backup or performance (speed based) optimisation or even both, you can configure the TVS-471 however you please.
Side-by-side comparison:
The setup:
In order to give you an example of the power and capabilities of the QNAP TVS-471, we did a side-by-side comparison of the device with one of our own local machine. Firstly, we setup the NAS by installing 4 x WD Red 5.0TB of drives in a RAID 0 configuration which essentially gave us around 10TB of quick storage space. And as we pointed out before, a fast storage solution is mandatory when it comes to video editing, and the TVS-471 panned out well. We must say that setting up and deploying the NAS was really easy and was done quite quickly. Then we moved on to set up our local PC which was powered by an Intel Core i7 3960X @3.3GHz coupled with 16GB RAM and was using Windows 8.1 as the Operating System. Then we proceeded to create and segregate our sample project files for Adobe Premiere Pro CS6 which had presets for video transcoding at various qualities along with a multi-layered and heavy project. We used Adobe Premiere Pro CS6 for this demonstration mainly because of the fact that it's one of the most widely used professional video editing software available. Adobe software like Photoshop, Premiere Pro and more have the option of enabling and using scratch disks which are nothing but a temporary storage space on a hard drive that the software can use for your project files while it's working on them. It's well known that dedicating a separate scratch disk especially for video editing purposes in Premiere Pro helps. So, we let Premiere Pro select the local disk as the scratch disk by default when we were running the test on our local machine. As for when we were testing for the NAS system, we used the NAS for storing our main project files and also as the scratch disk for Premiere Pro encoding runs.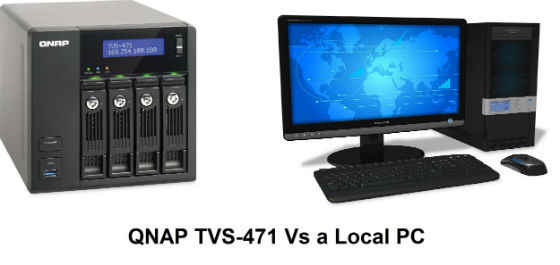 Testing:
After we fired up Premiere Pro CS6 and and had our project files in order, we then got a hold of a stopwatch since our aim was to take a note of the time taken by each encoding run on the local system being used as a scratch disk versus the NAS solution being used as a scratch disk. We ran two encoding instances of MPEG2-DVD with and H.264 each for the local system and the NAS making it four test runs per system. Right when we selected the encoding parameters and clicked "Export", we also started our stopwatch counter at that same instance to record encoding time taken. Take a look at the chart given below for results: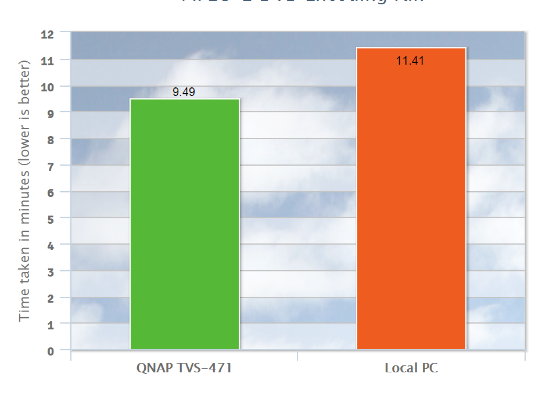 Caption: See the difference in time taken for MPEG2-DVD encoding in the bar graph above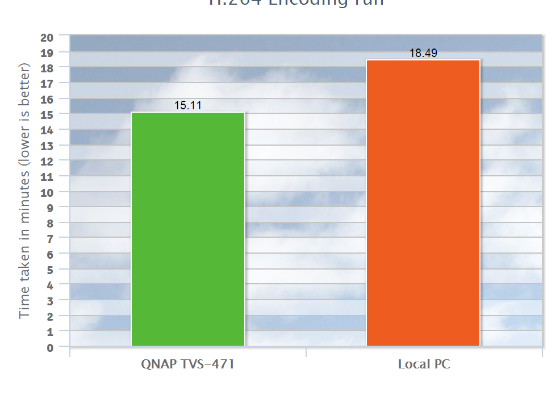 Caption: This bar graph shows the time difference for H.264 encoding between the NAS and the local system
Conclusion:
It's quite visible from the charts that the RAID 0 based scratch disk on the NAS finished the job a few minutes quicker than the local disk being used as the scratch disk for both the test iterations. It can thus be inferred that you do get an edge when using a performance optimised RAID array on a NAS system as the scratch disk for video projects. When working with files that are huge in size, a NAS system such as the QNAP TVS-471 using a RAID array of high capacity drives can work out really well and we recommend it for video editors.
__________________________________________________________
Complete hardware specifications (QNAP TVS-471-i3-4G):
CPU:
TVS-471-i3-4G: Dual-core Intel Core i3-4150 3.5 GHz Processor
DRAM:
System memory: 4 GB DDR3 RAM;
Memory module pre-installed: 2GB x2;
Total memory slots: 2;
Memory expandable up to: 16GB (8GBx2);
Flash Memory: 512MB DOM
Storage:
Hard Drive: 4 x 3.5-inch SATA 6Gb/s, SATA 3Gb/s hard drive or 2.5-inch SATA, SSD hard
drive
Hard Drive Tray: 4 x hot-swappable and lockable tray
NOTE: The standard system is shipped without hard drives.
Connectivity:
4 x Gigabit RJ-45 Ethernet port
(Expandable up to 8 x 1 Gb LAN or 4 x 10 Gb + 4 x 1 Gb LAN by installing optional dual-port 10 Gb and 1 Gb network card);
USB: 3x USB 3.0 port (front: 1, rear: 2), 2x USB 2.0 port (rear)
Supports USB printer, pen drive, USB hub, and USB UPS etc.
HDMI: 1
PCIe Slot: 2 (1* PCIe Gen3 x8, 1* PCIe Gen2 x4);
Indicators:
LED Indicators: Status, USB, LAN;
Buttons: System: Power button and reset button
Alarm Buzzer: System warning;
Physical properties:
Form Factor: Tower;
Dimensions: 177 (H) x 180 (W) x 235 (D) mm, 6.97 (H) x7.09 (W) x 9.25 (D) inch;
Weight: 4.56 kg (10.05 lbs) (Net), 5.7 kg (12.57lbs) (Gross)
Sound Level (dB): Sound pressure (LpAm) (by stander positions): 17.3 dB
Power Consumption (W):
Power Supply Input: 100-240V AC, 50/60Hz Output: 250W
HDD Standby: 28.19 Watts,
In Operation: 50.52
(with 4 x WD WD20EFRX hard drives installed);
Temperature:
0~40˚C
Relative Humidity: 5~95% non-condensing, wet bulb: 27˚C;
Fan: 1 x quiet cooling fan (9 cm, 12V DC).
You can also take a look at the complete list of software specifications of the TVS-471 NAS solution here: https://goo.gl/Zem2H8
Stay tuned as we'll be talking more about how to setup and install the QNAP TVS-471 as well as what are the prerequisites for setting up your PC or network for connecting this feature-rich NAS solution in the coming week.
Other Popular Deals
Samsung A7 2016 Edition Golden

Rs. 18990 *

Buy Now

Redmi 6A (Rose Gold, 2GB RAM,...

Rs. 5999

Buy Now

OnePlus 6 (Mirror Black, 6GB...

Rs. 34999

Buy Now
*Includes Cashback
​