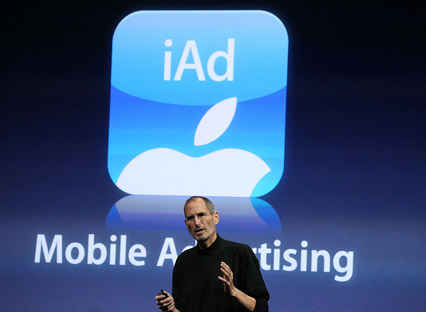 We have covered the D8 Steve Jobs interview very comprehensively today. Here are some more miscellaneous excerpts and our views on some more things Steve Jobs touched on.
The iAd
Apple's entry into the mobile ad platform with iAd has also generated quite an interest. About the motivation behind the move, Jobs says, "We're going into the ad business because we want to help our developers make some money. We're not going to make much money in the ad business. We are doing it for our developers." Jobs had a rather controversial reply about how Apple's competitors (read Google) handle the Ads, "We think their ad delivery system sucks!"
The interface of the ad-delivery system, he says, has been designed keeping in mind the user behaviour. "People are using Apps way more than they are using search. If you want to make developers money, you put ads in the apps. Today's in-app ads take you out of apps and into a browser and make the user find their way back. If you are playing a game you are probably not going to make it back to the same place. Wouldn't it be great if they didn't do that?" Oh yes, we'd definitely hate that. But how much we'd love 'interacting' with the iAds remains to be seen.
Foxconn Suicides
Jobs also showed his concern about the rising number of suicides at Foxconn, the Chinese company that manufactures Apple's products, "We are on top of this. We look at everything at these companies. I can tell you a few things that we know. Foxconn is not a sweatshop. It's a factory — but my gosh, they have restaurants and movie theaters. But they've had some suicides and attempted suicides, and they have 400,000 people there. The (suicide) rate is under what the U.S. rate is, but it's still troubling. We're trying to understand right now before we try to go in with a solution." It is good to see that Apple is concerned. Lots of PR points for this one.
On AT&T
Jobs was diplomatic when threading the thin line of the issue of iPhone's exclusivity to AT&T. Although he did admit that AT&T were doing a "pretty good" job in dealing with the network congestion, considering that "they're handling way more data traffic than all of their other competitors combined", he did admit that AT&T do "have some issues". Although Jobs did admit that "there might be" certain advantages of having the iPhone on other networks, he indicated why they were still sticking with AT&T, saying that they "found a way to sell the phone that we want to sell. We didn't think we could do it, but we did. We'd never been in this business, and AT&T took a big leap on us, and it's worked out really well. And we really changed the rules of the game." So, Apple are sticking with the company who took a "big leap" on them. Honestly and loyalty in today's business; more PR points?
With these we conclude with this mammoth interview. Mammoth, not just in its size and content, but also in significance. Many questions answered, many loose threads tied and ofcourse, lots of PR points in this very candid interview in which Steve Jobs put his foot in all the right places. You can find the other parts here.