Oral-B has launched an electric toothbrush which comes with Bluetooth 4.0 connectivity. The brush connects to smartphones with the help of Oral-B's app which allows you to choose different brushing routines. The app will be available for iOS devices only which will be launched in May. The Android version of the app will be available in August.
The Bluetooth-enabled toothbrushes help you to realize how good or bad your oral hygiene is, so that you can use the brush for better results. The app will help you to keep track of your brushing-time and just as an add-on, it will also show news and weather reports (so that you don't get bored with brushing). The app notifies users when they are putting too much pressure on their teeth and also assists in moving to different areas of the mouth. Oral-B has already launched toothbrushes with similar concept but those did not come with measuring hardware like the latest one. The new brush will just use your smartphone for tips and keeping track of your brushing.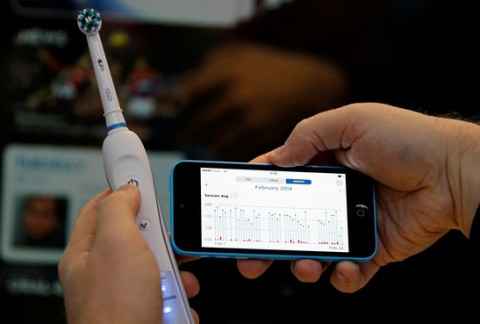 The toothbrush will be available at the prices of $390 and $420 for "Pro 6000" and "Limited Edition Pro 6500" models respectively which is way too much for technology that this gadget packs. Hopefully Oral-B will price it reasonably once it launches the product in other countries.
The toothbrush will be available in limited quantities in Germany this spring. Oral-B is looking to launch the SmartSeries worldwide in June 2014.
Source: Engadget