Hyperloop, the on-demand vacuum tube pod travel concept that would travel at the speed of sound, may well be on its way to reality. While there are myriad obstacles to the high speed transition technology that will operate without friction, there are an equal number of aspects which lends optimism to the team that forms Hyperloop Technologies.
Towards the end of last month, word broke out of the 5-mile Hyperloop test track being laid down in Quay Valley, California. The first trials of Hyperloop is expected some time in the first half of 2016, and the preliminary open air test will take place at nearly 650 kilometres per hour. When developed to its pinnacle (as thought of in the present day), Hyperloop pods will have the ability to reach speeds of about 1208 kilometres per hour. To add reference points to this speed, if you let out a massive cry and jump on to a Hyperloop pod at Jammu, the Northern tip of India, you will reach Kanyakumari, the Southernmost frontier of India, about two-and-half minutes after your cry reaches the point. That's fast.
"We'll be about two to three times the speed of high speed rail"
Hyperloop Technologies will design the future to transportation. Hyperloop tubes will be resistance-free, and will laterally connect cities which are otherwise plagued with transportation issues. To add to all this, Hyperloop is a bright example of clean energy. The entirety of it is electrically operated, and will take up only a fraction of the land that's needed to lay down infrastructure for high speed railway. The signals are bright, and Rob Lloyd, ex-President of Cisco and current CEO of Hyperloop Technologies, states, "We'll be about two to three times the speed of high speed rail. Unlike airplanes, there will be no turbulence, weather delays or interference, and unlike high-speed rail, the system will be able to travel under water in a controlled environment. That controlled environment allows us to go much faster and in a much safer fashion than any other form of transportation."
Hyperloop will also have a number of impacts on the way we live our lives. For instance, amidst the dizzying crowds of New Delhi, it takes about an hour and half to traverse a distance of about 35 kilometres in the peak office hours. With Hyperloop, you can travel that distance in a little over a minute. That day, as of now, is a farshot into the future, and depends majorly on Governmental and administrative factors. "We will go first where governments support us. Where regulators give us the ability to create a right of way. Where capital can be formed and where people want change," is Lloyd's vision on the first homes of Hyperloop. With many technologies coming to India after launch, there is a trajectory of technological development that needs to be taken into account. At the present rate of progress, India might just be ready for sonic-speed pods by 2020. If we indeed are, there are a number of problems that plague the urban areas that can be addressed, some of the most important ones being traffic and residence.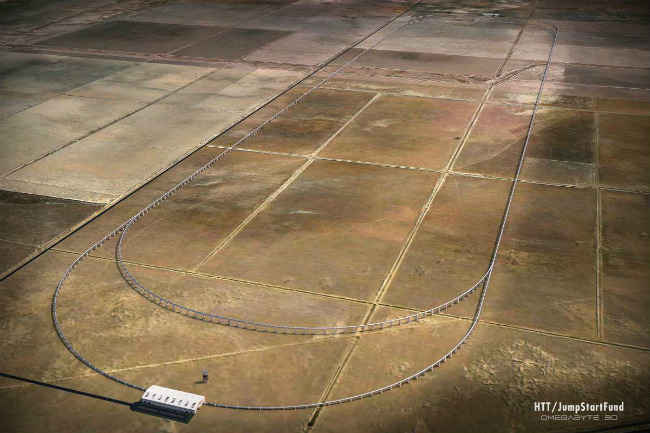 The trial Hyperloop track that will begin operations in 2016
At present, the trial Hyperloop track is under construction, and competition is picking pace for Hyperloop pods. Updated competition rules were released last month, and once first stage applicants are judged, second stage participants will be briefed, and will possibly be asked to design functioning prototype pods. Unmanned test runs are scheduled to begin late-2016, and the Quay Valley arena is expected to carry passengers as soon as 2018. 2020, on that note, is not too far away, especially considering the fact that it has been almost nine years since the launch of the very first iPhone.
Rob Lloyd, Hyperloop's CEO, is upbeat about our future in the next five years. By 2020, we might just be making journeys of almost 200 kilometres in less than five minutes. "I'm very confident that's going to happen," says Lloyd. Ever since Elon Musk backed the technology to be the one for the future, Hyperloop has been evolving slowly, and steadily. We are anxious for it to happen.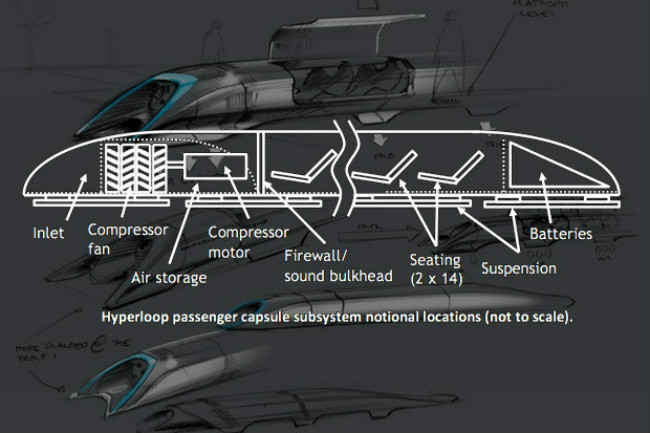 A concept sketch of a Hyperloop Pod
Source: Popular Science
Other Popular Deals
Samsung A7 2016 Edition Golden

Rs. 18990 *

Buy Now

OnePlus 6 (Mirror Black, 6GB...

Rs. 34999

Buy Now

Redmi Y2 (Dark Grey, 4GB RAM,...

Rs. 10999

Buy Now
*Includes Cashback
​