The Post-PC era is unfolding right as you read this, and these are times when accessing your email is no longer limited to a PC terminal fixed to your desk in office or at home. You want email access on your smartphone, tablet and laptop, as you cycle through them at different points of time on any given day. Your employees will have similar needs and habits, wanting to bring those devices to work, the ones they're comfortable using and boost productivity. It's the reality and it's happening all around us.
Deploying a Microsoft Exchange Server is too cumbersome, especially if you don't have enough people in your organization – for a SOHO setup, an Exchange Server is overkill, anyways. And relying on free email services like Gmail, Yahoo or Rediff doesn't bode well as far as brand impression goes – imagine trying to send a mail through a prospective client through Gmail, trying to convince them to take you seriously as a business outfit? It's a losing battle. First things first, you need to buy a domain and fire your own email solution on it.
Everyone's favourite free email and collaboration suite just became paid – yes, Google Apps for businesses is no longer available as a free service. What's more, its paid avatar is quite expensive – US $50 per user per year or US $5 per user per month. If yours is a small business set up, or you work out of your home, Google Apps may no longer be an economical option.
Time to look for other options.
Hosted email
Large-scale domain registrars like GoDaddy and BigRock offer certain number of free email addresses while you signup for a web hosting plan. While they may look very attractive on the surface, most of them have a catch. Email addresses promised while buying server space is often shared, meaning if you're getting 10 free email addresses on your hosting plan, chances are that they will all have to share a storage space of 100MB to 1GB – not individually, but as a group. With just a few megabytes for each account, you'll be frustrated and pulling your hair out in no time – not a good situation to be in if you're running an online business.
Alternatively, what you should explore are dedicated email solutions that companies like BigRock and GoDaddy offer. BigRock, especially, lets you fire up an online email account for a custom domain of your choice for as little as `39 per month if you sign up for 10 years at once. For that you get 10 email accounts with 2GB of storage space for each account, and features like POP3 and IMAP, besides the ability to login and check your email through a web browser. You can configure the email on Outlook or Thunderbird, be assured that spam and virus filtering is in place, basically enjoy the benefits of a full-fledged modern email and messaging system that is accessible on mobile devices like Blackberry and iPhone.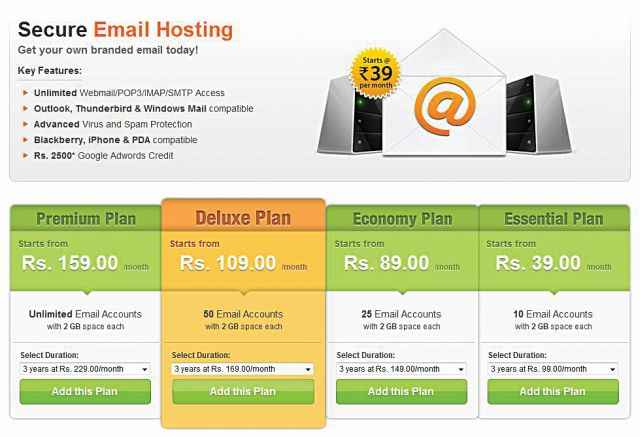 BigRock's hosted email plans are quite economical, if you pledge a longterm allegiance
You will enjoy similar benefits on a GoDaddy email plan, but it will only cost a lot more – Rs. 119 per month (for 5 years) for 5 email addresses with 2GB of storage each. Another difference we found between the two email solution providers is that GoDaddy offers added features like text mail support, 256-bit encryption for emails, and a desktop notifier – features that BigRock doesn't highlight on its website. So GoDaddy, in a way, tries to justify its cost by giving you bonus features; however, how important they may be to your business environment is something only you can decide and act upon.
Both BigRock and GoDaddy are trusted names in the field of domain registration and web hosting, and we have no hesitation in recommending them as avenues worth exploring. A typical process for signing up with them involves choosing an email plan, entering your domain name, creating an account and checking out. You will either have to go through some domain verification step and further tweak your domain's MX records (under DNS management) to start using the brand new email account.
Enter Zimbra
If you are of the tinkerer and tweaker type, and you get your kick out of deploying software solutions your way, then Zimbra Collaboration Server (ZCS) Open Source Edition is just what the doctor ordered. Zimbra's open source edition offers an email solution with rich interface and contact management. It also lets you access IMAP email through a mobile web browser, irrespective of the device. There's group calendar management, administration console which is easy to navigate and understand, and the choice of using a dedicated desktop client to pull your emails.
Zimbra is quite a popular email solution among IT administrators who have to manage resources and scale. Zimbra is known to be reliably configured, deployed and work smoothly on a low-powered server with average traffic load – so if you're wondering which email server to deploy on a 5-year old PC (used as a server) to cover your small office of about 5 to 20 people, Zimbra is a good option to go with. Another thing network admins like about Zimbra Collaboration Server that it has a free edition (open source) which can be downloaded and installed without spending a rupee. All you need is a copy of Linux (CentOS is a favourite for servers) and ZCS downloaded from the web, and you're good to go.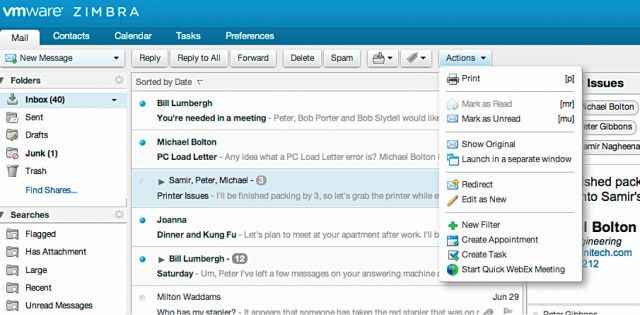 The free version of Zimbra Collaboration Server is popular among email solution providers
Another feature of Zimbra's email solution is that you can opt for either a local deployment of the email server – a scenario where you manage IT, control costs, features and scale of deployment – or use a hosted email option (similar to BigRock and GoDaddy's service). In the hosted email option (which is generally for larger companies), Zimbra lets you partner with a solution provider who lets you procure online space and deploy the email system in a cloud setup. Obviously, in a hosted email scenario for Zimbra, all you have to do is loosen your purse, while the IT headache is outsourced to someone else. Its cloud deployment also lets ZCS access features like advanced apps and unified communications features like voicemail and chat-out-of-the-box from Cisco, etc., but all these features are too advanced for a small business setup, we feel.
After being acquired by VMware, the Zimbra email suite recently had an update, adding new features to its ever-growing repertoire. Zimbra's spokesperson confirmed that among its several happy clients, the Indian Institute of Technology ranks one of them which uses and deploys ZCS on its premises. If you needed a vote of confidence, the IIT isn't bad to help you decide on going for Zimbra for your email needs, eh?
Zimbra also has a free cross-platform desktop email client to access your emails on a PC called Zimbra Desktop, and it's packed with features to rival those offered by the likes of Microsoft Outlook and Mozilla Thunderbird. Not only does it work in offline mode, but it also lets you access your tweets, Facebook timeline and other social media feeds directly inside its window. How cool is that? Obviously, Zimbra Desktop works like a charm with ZCS and we recommend using it if you're looking for a fresh, new desktop email client.
Other Popular Deals
Samsung A7 2016 Edition Golden

Rs. 18990 *

Buy Now

Mi Redmi Y2 (Gold, 3GB RAM,...

Rs. 8999

Buy Now

Realme 1 (Diamond Black, 4GB...

Rs. 10490

Buy Now
*Includes Cashback
​