Kurukshetra, the international techno-management fest, is all set to roll out its sixth edition from February 1-4, 2012. As the name connotes, Kurukshetra is a modern day "Knowledge Warfare" with gargantuan student participation. Kurukshetra has redefined the way techno-management fests are organized by corralling 20,000 delegates spread over 80 countries. The four-day event is primarily focused on providing a challenging platform for the intellectual brains from all over the world to exhibit their talents and assimilate new ideas.
Based on the theme 'Science and Technology for the Common Man', we conduct an array of competitive events, informative and practical workshops and illuminating guest lectures. Organized by the pragmatic student community of College of Engineering, Guindy, Anna University, Chennai, Kurukshetra possesses a rare reputation – being the first ever student-organized fest to be granted the prestigious UNESCO patronage. Our gracious sponsors have ensured that we accolade the talented brains with total prize money of 1 million INR.
Guest lectures by industry veterans have been a regular feature in all the editions of Kurukshetra. This year they promise to be an enlightening experience with talks by Dr. Vic Hayes, inventor of Wi-Fi, Dr. Harold Kroto, Nobel Laureate in Chemistry, Dr. Steven Goldsard, Scientist at CERN, P.S. Veeraraghavan, Director of Vikram Sarabhai Space Centre and talks by several other eminent technologists and scientists. Another main feature of K! is "Virtual Participation". This programme facilitated relaying of inspiring and thought provoking lectures of the top brass in the engineering, academic and management realm through live video streaming.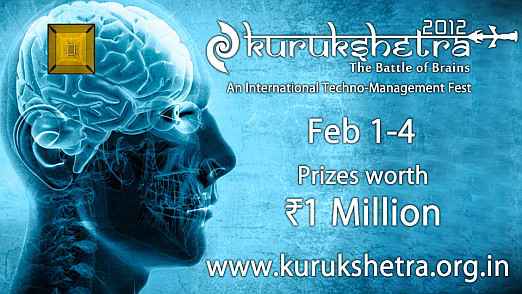 Learning is not a spectator sport. And the hands on workshops at Kurukshetra redefine the way you perceive every phenomenon by making the learning process spicy and convivial with 12 workshops this year. Energy Auditing is one of its kind workshop where the participants are taught on the means of identifying and monitoring the flow of energy and pin pointing the areas of energy wastage. For the thirsty photographers yet to conquer the beauty of space, we conduct Astrophotography where you can focus your DSLR's, make forays into the silent night and capture scintillating images. For those wannabe web designers, we have the Scalable Vector Graphics workshop at the end of which you might be in a position to create attractive websites with 3D elements.
Kurukshetra has more than 45 events covering almost all branches of engineering. Programming events like KodeMultus and Heptathlon test both the algorithmic and syntactic skills of the contestants in various computer languages. These events are a race against computer time, eventually culminating into a contest of the astute minds. Events like Godspeed, Contraptions, Aero Modelling and Megastructures stand testimony to how the participants put the engineering part of their brains to use. Electro-Warriors is an event for electronics and electrical freaks. Quizzes like K!Open Quiz, Sci-Tech Quiz and Corporate-Biz- Quiz relating to various branches of engineering put an impetus to the stimuli of the quiz lovers to buzz out with answers.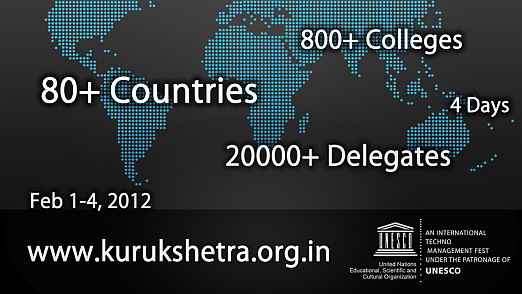 Robotics events as in every other edition will be the highlight this year too with lucrative cash prizes. We wanted to provide a platform where you can build, test and even fight another robot tooth and nail, and events like Robo Wars, K!onstructor and K!ck were born. We again went one step further with XCEED, the nationwide Robotics, Quizzing and Coding championship, where we go in pursuit of the best brains of the country and showcase the grandeur of Kurukshetra outside the walls of CEG. The event, which has transcended geopolitical boundaries to bridge the knowledge gap by reaching out to the participants across the country, will be conducted this time in four cities - Bangalore, Hyderabad, Thanjavur and Coimbatore.
The cornucopia of the events thus makes Kurukshetra a major fest to look forward to in the calendar of any student, with the promise of tremendous amounts of fun, cash prizes and learning. For further details, visit https://www.kurukshetra.org.in or write to us at infodesk@kurukshetra.org.in