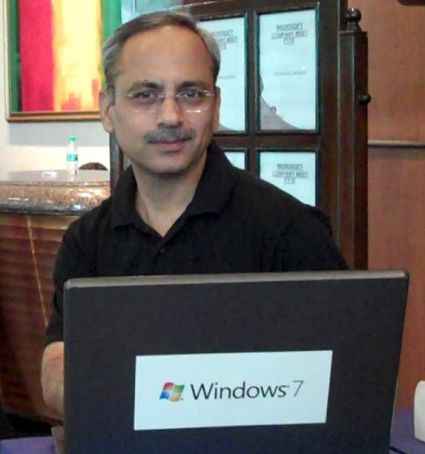 Rajiv Popli, Director - Windows Client
We were privy to a Windows 7 demo by the makers of the OS themselves. In a freewheeling interview-cum-demo, the Digit team had a chat with Mr. Rajiv Popli, Director - Windows Client, while the new operating system was being showcased.
Digit: For those who came in late, can you tell us what Windows 7 is all about?
Rajiv Popli (RP): The key theme behind Windows 7 – when it was construed – was how it should work for the consumer and corporates. The thought that went into it was based on around 4,000 IT companies' feedback. It was all about simplifying tasks and that it should work just the way the consumer wants.
It meant resolving all the expectations of the consumers: 'I want it to be faster'; 'I want it to be smarter'; 'I want more battery life'; 'I want shutdowns to be quicker'; and 'I want it to be be lighter on resources'. In fact, there's a case we've come across where companies that had condemned a particular machine with 512MB of RAM are putting it back into regular use after installing Windows 7 RC on it.
In many ways that's good, but you might say, "Does it impact my sales of new PCs?" (Laughs) Well, not really. At the end of the day, if someone is able to leverage resources to the maximum it's a great thing. And it speaks a lot about the power of the platform.
Windows Vista had made huge strides when it came to security. It is widely acknowledged that it is much less prone to malware , but the security came with a whole lot of notifications. So the question was whether consumers needed to be interrupted each time. So with Windows 7, we left the choice up to the consumer. [He went on to demonstrate the Action Centre settings]
We even have more Power Management options. You can choose how the battery ought to be behaving in different scenarios. This is in a way connected to the green computing movement.
Network access is also an area of improvement in Windows 7. Now you have a whole lot of networks visible to you, not only those that are wireless, and dial up, but also data cards. Accessing data connection now becomes single click.
So in brief, with all its features, Windows 7 lets you make your life simple, lets you do exactly what you want to do and lets you do new things. By new things, we mean for example the touch capability. [Mr Popli , went on to play a piano application on an HP touch capable notebook and showed off some image rotation capabilities].
In the commercial environment, direct access is one of the very big features offered by Windows 7. It's actually a replacement to VPN. This lets you directly access your corporate resources remotely, while giving you certain amount of savings. Branch cache and bit locker are also new features that are worth mentioning.
All these features go to making the PC experience simplified, while taking care of security and risk management. IE8 which is also an integral part of Windows 7 has superior security and protection features.
Digit: Speaking of browsers Google has announced the Chrome OS, which is to be based on a browser. What are your views?
RP: We've only heard of the plan, so it's very difficult to comment on something we haven't seen yet. All said and done even, for the netbook phenomenon, consumers have favoured or shown their preference for the Windows platform for reasons of its compatibility, ecosystem experience, familiarity and interoperability with other devices. This speaks about the versatility of the Windows platform versus Linux or Linux-like platforms. If you look at pre-February 2008, only 10 per cent of the netbooks were on the Windows, today over 90 percent are coming with Windows.
Digit: Windows is giving upgrade options for Vista Premium and Ultimate users. Do you have similar options for netbook users? And since they don't come with an optical drive, any options for USB booting possibilities?
RP: I'll get back to you on that. However, in the new scheme of things, once the product is launched in October, netbook buyers will have the option of having Windows 7 preinstalled on their devices. Once that happens, it will be a transparent experience. Windows Anytime Upgrade options are also available on Windows 7 for field upgrade using a key – to upgrade from, say, a starter edition to ultimate.
Digit: Will Windows 7 also come with a Starter Edition, like Windows XP?
RP: Yes, Windows 7 Starter Edition will be available for small-form factors including netbooks.
Digit: Will it have a 3-application limit that XP had?
RP: No, there won't be any three application limits this time with Windows 7.
Digit: Do assemblers form a part of your channel?
RP: Yes, absolutely. For example, the Windows 7 Upgrade Option programme is already available from 8 leading OEMs including Dell, Acer, Wipro, Sony, Toshiba, HCL and Lenovo. Also, the same upgrade option is available to the channel at large. So, every system builder channel today can also provide the upgrade option to its consumer. Partners and system business channels are a very key part of our overall ecosystem. It's a big year for us. Apart from Windows 7, we also have new versions of the Exchange Server and Office coming, as well as Windows Mobile 6.5.
Digit: What is the Windows 7 pricing going to be? We've seen that the pricing for consumers has been slashed as compared to Windows Vista in the US. Will it reflect here in India as well?
RP: At a broad level, the prices will be cheaper. I can't really give you an exact figure, but approximately it would be in the range of 10-15 percent lower.
Digit: What about anti-piracy measures? Does Windows 7 offer any sophisticated form of anti-piracy technique as compared to previous versions that sported the online validation tool?
RP: Windows 7 will come with the Genuine Advantage program with automatic update program. Those are the ones that will be a driving tool for consumers to see that having legitimate software will be of value to them.
Digit: There are arguments that say that piracy is, in a way, good for Microsoft because the product proliferates and eventually leads to familiarisation and penetration in emerging markets; and in turn, the need for platform compliance?
RP: Microsoft will never take that view. I look at it this way: Piracy hurts everyone. It hurts the channel, the consumers and Microsoft as well. In the whole ecosystem, you see that everybody is a loser; the question is in the short term, medium term or the long term?
The consumer is the loser, because they can't take advantages of the valuable security updates provided to them. Partners loose out since there's not much value coming through in terms of overall business proposition. Lastly, the economy's obviously a loser since the government gets something back in the form of tax behind every product sale.
Again, it's always going to be a very difficult thing to do. There are one billion users of Microsoft software. We want to make sure that the legitimate buyer does not get inconvenienced in the process. That's the trade-off. Educating the users is an important part of anti-piracy. Many users have the misconception that the software comes by default.
Digit: We've seen a trend of software moving towards the cloud. Google is coming up with their browser-centered Chrome OS. Already, there are many cloud-based OSes out there. What are Microsoft's plans to take on the cloud?
RP: Our view of the cloud is very clear: it's going to be a combination with a platform like PC which has its own abilities to run applications. There are certain services that will be on the cloud. There's value for certain applications to be on the cloud. Does it mean that what you need on an everyday basis has to be only on the cloud? Unlikely. And why would you do that? Can you imagine one billion users today to be on the cloud, all the time? Potentially not. Let's talk of our own country, how many people are really going to be on the cloud, all the time? The speeds currently are not worthy of giving us a real-life experience.
As a trend, increasingly, more and more services are going to be on the cloud. Today, you have IM, mail on the cloud. This is recognition that more people are spending more time on the cloud. But does it mean it's going to be black and white, all cloud and no client? I think that's a very unlikely scenario. This is why Microsoft has stated that our direction is to continue to work and enhance the services on the cloud. But the versatility of the PC platform, the richness of what it can offer, in a combination with the cloud is the direction to move forward.