We spoke to Abhishek Arora, winner of Google Code In 2011, an open source activity with participants from the world over.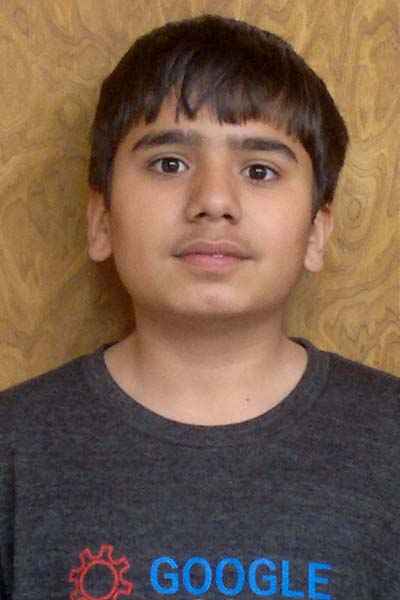 Tell us a bit about yourself and what you do? What are your interests?
I am Abhishek Arora, a student at Delhi Public School, Rohini currently in class IX. I've been passionate about computers since a very early age. I am a geek who likes to stay up-to-date with the latest technology and trends. I am also good in academics, and a gown holder (awarded to students having a scholar badge for three consecutive years). My other hobbies include playing lawn tennis.
How did you get interested in code?
I had developed my love for computers since the age of six. I was very fascinated when my sister wrote programs, ran it in and asked me to input values and observe the results. My sister is my inspiration who prompted me to dive into the world of computer science
How did you acquire skills to perform?
I learned many things from my sister, who helped me at every stage: when I was stuck when the program had some errors and it didn't run successfully. She was a help for me but soon she had a shortage of time, so then I started using tutorials available for a computer language or software, I downloaded tutorials, tried out programs myself. They are very useful when you want to learn something new and have no prior experience.
Which are the places you go to, to get the skills and knowledge that you have acquired?
I did not go anywhere like institutes or private classes but I utilized my biggest virtual resource that included the different tutorials and forums for help whenever I needed.
During the Google Code In program , I developed many virtual friends and mentors from various open source organizations who helped me when I was stuck and also taught me new things which I was not familiar earlier.
Are your classmates in school also equally inclined in code?
First of all, all my classmates aren't interested in computers. Some are interested in various other fields like sports, art, dance, music etc. Though small in number, but I have classmates who are interested in computer, but they are not all interested in coding as its not taught in school at our level. They are more inclined towards designing websites and other things using Photoshop.
Could you tell us a bit about Google Code-in and how you took part in it?
Google Code In was a contest to introduce pre-university students to the many kinds of contributions that make open source software development possible. This contest was for children aged 13-17 years of age . Anyone around the world could participate in this contest from around the world from 21 November 2011 to 16 January 2012 (which is the contest period).
How did you hear about Google Code-in?
From the very beginning I was a constant follower of Google blogs as I read many articles and experiences of people that I found interesting. I got to know about anything new that Google was launching or doing through Google Blogs only. So when this contest was publicly announced on the Google Blog , I found it very interesting and was keen in taking part because I thought this was the right opportunity for me which I was searching from much time.
Tell us about the various tasks you were asked to do at Google Code in.
For the Google Code In contest one had to do as many tasks as it was possible . These tasks were categorized by Google into 8 different categories .This categories include refactoring codes, UI , Outreach ,research , Training etc. Each task was rated as easy , medium and hard by organization mentors. An easy task fetched you one point , medium task 2 points and hard task 4 points. There was a complete cycling for completing a task. First you had to request to claim a task that you found could be done by you, then the mentor accepted your request. After that you had to start the work on that task and submit the work within the given time frame. Then the mentor reviewed the work that was submitted, the task was marked as complete if the mentor felt that it satisfied the needs or else he sent back the task for more work pointing out the errors to be corrected. The top 10 people on the leader board after the contest finished with highest points were entitled as grand prize winners. Among them I was ranked 2 around the world among 542 pre-university students from 56 countries. I was the youngest of all the grand prize winners. I did the highest number of tasks as compared to any other contestant in the contest. I completed a total of 60 tasks which in 5 open source organizations and I will explain briefly what I did . I made Entity Relationship Diagrams for the database of Sahana Software Foundation. I did the major chunk of my tasks in Sahana Software Foundation, I also did software testing for them , did code reviews. For the Marble organization which whose umbrella organization is KDE , I created custom speakers and designed a 3D moon map which appeared on a globe. For SymPy organization I made Python tutorials and compared their software to other Computer algebra systems. I designed logos for Open Intents which makes different android applications , so they required different logos for their apps.
From the top ten, 5 were Indians. What do you have to say about that? Do you know the other winners? Could you share any info on them?
I don't know much about the other Indians who participated in this contest because there were 18 different open source organizations and did they did not do much work in the organizations I worked. They are also great people who really worked hard but I'd like to say that most of them concentrated in just one organization, doing same type of tasks whereas i did the most diversified tasks during the contest. I don't much about them, just that there were 5 Indians in the top 10. I was very proud to see that there were such a significant number of Indians amongst the winners
So are you excited to go to Mountain View in June? What would be the one question you would like to ask Google engineers?
Yes I am very much excited to visit the Google Headquarters in Mountain View which was my dream when I was a kid. My dream is to get myself a good job in the Google Headquarters and I think that I have achieved the first step to it . I have a lot of questions that are in my mind that I would like to ask them but the most interesting of them would be that "How do you feel working in the Google headquarters ? " . This question seems to be odd but when I was a child I asked my sister How amazing would it be working in a company whose search engine we use daily for so many purposes and it showed up results matching our search in just a fraction of seconds.
What in your opinion, differentiates Indian students from those of other countries? Do mention the good and bad points.
The good thing that I felt about Indian students was that they had a focused approach and were hardworking towards the contest and they spent sleepless nights to win the contest. Indians also never give up attitude.
What would you recommend other students at your age to pursue in order to be good programmers?
I would recommend other students who are interested in the field of computer science to start working with many open source organizations that are present to get experience on real software development. While they contribute, they learn a lot and get help from people working voluntarily (who are experts in their professional life) for these organizations. They should try their coding skill by participating in contests organized on websites like topcoder etc.
Which area would you like to specialise in?
I would like to specialize in the area of artificial intelligence. I am greatly fascinated to work for making driver less cars. I relish the idea that one day these things might exist in abundance in our world.
Which company would you like to work for, if any, OR would you rather prefer pursuing your own interests and eventually become an independent developer?
The company with which i would love to work with is definitely Google because right from the childhood I was fascinated by the search engine and how it showed up results matching our query in just a fraction of seconds and would like to be a programmer at Google.