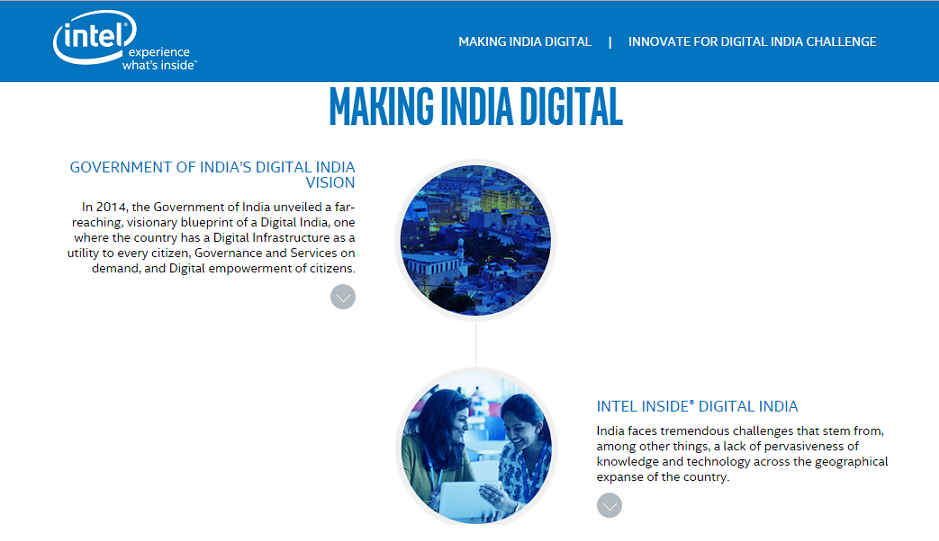 Intel's Innovate for Digital India challenge is all about encouraging innovation via ideas that will solve the digital divide in India, leading to a truly digital India across all sections and sectors of society. This challenge is a collaborative effort from Intel and DST (Department of Science and Telecommunication). We spoke to Mr. Sandeep Aurora, Director, Marketing & Market Development, Intel South Asia to understand the vision and various aspects of Innovate for India Challenge.
For the benefit of our readers, we'd like you to elaborate on what is the intention behind Intel and DST's 'Innovate for Digital India Challenge'.
For the government's Digital India vision to be a reality, the creation of a robust and secure digital infrastructure is imperative. There is also a dire need for a local ecosystem to develop in India that will provide customized solutions for India that are designed, developed and made in India for India. The 'Innovate for Digital India Challenge' focuses on the creation of local solutions to increase technology adoption under the Digital India vision and eventually lead to the commercialization of the best ideas to grow a robust local technology ecosystem that delivers solutions for India furthering the government's Make in India vision.

What role is DST playing in this program?
The Innovate for Digital Challenge is a collaborative platform between Intel and the Department of Science and Technology to help create a technologically empowered ecosystem in the country. DST aims at promoting high end basic research and development of cutting edge technologies to service the technological requirements of the common man through development of appropriate skills and technologies. Through this Public Private Partnership, DST is fostering the spirit of innovation in the country and giving a platform to budding entrepreneurs to create highly relevant solutions for India.
Up for the challenge? Have a sound business idea that can solve India's digital challenges? Head-over to the registration page now
Intel's IOT solutions, where do they come in picture and how is Intel helping the innovators in terms of giving the participants access to IOT technology and support to convert ideas and concept into actual products?
Given the focus of the government to build Smart Cities, IoT is being looked upon as a great enabler when it comes to enabling an intelligently connected digital era. Intel has long been working with the state governments across India to enable smart governance. In Gujarat and Karnataka, Intel has successfully modernized the PDS system using the Intel IoT Platforms. In the Innovate for Digital India Challenge, the participating teams will be developing Minimum Viable Products (MVP) based on Intel Architecture. The Intel platforms will be provided to them to help convert their ideas to efficient and highly relevant products/solutions. Intel will provide the teams with building blocks for IoT solutions that deliver real value and more quickly.

How has the response been so far? Can you give us an example of an idea/entry that has impressed you so far?
The response for the IFDI Challenge has been encouraging. We are receiving requests, queries and entries from across the nooks of the country. The enthusiasm around the challenge in the entrepreneur and startup community is exhilarating. The brilliance of Indian minds never fails to amaze which reinstates our belief that through this challenge we will be able to substantially contribute towards making India a digitally empowered nation.

Since this is a wide open challenge at the qualification level, how will the jury panel achieve parity in terms of judging an app idea vs. a working IOT based device that might be a brilliant innovation in terms of design and application but may be lacking in terms of implementation and the bigger picture of solving India's problems?
The evaluation of all ideas will be undertaken by the Centre for Innovation Incubation and Entrepreneurship (CIIE) in consultation with Intel and other Program Supporters and Advisors. CIIE is responsible for assessing the Ideas, Business Summaries, Business Plans, Conducting Start-up sessions, Accelerator program, Prototype day, Demo Pitch, Demo day and readying the selected ideas for interaction with the jury at various stages. The Advisors and Jury recruited by CIIE are business, industry and academic experts who may or may not be associated with Organizers.

Given the expertise of the jury members, we are confident that they will be able to make a fair judgment of the ideas presented. If the ideas are strong enough, no matter what stage they are in, they will be appreciated and will be given quality mentorship to turn them into reality.

Appended are the evaluation parameters that will be including but not limited to, for the various stages of the Challenge.

· For up to top 50 selections: Addressing a key citizen problem and delivering value to citizens, Market Opportunity, Scalability of product/business, Entry barrier/competition/uniqueness of idea, Potential traction in terms of revenue/users/customers
· For up to top 20 selections: Concept presentation in Ahmedabad to a selected jury covering the idea's ability to solve a key citizen problem and delivering value to citizens, Market Opportunity, Scalability of product/business, Entry barrier/competition/uniqueness of idea, Potential traction in terms of revenue/users/customers
· For up to top 10 selections: Progress during the Accelerator + Progress on prototype/product including any early Industry feedback, extent of viability in MVP
· For up to top 3 selections: Potential to scale and deliver mass benefits thus enabling technology adoption among ordinary citizens, commercialization potential, scaling up potential in addition to standard investment due diligence to be carried out by CIIE
What are the different stages of the qualification rounds, shortlisting, etc? And, how does the team/individual get support in terms of funding and knowledge at each level?
The challenge is divided into five phases:

1. Application
The application phase ends on June 22, 2015. In this phase, up to top 50 entries will present their ideas to IIM Ahmedabad, out of which up to 20 teams will be selected for the Accelerator program.
2. Accelerator Program
This phase will run from July to September 2015. In this phase, the participating teams will be given 12 weeks of mentorship in Bengaluru and Pune to develop Minimum Viable Products (MVP) based on Intel Architecture. Up to top 20 teams will be given prototyping grants of INR 2,00,000 per team. Top 10 teams will be identified in this phase.
3. GTM Preparation and Prototype Day
This phase will run from September to November 2015. The top 10 identified teams will be given grants of INR 5,00,000 each. Participating teams will showcase their MVPs to industry experts for feedback during the prototype day. The teams will also have interactions with the design house.
4. Early Adopter Interaction and Pilot Phase
This phase will run from November 2015 to January 2016. The participating teams will receive field immersion experience with select companies. Up to top 3 participating teams will be identified in this phase and due diligence process for providing access to equity funds will be initiated.
5. Demo Day and Showcase
This stage will take place in January 2016 marking the completion of the challenge. The top 10 teams will showcase their products to the key market players on the Demo Day. The announcement of the top three finalists will be made on the demo day. They will then be put in touch with industry players for productization. Post the successful completion of due diligence, the top three teams will have access to equity investment of up to INR 20,00,000 per team.
Assuming a brilliant innovation/idea that goes on to win, does the IP and rights stay with the innovator? What kind of a road map do you have for the winners?
IP and the rights for the product/solution developed during the challenge will stay with the innovator. Organizers & CIIE do not claim ownership over the applications submitted or any Newly Developed IP, but by submitting an application, Participant grants Organizers & CIIE and their affiliated companies a transferable, worldwide, non-exclusive, perpetual, irrevocable, royalty-free, fully paid-up license under all Participants intellectual property rights in the applications submitted, Participant Newly Developed IP and Participant Background IP.
The winners of the challenge will be awarded monetary investment at the end of the challenge. During the course of the challenge, they will be mentored by IIM Ahmedabad and will receive immersion experience with select companies. This will give them a unique opportunity to seek guidance and direction from trusted mentors and network with the right people in the technology business. They will also be provided access to equity investment. The winners will also be given an opportunity to partner with industry players for productization.
How different is this compared to the Intel-DST Asia Pacific Challenge?
Intel – DST Innovate for Digital India Challenge is an India focused challenge that seeks breakthrough solutions made by Indians to address the development hindrances problems faced by India. Through this challenge, Intel aims to provide easy, effective technology in the hands of every citizen to help them enhance the quality of their lives. Whereas the DST Innovate for Digital India Challenge was an international challenge that was open for 12 Asia Pacific countries and witnessed participation of over 120 technology innovations. The winners of the challenge were given an opportunity to showcase their projects at Intel University of California, Berkeley Technology Entrepreneurship Challenge Programme. Whereas

What if an app or an idea does not use any of the Intel technologies? Does it still qualify?
The participating teams have to develop their Minimum Viable Products (MVP) based on Intel Architecture.

Assuming that the prime focus of this challenge is to make a difference and empower rural India, what kind of activities and awareness program is Intel undertaking to create awareness and participation from rural sectors? The people who are at the center of need to solve some basic and long pending issues via technology.
With its focused efforts to spread the awareness about the challenge, Intel has been constantly reaching out to students, academia, maker community, etc. through strategic collaborations with the State Governments. Intel has been using social media platforms as well to reach out to the targeted communities. In order to put to rest the geographical barriers, Intel also hosted a Google hangout recently to connect to the innovators across the length and breadth of the country which was a huge success, garnering traction and engagement from across the country with eager participants connecting with us to send across their ideas.

All responses attibuted to Mr. Sandeep Aurora, Director, Marketing & Market Development at Intel India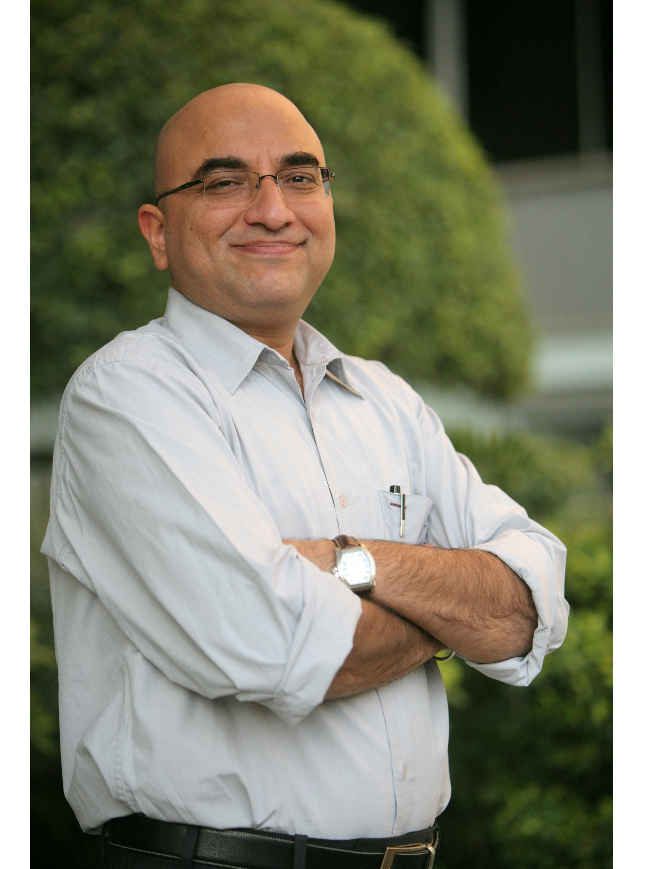 Other Popular Deals
Samsung A7 2016 Edition Golden

Rs. 18990 *

Buy Now

Nokia 1 (Dark Blue, 1GB RAM,...

Rs. 4000

Buy Now

Redmi Note 5 Pro (Gold, 4GB...

Rs. 12450

Buy Now
*Includes Cashback
​