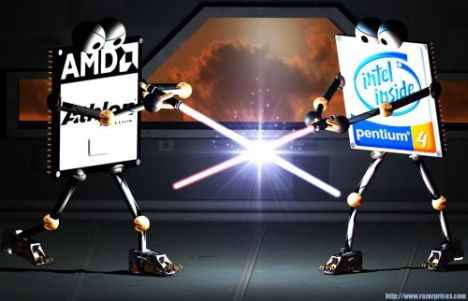 Intel and AMD's long-standing war about patent infringement has finally come to an end, with Intel settling the case outside court for a staggering sum of $1.25 billion. This settlement puts an end to all the legal squabbles between the two, including patent infringement cases, anti-trust litigations and any other charges that AMD had levied against the leading chip manufacturer.
In a joint statement the two companies commented, "While the relationship between the two companies has been difficult in the past, this agreement ends the legal disputes and enables the companies to focus all of our efforts on product innovation and development." Looks like the relationship isn't going to be much less than difficult in the future either!
The settlement states that Intel will cough up the $1.25 billion within 30 days, agree to adhere to business practice provisions, and give up any patent claims against AMD. The patent rights will be given to both companies in a cross-licensing pact.
AMD, in turn, will drop all charges against Intel in the US and Japan, where there are several cases pending. AMD's spin-off company, Globalfoundries, will now be allowed to act as an independent company and not need to be registered as a subsidiary.
However, this would not affect the anti-trust charges filed against Intel by the New York General Attorney and the European Union. Intel CEO Paul Otellini was adamant in denying that the company has acted illegally, saying: "Throughout this process we have not wavered in our convictions that Intel has operated within the law. We strongly disagree with the New York Attorney General's case and believe the case is entirely without merit… it is unfortunate that the New York Attorney General intentionally distorted the facts."
AMD's legal, corporate and public affairs EVP Tom McCoy distanced their pact from the same.
ZDNET
quoted him in a media conference call as saying: "For us, this has never been about money. It's about the marketplace. There's no correlation between the settlement amount and anything in the EU."
All corporate squabbling aside, we just hope AMD puts the huge cash dividends to good use in their research centers, sparking off another processor war. Because after all, it's the consumers who stand to gain when two companies get competitive...