The Mono HP LaserJet AiO pays for itself in 2 months. After that, it pays your business.

While printers are a necessity in every office, it's printer consumables that cost the most.We're talking of paper, toner cartridges and electricity. HP's new LaserJet Pro printers are more energy efficient and give better bang for your buck than ever before. In a small and medium business setup, printers should be all about being efficient, looking at the statistics, it's easy to notice that competing products don't come close to the efficiency of the new HP LaserJet Pro range of printers. When you buy an HP LaserJet Pro, you can be rest assured that you will get your money's worth within 2 months. That's right!
The printer will pretty much pay back its own cost.

Two such devices are the HP LaserJet Pro M1136 and M1213nf MFP.
Save energy: Consolidation is an effective cost- cutting measure across industry verticals. It improves cash flow and helps generate resources to invest in expanding the business. In an office environment, this can be achieved by reducing the number of devices that use power. Try using a multi-function printer to perform four essential office functions-print, copy, scan and fax. Interestingly, a study done by HP on developing markets showed that small and medium-sized businesses are more inclined to use multiple single-function devices to perform these tasks.
DID YOU KNOW?
You could reduce your power consumption by up to 44% just by turning all your print devices off at the end of the day
This translates into energy inefficiencies. That's why one should invest in products like HP's All-in-One LaserJet Pro series. Its industry-first HP Auto-On/Auto-Off system ensures that the device consumes three times lesser energy in its power-saving mode than conventional sleep mode by automatically powering down after a period of inactivity. HP's Instant-on technology also ensures that the device requires no warm-up time while coming out of the power- saving mode. This results in the first page printed in about 8.5 seconds. Since an LED light source is used for copying, instead of the conventional fluorescent tubes, the energy used is four times lesser in the idle mode and 1.4 times in the copy mode. These multi-function printers also use an energy-saving toner, which increases both print speed and quality. Not surprisingly, this HP series also has the support of Energy Star.
Improve faxing and increase productivity: As most offices have a centralised fax room where documents need to be physically delivered, that creates a disturbance in work flow and loss of work hours. And hiring a person for the task leads to additional expenditure. Also, the cost of paper and toner to print every incoming or outgoing fax gets added.
DID YOU KNOW?
Smart Install lets you install the printer to any notebook, netbook or PC in less than two minutes without the hassles of installing with a CD
A less expensive more productive option is to invest in an HP LaserJet AiO which has built-in network card and PC fax send/receive capabilities.These features let you send and receive faxes from your desktop. The bottom line? Total confiden-tiaity, greater convenience, and most importantly, cost savings. Also, with Industry-first HP Smart Install Technology you can begin printing in as little as two minutes by connecting your PC, netbook or notebook to the printer with a USB cable and install automatically. There is no need for an installation CD.
Maintenance Free: The larger the number of devices installed, the higher is the maintenance. In fact, a Gartner Group study found that the mismanagement of output fleets, such as copiers, printers, and fax machines can cost a company between 1% and 3% of its annual revenue. This percentage can do wonders to your company's bottom line. Separate devices to print, scan, copy and fax, mean separate annual maintenance contracts. This also leads to using more storage space for supplies. In such a case, it makes sense to buy a device, like HP LaserJet All-in-One printer, which uses a single cartridge for all functions offered. This takes care of your maintenance costs and guarantees consistency in the quality of documents you generate. The integrated network capability of this product also ensures that your employees have minimal intervention with the device adding to the longevity of the machine while cutting down maintenance costs arising from mishandling the device.
Better management of space: The better you manage your space, the better your chances are at trimming the costs. Installing the right equipment, like a multi-function printer consolidates all important office features into one box saving you considerable space and allowing you to work from a smaller office. Saving digital versions of documents, instead of hard copies, offers multiple advantages. It does away with the need to procure and maintain expensive filing cabinets; reduces costs on duplicating, sharing and distributing documents; and speeds up the process of retrieving documents by enabling better indexing.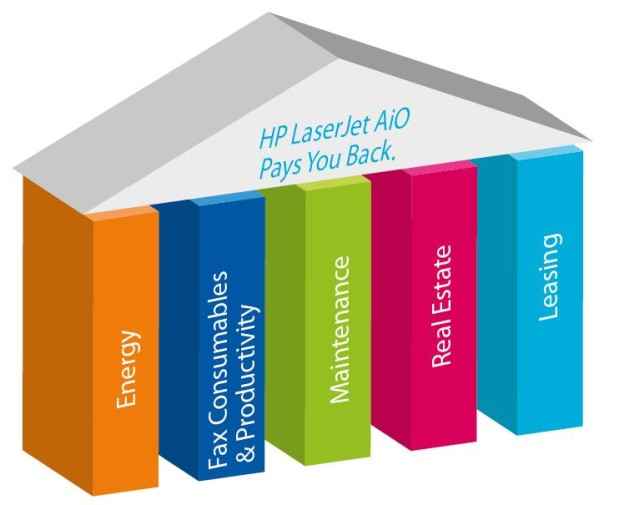 Leasing costs: Copiers are now essential office equipment. Having a copier handy in the office ensures that important documents stay confidential. It also improves work productivity as employees don't need to step out of office. However, buying an individual copier increases operational and maintenance costs. The upfront costs of buying or leasing a copier often exceed the requirement of the business. This means you pay for what you do not need. A wiser option would be to acquire an HP LaserJet All-in-One printer that will print, scan, fax and copy while saving time, space and money.