Microsoft, and even Nokia for that matter, have been pushing Windows Phone as the next big thing. The platform is still quite new and some of you may have trouble switching. For those of you who have taken the plunge and got yourself a spanking new WP7 device, here are some tips and tricks to get you started.
Managing contacts
Transferring contacts from your old device to a Windows Phone can be a slow and painstaking process, or a hassle free, 2 minute job.
WP7 uses "cloud storage" for handling contacts, much like Android. It doesn't interface with your PC and neither does the Zune software support the handling of contacts.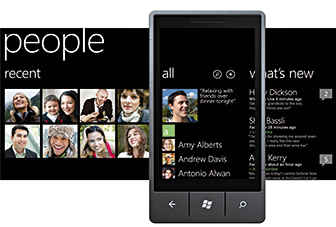 If all your contacts are online, Facebook, Gmail, SkyDrive, etc., you will have absolutely no issues. The same goes for Android devices as your Android device can directly sync with Gmail anyway.
To transfer contacts to your WP7 device, you need to start it up, connect to the Internet via Wi-Fi or EDGE or 3G or whatever method you choose, setup a live account or email account and you're done. When you setup Facebook and twitter also, your contacts will be synced. All the information which is public, including images, adresses, phone numbers, etc. will automatically be pulled to your phone. Alternatively, if you have a SIM card and not too many contacts, your contacts can be synced to the SIM and then transferred to your WP7 device. This is the easy way.
If you have a phone that is not an Android device or doesn't sync to Gmail or an email id, you're in for a lot of trouble. Your goal should be to transfer your contacts and calendar, etc. to an online service such as Gmail or SkyDrive. No matter what phone you are using, if there is a software suite available cuch as kies, or Ovi (now Nokia suite) among others, you will first need to export your contacts as a CSV file. Each software suite will have a different way of managing this and you will need to go through their help section and figure out how to do it. You will usually have an "Export to CSV" option in the file menu of whatever software you use.
This CSV file can now be imported directly into Gmail. To do this login to Gmail->Contacts->Import contacts->Choose file. Select the CSV file you have exported and Gmail will read it and store all the data. Now it is just a matter of syncing your gmail account to your phone again. It is a good idea to open the CSV file you export and go through it for errors before uploading. Sometimes your numbers may be stored as 91-XXXXXXXXXX. This is a problem as most spreadsheet programs will interpret this as a number and convert 91XXXXXXXXXX to 9.1E11 or something similar. You will need to manually remove the " " symbol to avoid errors. Also, if some of the numbers in your end up under a column other than "Home" or "Mobile", you will need to manually transfer them to avoid any problems while syncing to the phone.
For Nokia users, there is a simpler method. Head over to https://bit.ly/xVyr5B and follow the instructions depending on what model you have. Nokia also has an app to help you transfer contacts between a normal Nokia phone and a Nokia WP7 device.
Customizing your phone
Changing your ring tone on a WP7 device is a bit more complicated than on other phones. You will have some bundled ring-tones, but to add your own you will have to do the following.
The file size of the ring-tone cannot exceed 1MB and the duration of the tone cannot exceed 40 seconds. You will have to edit the song accordingly. There is no chance that a song like "Shine on you crazy diamond" can be set as a ringtone. After editing the song, you will need to set the genre as "ringtone", this is essential as otherwise the file will not show up as a ringtone and will only be recognised as a song. Import the file into your Zune desktop software, sync it to your phone and you're all set. The ringtone will show up as a custom ring tone on your phone. Tap to set.
Changing the theme on a WP7 device is limited to changing the colours of all the tiles together. To add more "spice" to your phone, you can pin images and music as tiles. You can also use an app such as WizTiles to help you customize the tiles. Certain shortcuts which you use regularly can be a bit irritating to access, say for example, Wi-Fi or Cellular Data. To get around this, simply download an app called "Toggle". It features a whole pile of tiles that you can pin to the start screen for quick access.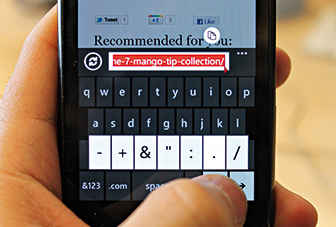 Miscellaneous Tips
The US version of WP7 features an app called Local Scout. It is useful if you're the type who goes around looking for restaurants and other interesting places. The app isn't available in India but to enable it, all you have to do is navigate to settings->"region language"; scroll down to "Browser and search language settings" and change the language to "English (United States)". The app should now show up on your start screen.
If you don't have Wi-Fi access or a data connection and for some reason you still want to connect your phone to the Internet, you can plug your phone into the PC and start the Zune software. Your phone can now access the Internet if your PC can. Bear in mind that you cannot access the marketplace or images or music or video when connected to the PC.
Long-pressing certain keys while typing will give you more options. For example, long pressing the period key will present you with options such as an exclamation mark or question mark. If you made a mistake while typing, just tapping on the word will select the whole thing and you can delete and rewrite, if you want to edit only a letter or so from the word, long-press in the input bar and you will be presented with a large cursor which you can place anywhere for easy editing.
WP7 comes with a very effective qr code reader in terms of the Bing! Visual Search app. There is a drawback to this however as you cannot read codes if you're not connected to the Internet. To get around this limitation, use a 3rd party app such as red laser for all your scanning needs.