Microsoft recently unveiled Outlook.com, its redesigned email service based on the fresh and modern Metro user interface. Outlook.com entirely connects you to social media while you're checking your email. It also assures the privacy and security of your data and information. If you're using Hotmail, you can easily upgrade to Outlook.com. You just have to click "Upgrade" in the options menu of Hotmail. Your email address, password, contacts, old email and rules will be retained. Outlook.com allows you to send
or receive email from your @hotmail.com or @msn.com or @live.com address. You can also add a @Outlook.com alias email address to your account if you want. Let's explore some interesting tips and tricks within this latest email client from Microsoft.
Keyboard shortcuts
While using Outlook, you can increase your speed of operations by enabling keyboard shortcuts. While inside the inbox, click the Settings icon which you'll find on the upper right-handside corner next to your name. Then go to More mail settings > Keyboard shortcuts and select the mode you'd like to use. Besides being able to easily manage common tasks with your keyboard in Microsoft Outlook, if you're more familiar with Gmail or Yahoo! keyboard shortcuts, you can use them too. Just take a brief look at the table in the mentioned URL. It indicates various keyboard shortcuts that you can use in Outlook. In the table for Gmail and Yahoo! shortcuts, the empty cells indicate that there's no corresponding keyboard shortcut in that email program. Check them out! https://dgit.in/NpvWdO
Add an email alias
An alias works as an alternate email address to associate with your existing Outlook account. We often use multiple addresses for different purposes such as for blogging, online shopping, job search etc. With the help of aliases, we can use different @Outlook.com email addresses in the same inbox. Aliases use the same contact list and account settings as the primary account. Outlook automatically sends incoming email into separate folders for each account. It's possible to add up to five aliases per year and up to a maximum of 15 per account. Go to Inbox > More mail settings > Create an Outlook alias.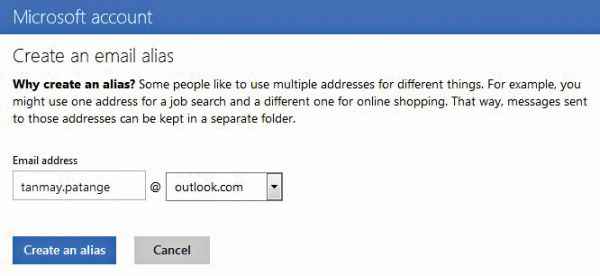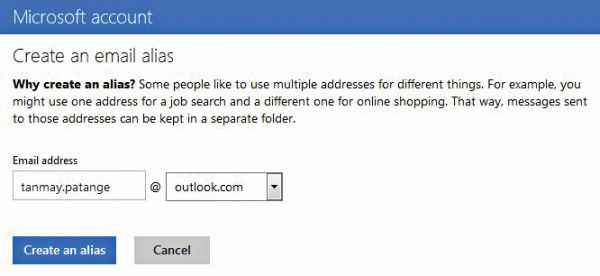 Outlook lets you add email aliases easily
Access social media accounts
Social media management on Outlook allows you to negotiate with and view photos, updates contacts and tweets from Facebook, Google, LinkedIn, flickr and Twitter. In the future, Outlook promises to even make Skype services accessible right from your Outlook inbox. Besides Facebook updates from your network, you can also see links to user profiles and pages. Chat, like, update your status or comment straight from the right-handside pane.
You'll notice a smiley symbol at the top-right corner. Click to view the pane and then click 'Add' right at the bottom to add accounts. Connect each of the social networks you want to be viewable inside Outlook. Once you're all done, go to Add accounts > Do more with the accounts you've connected and tick the appropriate boxes.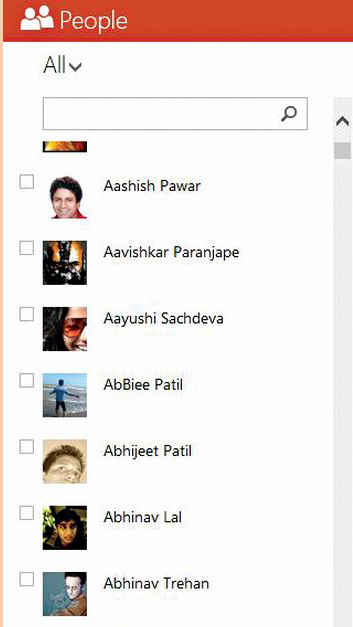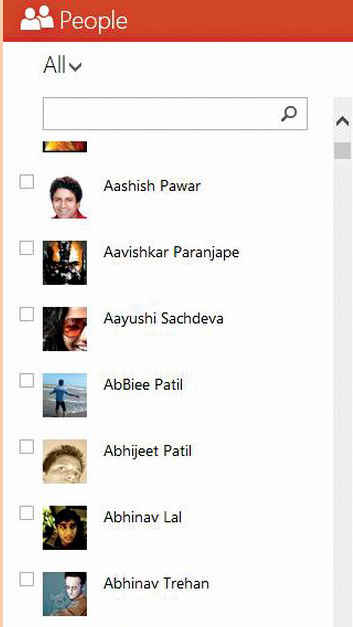 Chat with your friends
Go to the "People" interface on Outlook to enjoy the ultimate social media experience. The Outlook logo at the top-left corner will take you there. Simply click the dropdown arrow to locate the "People" tile.
The public names and profile pictures imported from the social networks you chose to associate with Outlook will show up here. There are quite a few settings you can play around with. You can allow other tweeters to follow you by emailing them directly from Outlook. Your Twitter setting or "Let others find me by my email address" allows tweeters to find your public Twitter account by your email address. Before tweaking this setting, make sure that you're using Twitter with Microsoft Email client. To enable this option, follow the steps mentioned below:
Go to Twitter.com > Settings > Account > Email. Check the option "Let others find me by my email address". Save changes
If you want to stop people from finding you on Outlook, simply uncheck the option and click on "Save changes". Similarly, your Facebook privacy setting controls who can find your Facebook account by your email address or phone number on Facebook.
Go to Facebook.com > Privacy Settings > How You Connect > Edit Settings > who can look you up using the email address or phone number you provided? > Everyone. Click Done
Active Views in Outlook inbox
Isn't it cool to preview your Outlook contents right within your inbox, rather than navigating to other websites? Yes, it's possible with the help of Microsoft Outlook Active Views. Outlook offers two ways to use Active Views - previews and interactive email.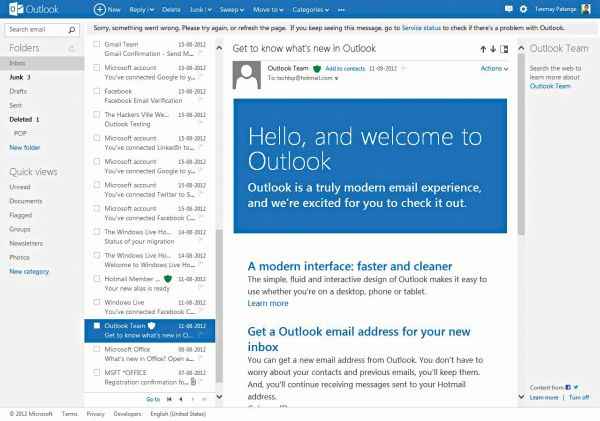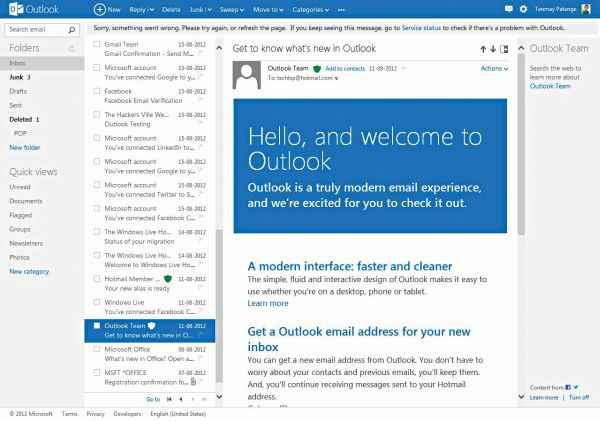 The Outlook.com interface is reminiscent of Windows Phone
Previews:
•When you get email messages from your friends containing links to photos or videos, you can easily preview the contents with the help of Active Views.
Interactive email:
•When you get email updates about the different products and services you're using online, you can easily interact with the content right from within the same email. This is similar to being able to post comments or accept friend requests when you get updates from Facebook or Twitter.
To activate this setting head back to Mail once again using the dropdown arrow on the left-hand corner, go to More mail settings > Active view settings > Save
Preview pane in Outlook inbox
Outlook.com offers a feature called Preview pane which allows you to see the inbox contents and email messages before opening it. It saves the time taken to load your entire email. You can easily choose whether to position the pane on the right side or at the bottom. It also shows the contact's social network profile photo to inform you in detail about their identity. Go to Inbox > More mail settings > Reading pane > Save
Forward your Outlook email
Outlook.com provides various useful features to its users, and one of them is the 'Email forwarding' feature. If you're using another email client service in addition to Outlook, for example Gmail or Yahoo, your email will automatically be forwarded from your Outlook inbox to your alternate email address. However, you can add only one alternate email account to get forwarded email from Outlook. Make sure that you sign in at least once every 270 days to avoid inactivation or deletion of that alternate email account. Go to Inbox > More mail settings > Email forwarding
Manage attachments
At times, it's difficult to access third-party services to share huge files and attachments over the internet. Also, large attachments that you send to friends can easily consume valuable space in their inboxes. Outlook.com helps you here as well. It enables you to send links to files that exceed the 10MB attachment limit via SkyDrive. This is so much better than uploading or sending attachments. It's easy to share hundreds of files at a time. Go to Inbox > More mail settings > Attachments. You'll find three options: "Always send files using SkyDrive", "Always send files as attachments" and an option to use SkyDrive for large attachments and Office docs. You can enable this option by selecting "Let Outlook choose".
Send large files instantly
Ge.tt is a very useful online file-sharing platform which enables you to share and publish files instantly in real-time. It supports almost all types of files including documents, video, music and photos. You can integrate the Ge.tt services with your Outlook account using a simple Chrome extension. The next time you send out an attachment with an email, the same file will get uploaded to your Ge.tt account. We tried sending a video file of 150 MB. Within a matter of seconds its URL was generated and it took just 5 minutes for the file to be uploaded on our Ge.tt account. Download the "Ge.tt on Outlook.com" extension for your Google Chrome: https://dgit.in/PgQZNX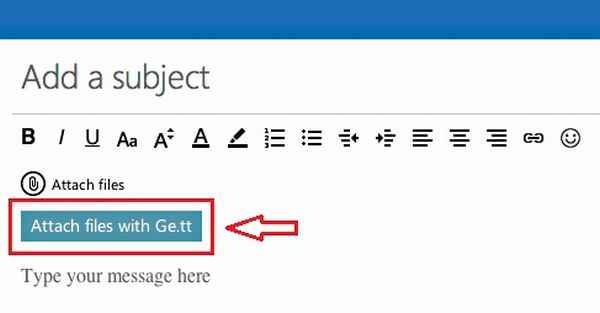 Attaching files with Ge.tt
Use filters to organize mail
Outlook.com offers several ways to automatically sort or filter incoming email including newsletters, shipping updates and social updates. The Sweep feature is one of them. It allows you to move and delete your email and even configure rules in a few simple clicks to manage the email you want. If you want to get email from a particular sender inside a specific folder, then rules will help achieve that task. If you want to move an email to a specific folder, you can easily drag email and drop them inside a folder, among other ways to do it.
Manage categories
Outlook.com automatically categorizes incoming email which contains newsletters, social updates and photos. Categories are custom creatable for different types of mail, groups of people, dates, subject lines, or anything else you want. You can easily set up instant actions to quickly file mail into those custom categories. Go to Inbox > More mail settings > Instant Actions to do this. It's even possible to display the different categories on the left pane under "Quick Views". If you want to manually categorize your email, then drag and drop allows you to transfer email to the particular category.