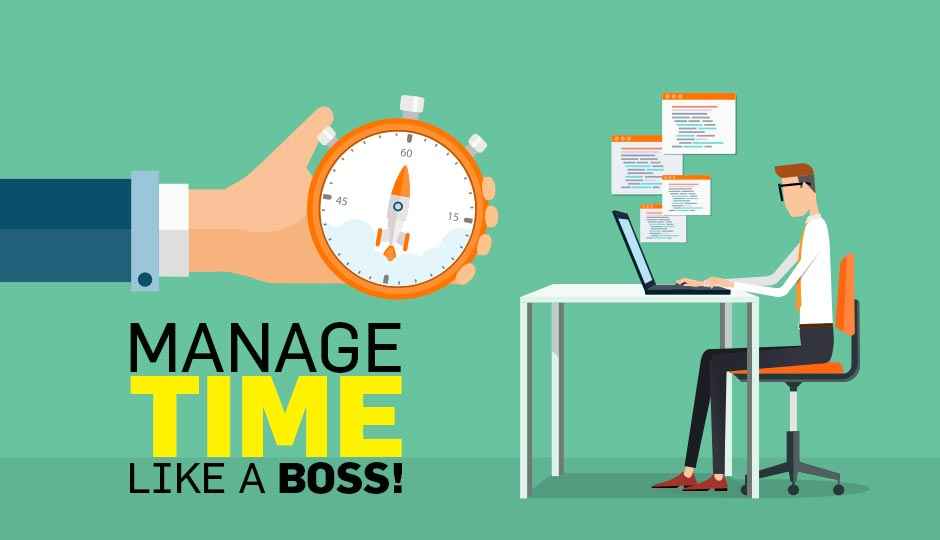 Scheduling and organizing your to-do list on a daily basis is a great habit to inculcate, but in all practicality of the task, how many of us are able to follow the deadlines without wavering? Maybe one out of ten or even twenty? In this world ingrained with technology preparing organizers is also a waste of time and tracking your progress at the end of the day is even more painful. At the end of the day, we all have just 24 hours in our quotas, which is proving to not be enough anymore.
Before going into any more details, let's discuss what time really is. Merriam-Webster defines time as, "The measured or measurable period during which an action, process, or condition exists or continues". But is it really that simple to define time as a measurable period? Definitely, no. That's the whole reason time-based systems or clocked/fixed hour work cultures are losing the appeal as well as failing to bring out the innovative bone in most of the employees, employers and other associated personnel. 'The day just flew by' is a common statement heard from most of the working class people and even entrepreneurs. But when you look at your productivity statistics, it's pretty evident that you're not making the best of your time. So where has all the time flown to, is it spent on social media, movies, coffee breaks or by the water cooler indulging in a little gossiping session?
There was very less that could have been done to track your time till now, but with all the different time management software popping up, it's now up to you to track your time or your boss could do it for you. Before we get down to the different software you could use to spy on your workers, let's take a look at what all can be accomplished using these software.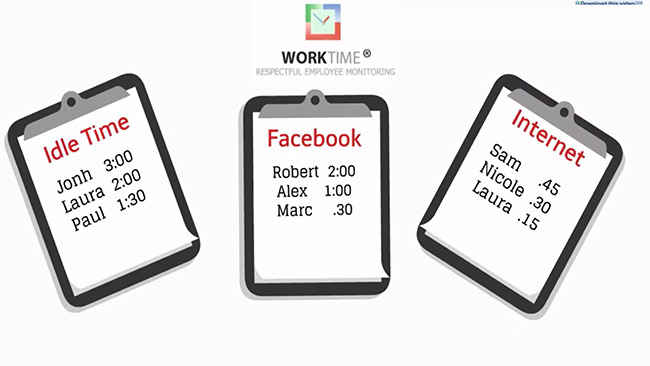 Track your time spent online/offline
Human beings are social animals, but with the advent in technology it has risen to a whole new level. Socializing with fingertips, more popularly referred to as social media, is one of the major ways people while away time. But what are the odds to know how much you or your employees or co-workers spent in there and deduct them from their billable hours. If you think its impossible then you can't be any more wrong.
Track status of assigned tasks
There are many tasks creation and management software out there for employers to assigns and teams to collaborate on and work. But the convenience and allure of tracking time spent by people working on those projects or tasks is not something to be overlooked. Time management software do help in those too.
Track time spent away from your desk
So you have assigned a task or project and are also capable of tracking how much time are your employees spending online and offline, but what about lunch hours and tea breaks. Aren't these also being billed to your account? There is just one way to discreetly account for those, that is via time loggers embedded in these softwares.
Track time spent while using applications
You can make your employees work on thin clients or even on machines that can't run anything other than the software that's necessary to get the job done but never underestimate the will power of an employee trying to skip work. Which is why most of these software carefully tabulate what all applications were executed and for how long they were running on said machines.
Log and track your billable hours more efficiently
If you are going to ask is everything about time management for the benefit of employers, then we would say just hold on a minute mate. Logging away billable hours is the most attractive features offered by time management software. For instance, if you are going to a meeting or conference at a location other than your office and are not able to come back to your workplace or are simply working remotely, then you can just log it as billable hours and keep track of working and non-working days with a single click.
The Software
1. Time Doctor
This is one of the oldies and has been around since the inception of the concept of tech-based time management. It has all the basic functions of a TMS along with a not so common addition of screenshot based activity monitoring which simply means saving timely screenshots of your screen onto its server for the admin to access. But its time logger pop-up can be really annoying at times. It comes in two versions: Lite for those who don't have too many tasks to log or don't work on the go. The Pro version comes with cross-device support, a web mail like interface for organizing tasks under different headers for easy accessibility and syncing data from various software like Asana, Basecamp and so on. Also, it's timely screenshots keeps the user on his or her toes as not to be caught using some unauthorised software or webpage.
Cost: $9.99 per user/month (Both Lite & Pro)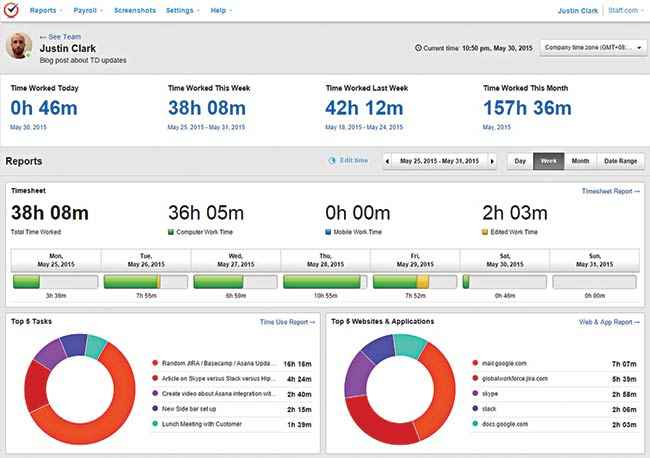 Time Doctor interface
2. Harvest
This is more of an employee productivity tracking solution with different financial, analytical, communication, CRM tools. It doesn't have application tracker like what Time Doctor has. But even then it's still worth your money. Enough to make our list due thanks to its ease of usability through a web portal as well as support for add-ons. In this software, the billable hours are calculated on a predefined pricing and category of pricing. For instance, if you've been billed $20 per hour against a specific employee for a specified project parameter then at the completion of the task the CTC is automatically generated. The mobile app sure does come in handy since it makes it convenient to log billable hours when working remotely.
Cost: Free, $12 per 3 users/month (Solo), $49 per 9 users/month (Basic), $99 unlimited users/month (Business)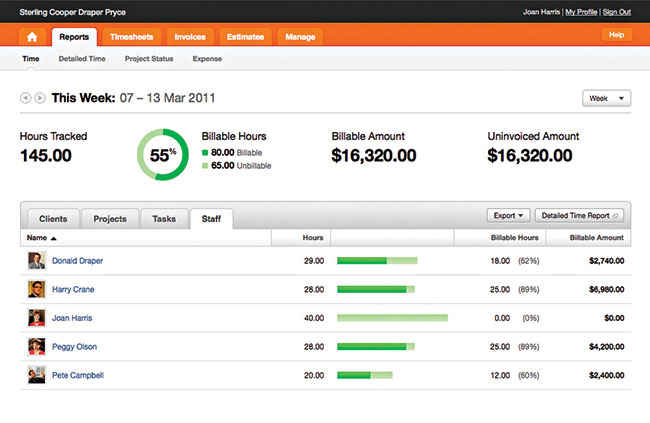 Consolidated billable data
3. Rescue Time
Like every other time tracking solution, this too has an online/offline tracker, application tracker, and many more features. But the interesting aspect here is that of gamification! Simply put, it allows you to rate an employee's work productivity and give them something to feel proud about. So it's nice to improve your scores and clinch the top position. What makes it even better is the fact that results are represented in a graphical manner under different usage headers like social media, games, business tools which are very easy to read.
Cost: Free (Lite), $9 per user/month or $72 per user/year (Premium)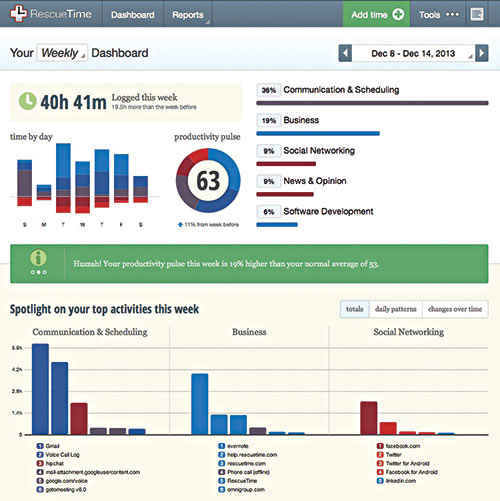 Rescue Time interface
4. Manic Time
This is one of the most comprehensive tools out there. It tracks all of your online/offline time spent, has an application tracker and a time logger with the ability to colour code the day into different segments. Just hover your pointer over the bar and it shows where you spent that time. Also, there is the consolidated pane which stacks all the applications or web pages you have visited during the course of the day under simple application headers. There is even a server module to integrate all the machines that have Manic Time installed and are on the same network. You can use this feature to produce a consolidated result of all the users.
Cost: Free, $67 per user/month (Pro)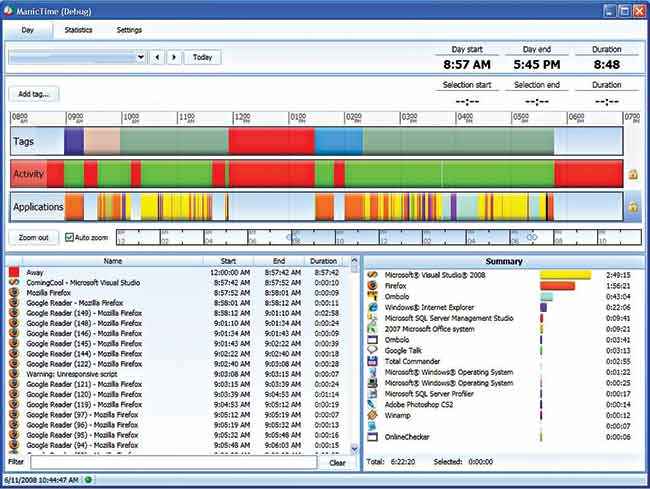 Manic Time interface
5. Work Time
This is a complete enterprise solution with a server deployable application to track every keystroke on connected devices on the same network. And just like Rescue Time, it also incorporates gamification. The reporting dashboard highlights employees who average more time on certain software so you know who your star performer is in each category. It is one of the most comprehensive solutions out there but it is quite compared to the competitors expensive. But compared to the support provided by the publisher it's worth the price.
Cost: $49.95 per user/year (Corporate), $1954.48 per 10 users and 1 server/year (Corporate) , $49.95 per user/year (Professional)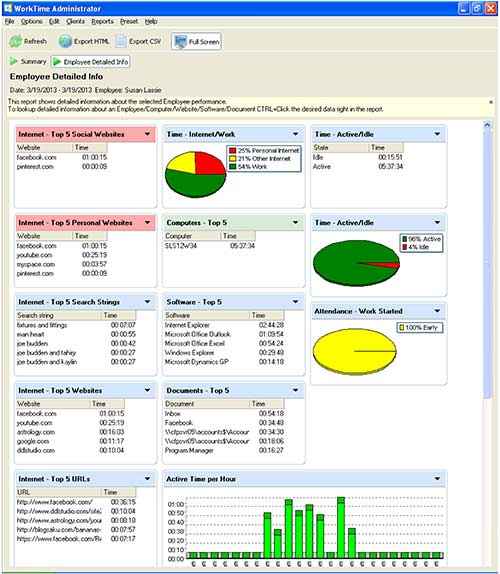 Work Time interface
Other Popular Deals
Samsung Galaxy J7 Nxt 32 GB...

Rs. 10990 *

Buy Now

Moto G5s Plus (Lunar Grey, 64GB)

Rs. 14500

Buy Now

Honor 8 Lite 64 GB (Black)

Rs. 12253 *

Buy Now
*Includes Cashback
​