Webcams are the next best thing to actually being with someone far away… or so it used to be. These days, it's being used for surveillance, video broadcasting, as baby monitors and more. We have some tips for some of the coolest things you can do with your webcam.
Log in using face detection
A freeware called BananaScreen gives you the wonderful ability to log on to your Windows PC or laptop using your face. We're already familiar with this feature on Android and iOS devices. Now the same facial recognition technology has been brought to Windows PCs.
First, you'll need to install BananaScreen on your PC. Once installation is done, you'll proceed to configure your login settings. Here, you must record your own face and predefine how long your system can remain idle before it's locked automatically. You can also use [Alt] L to lock it. Now your webcam will keep looking for your face to appear, and when it detects and matches your face, it will immediately unlock your system. Cool, right? Download BananaScreen:
https://dgit.in/137ykv7
Experience augmented reality
Before getting to this tip, you should first understand the concept of augmented reality (AR). If you've been a regular Digit reader, you might have already discovered what it means and how it works. If not, go grab our handy guide, 'Fast Track to Augmented Reality' from the Thinkdigit website. It sheds some light on AR and related terms. To explain briefly, Augmented Reality is simply a type of virtual reality that enhances your perception by adding more information to the real world. A recent and very popular example of augmented reality is Google Glass.
GE Smart Grid :
With this technique, you'll be able to see a digital hologram of GE's Smart Grid technology come to life in your hands. First, print out a 3D model from the company's website at
https://dgit.in/14Pb4SG
. Turn on the sound on your computer and enable the webcam. Turn off any pop-up blockers. Now head to
https://dgit.in/12ncmBc
and click on either "Launch Wind Turbine" or "Launch Solar Energy" button depending on the experience you want. Hold the printout in your hands and focus your computer's webcam on it. Voila! It's a basic yet interesting practical for experiencing augmented reality in your hands.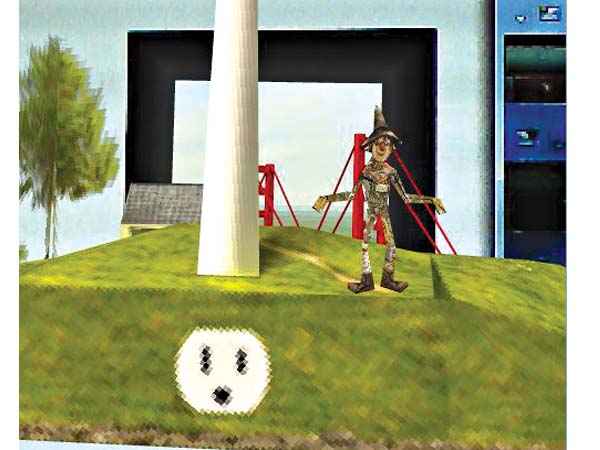 GE smart guide.jpg
3D Taj Mahal :
Similar to GE Smart Grid, you can have one of the world's seven wonders in your hands using augmented reality. Go to
https://dgit.in/137QUU1
and hit the Print button. Note that you must use stiff paper that doesn't bend. Once done, hit the Start button on the same page to begin playing with your own 3D Taj Mahal. Let's all cheer for this technology that allows you to experience a place without even visiting it in reality.
If you don't have access to a printer, no worries. This technique even works without paper, as you can focus your external webcam directly to your computer screen. However, watching the image come alive in your hands is like a geek's dream come true, isn't it?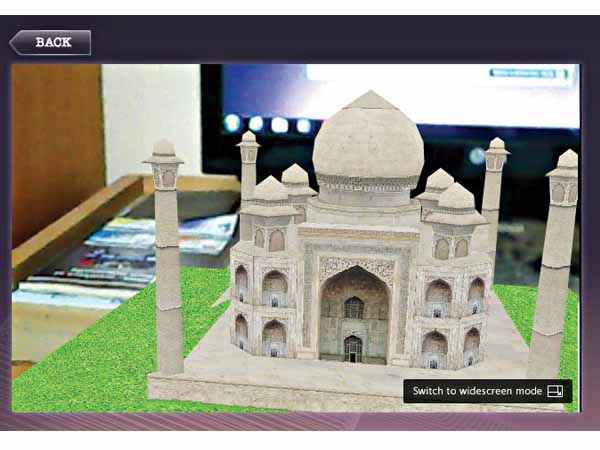 This is how the output for the 3d taj mahal will look like
Make your webcam multitask
This tip will help you access your webcam for more than one application – for instance Skype, Google hangouts, ooVoo etc. − simultaneously. To do the job, you'll need software, such as CamSplitter, that will let you run multiple applications simultaneously with a single webcam device. Once installation is done, you'll need to define CamSplitter as your video source, and the video output will be streamed for all your connected applications without any difficulties. It even lets you set webcam controls and values such as output brightness, contrast, white balance etc. Download CamSplitter:
https://dgit.in/18cLqsu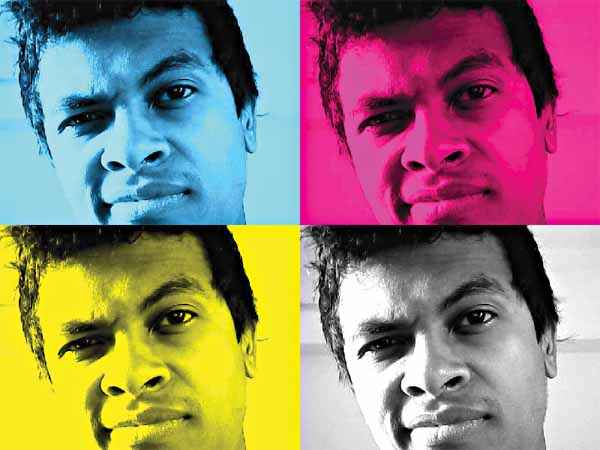 A pop art webcamtoy filter effect adds new bling to video chats
Live stream your website
If you have a website and are looking for a tool to help you live stream your talks/podcasts/musical performances, you must check out Google hangouts. It simply lets you record videos on your webcam and place a live streaming of your creation directly on your YouTube channel. Once done, all you have to do is paste an embedded code snippet of that video on your website. Simple enough, right? Go to www.google.com/ /learnmore/hangouts/ > Sign in to your Google account > Create Hangout > Install the Hangouts Plug-in. You won't need to install this plug-in each time you start Google hangout. Invite friends and start broadcasting your video on YouTube.
Webcam Toy Shortcuts
G : Show grid view
I : Show information
S : Make the picture square
F : Turn the flash on/off
C : Turn the countdown on/off
M : Mirror the image
Apply digital effects and filters
Webcam Toy :
Webcam Toy is an online application, which allows you to play with loads of fun camera effects and filters right within your web browser. You can capture your pictures online and save them to your computer's hard drive, or you can even post them directly to your social media profiles. Before getting started with this application, you'll need to connect your webcam. Make sure you select "allow" when the application requests for access to your webcam device.
Head over to the Webcam Toy website to start having some fun with your webcam: www.webcamtoy.com
Comic Webcam :
Similar to Webcam Toy, Comic Webcam is also an online application. It helps you add noticeably amusing online filters and effects to your webcam's video output. The uniqueness of this application is providing users the ability to customize effects and filters as per their wish. Once you've selected an effect or filter, you can easily increase/decrease its contrast, brightness and color values. Visit: www.comicwebcamo.com
Model for a magazine cover
Ever wish you were on the cover of your favourite magazines? The SillyWebcam website enables you to put your face on the front cover of any magazine you want from the list available on the site. You have the option to either upload pictures from your desktop or via your webcam or even graphics you've collected over the internet. Visit:
https://dgit.in/12ohcOK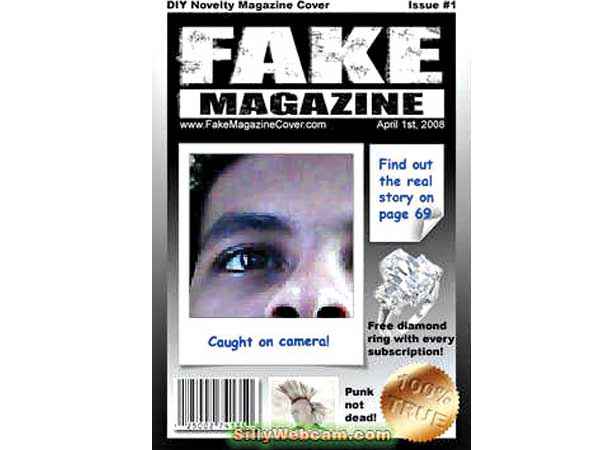 Create cheesy fake magazine covers on the fly
Swap your body
Here's yet another fun thing to do with your webcam on the same website. Go to
https://dgit.in/15b3Ibd
and open a template you want from the list. You'll just need to move your face around till it fits into the empty space. You can upload your pictures from your desktop or simply capture some new pictures straight from your webcam. The result will make you look like a real celebrity. Don't worry if you already are. You can still check this out.