It's a well known fact that employees are known to play hookie from work. Whether it's common distractions like spending endless hours socialising on Facebook, You Tube surfing, or tending to virtual farms on Farmville, there's a lot of productive time being wasted the world over. The problem doesn't just extend to illegitimate internet usage. Employees are known to play truant in a number of ways. Your office printer might be churning out nice full-colour prints of an employee's child's school project. A coterie of work-buddies may be having extended lunch breaks, and water-cooler conversations that may be lengthier than an entire Koffee with Karan episode. According to a survey by www.Salary.com, 22 per cent employees waste approximately 2 hrs daily at work. 44.7 per cent of those polled cited web surfing as their number one distraction at work. Socialising with co-workers came in second at 23.4 per cent. Conducting personal business, spacing out, running errands, and making personal phone calls were the other popular time-wasting activities in the workplace.
Now, as an employer you might be willing to turn a blind eye to genuine personal work such as personal mail or banking transactions, which is why you may not have implemented a draconian IT policy that blocks everything across the board. But even genuine occasions of personal usage of office resources need to be regulated and only be allowed a certain quantum of time. In this article we highlight a few applications that will keep your employees under check and improve your organisation's overall productivity. These are apps that will silently record and in some cases restrict usage of company resources. On a side note some of them can also be used by parents to keep an eye on miscreant kids and teenagers. Read on.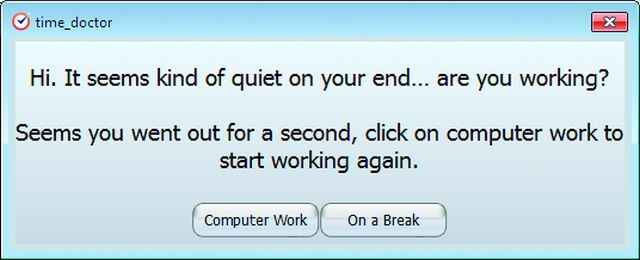 Dude where's my productivity
How do your minions spend their day?
There are several applications out there that will help you keep track of what your employees are up to. Some are paid solutions such as Work Examiner (www.workexaminer.com) that offer a host of functionalities from internet and application monitoring to filtering and report generation thrown in. At the same time there are free solutions such as Time Doctor (www.timedoctor.com), and SurveilStar Activity Monitor (www.any-activity-monitor.com) that help keep track of your employees daily activity that includes remotely accessible timed screen shots. SurveilStar Activity Monitor captures the Network Adapter on client machines and reports to a server. The software can block web sites and optionally simply report the list of web sites visited and also time spent at each site. We had trouble setting it up on a complicated network.
Instead TimeDoctor was very easy to install and get working, thanks to its strong web integration. It's easy to deploy for a significantly large number of personnel too. All you have to do is register an account and add any number of employees to your workgroup by providing their email addresses. As an admin, you can assign statuses to employees such as Manager or User. Step-by-step instructions for installing the client software are emailed automatically to each of your employees. More than just surveillance, the software even helps employees self-manage their activities, which is the beauty of it. As an employee, your first step is to input a few priorities or projects you are working on. The software is unobtrusive and silently tracks activities, requiring hardly any manual input once the initial priorities are entered. The application is quite intuitive as well with provision for marking time away from the computer as a break, or 'work off computer'. It has an option to set daily tasks such as checking mail. If it notices no activity on your computer for a certain period of time, or if you are farting around on sites such as Facebook, you get a pop-up which goes something like "it's awfully quiet at your end, are you still working on so and so task?"
The software is powerful enough to track typical time-wasting websites such as Facebook, Twitter and even news sites. All this info is time stamped and stored away for retrieval by an admin. Time Doctor calls them "poor time use websites" and data for these can be found in the admin panel.
At the end of the day the application sends a report consisting of hours worked, and on what tasks, to the server. Admins have the option of receiving daily or weekly reports of their employees activities. Reports can even be generated on the fly as per requirement – by employee, time period, etc – from the admin dashboard. As an added level of enforcement, Time Doctor also features taking automatic screen shots of your employees activities. In the Time Doctor desktop client, click on Screenshots. This will launch a program called "Screenshot Viewer". Here you can choose from a drop down list the employees whose screenshots you want, then choose where you want the folder created and click "download". The screenshots will then be pulled from the employee's computer and made viewable in the folder you have designated.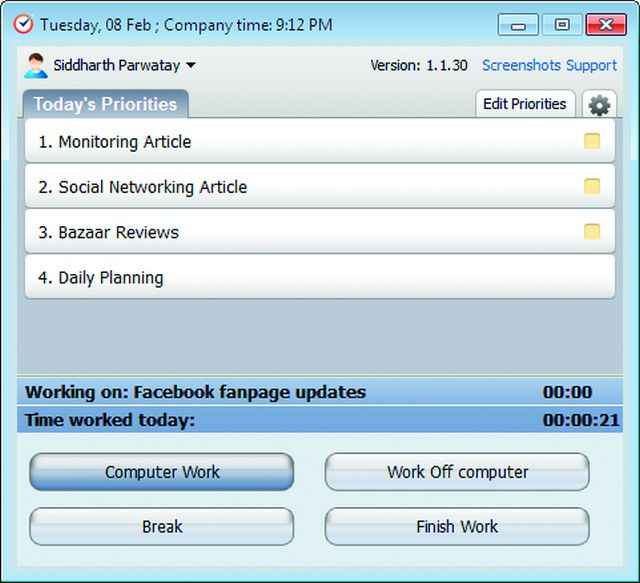 Time Doctor monitoring the activity of an employee
We implemented Time Doctor for our little team and came out with some surprising insights for ourselves. Errr not that we ever slack off or anything.
Monitor printer usage
Did you know printer misuse is one the most common forms of mischief employees indulge in? Often you'll find people taking printouts when they're not really necessary. Employees even take prints for personal use. It's common for kids to tell their parents to print out an eBook or school/college report from office. As a small business owner you'd rather not have this additional expense and drain. PaperCut is an interesting application suite that can allow you to drastically cut down printing costs by monitoring printer usage and assigning print quotas to users. The basic solution called PaperCut Print Logger is free to use and runs as a service on individual computers, silently tracking details of printer usage such as time of print, quantity etc. Logs are available in a friendly HTML format or in an Excel format to facilitate further data analysis. There is an advanced version with network support called PaperCut NG. A free version of PaperCut NG is made available for small offices and home users (upto five users). It will not ask for a licence as long as it detects five or less users on the network. The software needs to be installed on the PC hosting the printer or a Print Server that manages print queues. There's also a client software that needs to be installed on individual workstations. It intercepts prints orders and launches the pop ups where users are alerted about their remaining quotas. A detailed instruction manual is included in the installation bundle. You can download it from
https://www.papercut.com/download/ng/
. Once the installation is complete you can assign print quotas for different users from the convenient Web UI.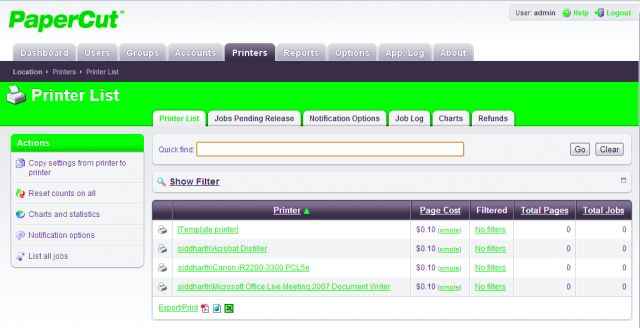 PaperCut In Action
The best deterrent
Applications such as TimeDoctor and PaperCut make no effort to hide the fact that they are monitoring an employee's activity. Yet there are many apps out there that stray more towards eavesdropping than just monitoring. Although it's not illegal to monitor employees' computers by using almost any means (even keyloggers and email spying), it's not very ethical is it? The law gives you full rights to protect your intellectual property and hence implement all sorts of measures. Yet the best deterrent out there is simply telling employees that they're being monitored. If they know they're under the scanner, they will be more likely to concentrate on work-related tasks. And now, thanks to us you have the tools to back your fair warning!
Other Popular Deals
Moto G5s Plus Gold 64gb

Rs. 12049 *

Buy Now

Nokia 7 Plus 64 GB (Black...

Rs. 22099 *

Buy Now

10.or E (Beyond Black, 3GB...

Rs. 9999

Buy Now
*Includes Cashback
​