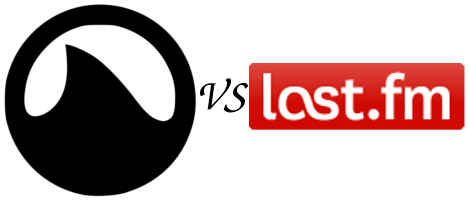 These are about the only major internet radio services that are available in India. Both Lala and Pandora have messages that have been saying the service will be available internationally soon. Both Grooveshark and Last.fm offer services that are slightly different for "International" customers, when compared to the services offered in some countries. For example, Last.fm allows subscribers to playback any song thrice, which is something that subscribers outside the USA cannot do. Still, both sites are great for streaming and discovering new music. Here is a detailed comparison:
Ease of Use: Grooveshark let's you start playing songs instantly, without even a log-in prompt. This is great as you can queue up songs first, start listening to them, and then sign up if you feel like it. Last.fm requires a sign up before you can start listening to tracks. Grooveshark let's you listen to specific tracks at any time, while Last.fm let's you tune in to a station (eg: pop) for up to 30 songs, after which you will have to subscribe to listen to more music. Grooveshark's interface is more natural and intuitive than Last.fm, and looks like a media library of an mp3 player. Last.fm is designed as a site, and navigating to a particular song that you want is much more difficult. You cannot even listen to free, full tracks on Last.fm, but only the radio station for that song (every song, artist, tag, album has a radio station on Last.fm). Grooveshark wins this round,


Database: This aspect of the service depends on what kind of music that you listen to. There are many tracks available on Last.fm that are not available on Grooveshark, and many tracks on Grooveshark not available on Last.fm. However, even though the tracks may not be available for streaming on Last.fm, at least they will be listed, and the community comments on the album, artist and tracks will still be there. Last.fm uses the database in a much better manner, and has a larger database. This database is rich in metadata, with community tagged tracks, artists and albums, something that Grooveshark does not have. In addition, Last.fm encourages users to actively browse through the databases of other users, a feature missing in Grooveshark. Grooveshark however has one major advantage, which is that every song in it's database can be streamed instantly. Searching is faster on Grooveshark (presumably because of the smaller database), and it gives you a lot of listings as well. While Last.fm focuses on giving one, most relevant result, Grooveshark gives you an exhaustive listing, which is fun for say, finding all the tracks with the word "Zion" in their titles. Last.fm wins this one, but only just.


Radio: This is something impossible to judge objectively. For some genres, Grooveshark is better, and Last.fm is better for others. This depends on the kind of music that the user listens to. Last.fm has a bunch of tags that can be used as radio stations, which is a great feature. For example "catchy songs" is a station that covers a wide range of genres. Almost every item on Last.fm behaves as a radio station. Last.fm wins this one too, as users are likely to just play the songs they like in Grooveshark instead of listening to the radio.


Playlists: The Last.fm playlist feature is very disappointing. There are too many conditions before a playlist can even be played. There have to be a minimum of sixty songs, with no more than three songs from a single artist. Additionally, the playlist can be played back only by subscribers, and that too, in a random order, and not in the specified order. Track order is a vital element in most playlists, and this almost defeats the purpose of having a playlist at all. Grooveshark allows you to create playlists, save them, and share them easily. Unfortunately, playlists are not easily searchable. Grooveshark wins this one easily.


Widgets: Both Last.fm and Grooveshark allow you to embed widgets on forums, websites and blogs. Last.fm has two basic widgets, one for your recently listened to tracks, and one for your loved tracks. These can be customized to an extent, which basically involves picking from a bunch of preset options. Grooveshark, on the other hand, offers most of the site services in widget form. You can create a playlist, and embed the playlist anywhere, say on a blog or a forum, and you can play it back instantly. You can also customize it on many levels, change the dimensions, add and remove buttons, play around with the colours with two levels of expertise and more. Grooveshark easily is the show stealer in this area.


Community: As far as internet radio communities go, Last.fm has the most active and vibrant community around. The community here collaborates on projects, tags music and participates intensely in community activities. The Last.fm community is comparable to the communities around Flickr or Vimeo. However, Last.fm does not work as a social network, and it is difficult to search for and add users you may know, which many users feel is a great "feature". Last.fm has some strict moderation policies, and the staff keep an eagle eye on spammers, scrobble abusers and other deviants, ensuring that the community is genuine. Grooveshark almost has no community to speak of.


VIP services: The prices for a Grooveshark or Last.fm subscription is the same. Grooveshark offers you an ad-free experience, priority on streaming, a desktop client (yes, Grooveshark does have one) and a larger database. Last.fm, offers the streaming, and an area on the site dedicated to fun stuff for VIPs. These include analysis of the music in different visual forms. If you don't care too much for ads, Grooveshark basically offers nothing exceptional for being a subscriber, whereas Last.fm offers many benefits. This is a "tie" as it is unfair to declare Last.fm as the winner just because Grooveshark offers most of its services for free anyway.


API: What Grooveshark has achieved with it's widgets, Last.fm does with it's API. The Last.fm API is very versatile, open and at the same time secure. Streaming services, as well as scrobbling services are available through the API. Additionally, third party developers can use the community generated contextual information for a number of purposes. For example, maps can be drawn of which country listens to what kind of music, individual listening history can be visualised and compared to others, and a tube map can be drawn of the genres a user has visited over time. The staff and the community actively participate in and encourage creative uses of the API. Many third party sites use the Last.fm API as the backbone for their purposes. This includes the internet radio and YouTube mashup Tuberadio.fm, as well as the directory listing of all music related torrents on Piratebay, among many others. Last.fm convincingly wins this one.


The Verdict: Last.fm does seem to have an edge because of the community, the database and the API, but Grooveshark is really convenient as well, when you want to listen to a particular track. The ideal solution would be to subscribe to Last.fm, use Grooveshark for free, and set up Rumpus to scrobble from Grooveshark to Last.fm.