The Indian government is planning to improve rural connectivity, with Internet enabled Mobile Phones for over 25 million rural households. The scheme will also provide relief to state-owned BSNL, who will be the telecom operator for the scheme.
A senior Government official, spoke to the Hindu Business Line and said the beneficiaries will get a mobile phone and a connection by paying a one-time fee of Rs. 300. The recharge will give them 30 minutes airtime, 30 MB of data usage a month and 30 SMS text messages. The move will also give rural homes access to information, mainly about healthcare, agriculture, financial services and education through SMS.
The project is focused on rural women and men will get the benefit only if their are no women in the household. Beneficiaries will be selected by state governments and there will be only one beneficiary in every household. The beneficiaries will be enrolled in the Mahatma Gandhi National Rural Employment Guarantee Act (MGNREGA) scheme and will need to avail the scheme for a minimum of 25 days in a year.
The project will give relief to BSNL, which will receive almost Rs 5,000 crores over a three year period to get the program off the ground. The Government plans to dip into the Universal Service Obligation Fund, to bankroll the project.
"Villagers will be given a smartphone. A free recharge of Rs 30 (Re 1 a day) will be provided by the service provider (BSNL) on the first day of every month for two years," he added.
"During MGNREGA enrolment, it is recorded whether the beneficiary has any phone connection or not. In this way, the scheme will increase tele-density," said the official. As of March 2013, rural tele-density was 41 per cent while urban tele-density stood at 147 per cent.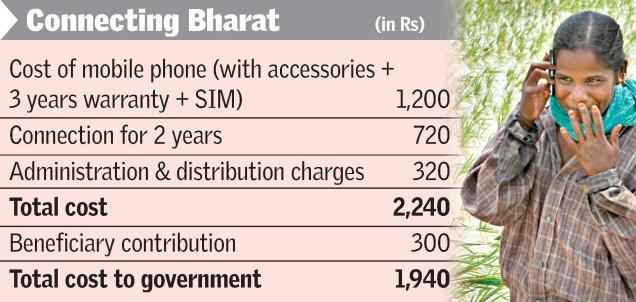 Source: The Hindu Business Line