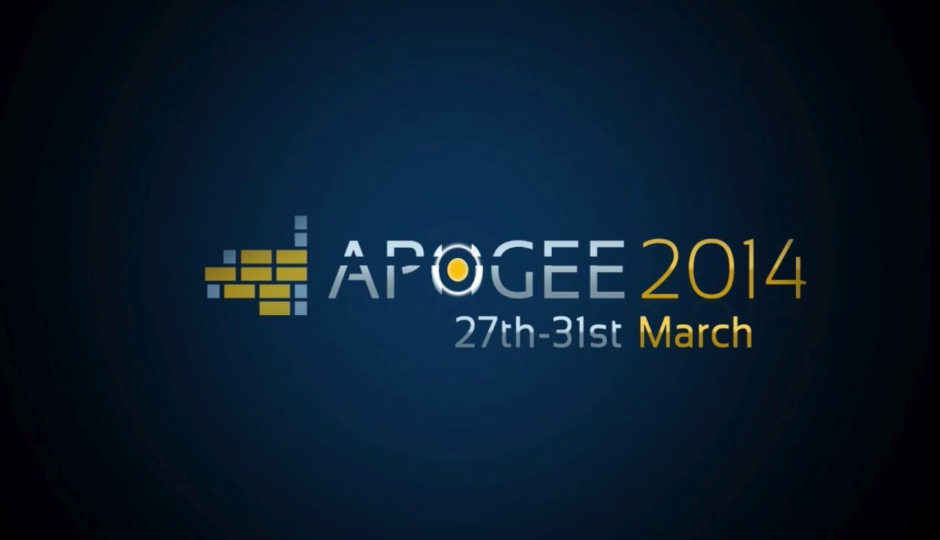 The annual tech festival APOGEE concluded on March 31at BITS Pilani, where students showed off their tech creations. The five-day event saw an exhibit of over 550 student projects in various fields of science and engineering, including design competitions, paper and project presentations, robot displays, quizzes, workshops on telescope making, cyber-forensics and film making. A LAN gaming event was held during the festival as well. Students from almost 260 colleges attended the event.
APOGEE has been held at BITS Pilani since 1983 and is entirely organized by students.
Distinguished speakers from various fields of science also attended the event. Dr. Walter Lewin, Astrophysicist, MIT (Massachusetts Institute of Technology) gave a guest lecture to those in attendance. Other speakers included Dr. Johanna Blakley from the University of Southern California, director and filmmaker Mansoor Khan and director of photography at NASA, Dr. John Hoffman. Dr. Ryan Woodward, an animator and storyboard artist gave tips on animation.
BITS Pilani prides itself in the wide range of student created technology at this event, and we found many of those to have potential.
Robotics at BITS
Acyut: India's First Humanoid Robot
One of the many highlights at APOGEE was Acyut, India's first autonomous Humanoid robot. The humanoid was created by BITS students in 2008, and they are currently working on the seventh generation of the robot; called Acyut 7. "Over the 5-6 years of this project, we have come from a small version of a remote-controlled bot to a bigger-sized autonomous robot," said Kaustubh Nawade, the project's team leader. The robot is capable of dancing, picking up objects and can even interact with humans. But according to Nawade, Acyut 7 has primarily been designed to play humanoid soccer. Team Acyut participated in RoboCup last year, held in Eindhoven, in The Netherlands, and came in at third place. "The team is planning to build a bigger version of Acyut and also incorporate various humanly abilities in it," said Nawade.
Check out Acyut playing soccer:
Currently, the humanoid is run by an Intel Atom processor and perceives the environment through an onboard camera. "After analyzing the environment, it processes the images frame by frame in the board itself and then takes various decisions with its autonomous cognitive ability. To carry out decisions, we have developed an AI (Artificial Intelligence) system which later sends out commands to the onboard motors and moves the robot," Nawade said.
The humanoid robot has undergone many changes over the years. Check out the journey of Acyut so far:
The project is sponsored Tavant Technologies, BITSAA, Oriental Insurance Company, Sierra Atlantic, Force 10 Network and Government of India's Department of Information & Technology.
Robocon Lab
The Robocon lab is a team of 18 tech enthusiasts studying at the university who love building robots. The team is divided into three groups who work on each aspect of a robot -- design, electronics and coding programs.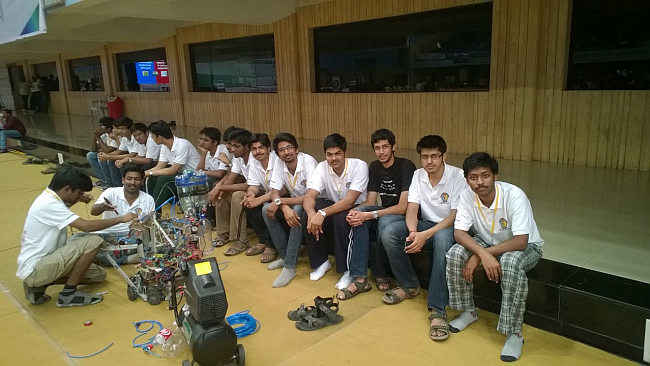 "We want to build more innovative robots but what stops us is the funding," said Naveen Vijay, a Robocon Lab team member. "So far we have built all the robots from our own money that was put together by the team. This also makes it difficult for us to compete with other teams in competitions." So far the team has spent Rs. 2 lakh from their own pockets in building the robots. Check out a robot that the team has build at the BITS workshop:
Project Smartlabs
A group of BITS Pilani students are working on a system which helps with automation of electrical equipments at home. The team, called Project Smartlabs, demoed the project, which is a gesture based automation system. The system helps users turn any electrical equipment on and off at home. Users can activate the system by a defined keyword (just like 'OK, Google' activates Google Now) and by pointing towards the appliance (TV, lights, speakers, etc), they can turn it on or off. For now the team is XBox Kinect for the gesture-based control but soon wants to use a customized motion-sensing device.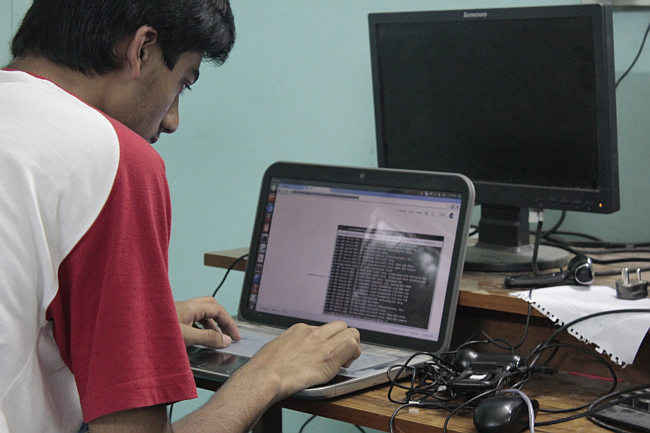 Inspired Karters
Another interesting team at BITS is called the Inspired Karters. The team is divided into two, each working on a different car. One of the teams, called the SAE BAJA, is working on an all-terrain car and the other team, called FS (Formula Student), works on a Formula car designed for racing. The car has to go through various tests including endurance and stability tests to qualify for the competition. The teams recruit new students every year to work on the cars.
The full team currently consists of almost 50 students with a passion for building and designing cars. The FS team has regularly been participating in the Formula Student competition in which cars built by students from various colleges around the world compete. The competition is a testing ground for the next generation of world-class engineers.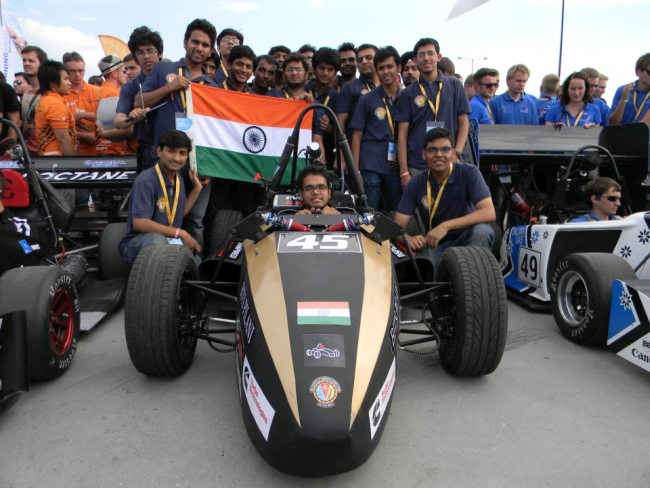 "The Formula Student encompasses all aspects of a business including research, design, manufacturing, testing, developing," said FS Team captain Prasoon Garg. "It also imbibes the values of an entrepreneur in a student with the task of marketing the prototype each team builds."
The team is currently working on the FS car in order to compete in the next FS International competition.
The SAE BAJA team has built an all-terrain vehicle and regularly competes in the SAE (Society of Automotive Engineers) competition.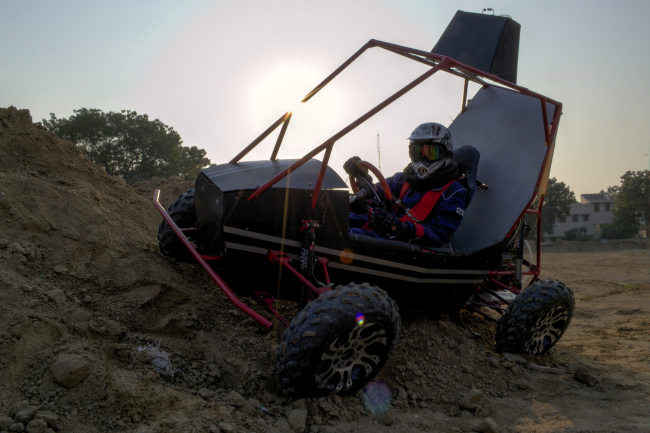 Teams of students from universities all over the world design and build small off-road cars. The cars all have engines of the same specifications.The objective of the competition is to design, fabricate and race a single seater all-terrain vehicle and get the design accepted for manufacturing by a fictitious firm.
Other activities included "Armageddon," an annual cyber gaming competition at APOGEE. Hundreds of students participate in the LAN gaming competition. The event was presented by GIGABYTE and featured games like Age of Empires II: Conquerors' Expansion, Call of Duty Modern Warfare, Counter Strike 1.6, DOTA, DOTA 2, FIFA 14, NFS: Most Wanted and Blur. The festival also included a Junkyard Wars competition in which students created objects using scrap parts in the workshop. Other events included a dual-mode vehicle challenge and brain testing games like minesweeper, Internet Whirlwind, Brainwave, Dexter's Lab and a Sci-Tech Quiz.