Drupal creator Dries Buytaert, and Opensource.com, the community building initiative of Red Hat Inc. are presenting a webcast on Thursday, November 17, 2011 at 2330 hrs Indian time. The theme of the webcast would explore how Linux and Drupal have evolved to become open source communities by themselves and also compete in the enterprise world.
The speakers at the event include Michael Tiemann, Vice President of Open Source Affairs at Red Hat, and Dries Buytaert, creator of Drupal and co-founder and Chief Technology Officer of Acquia. They will address the audience on their personal learnings and experiences and how they lead Open Source Affairs and Drupal, respectively.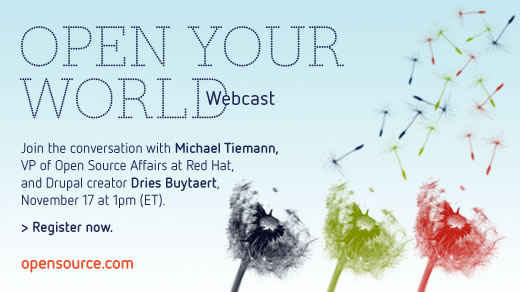 Registration is absolutely free. To register yourself for the webcast, go here.
The agenda of the webcast would be:
The common challenges to community growth

Dealing with crisis when the momentum and direction of a community change

What the younger Drupal community's members can learn from the experience of the Linux community

What the Linux community can learn from the rapid growth and breadth of the Drupal community