New year, new expectations. From the round-up of trends we've listed, it looks like an exciting one for the technology enthusiast. Plenty of new technology to look forward to, along with it plenty of amazing products and services to ogle at. Smartphones with flexible displays, over 30 per cent of us susceptible to online malware attacks, wafer-thin laptops with all-day battery life, the rise of e-commerce in India and our increasing dependence on cloud services like never before.
Here is a sneak preview of some of the biggest trends we'll witness in the tech world this year. Pick up a copy of Digit to get a much more in-depth and comprehensive look at 2012's technologies. We've also detailed and dissected the best Tablets and Point and Shoot Cameras in India, in our Digit Showdowns. Order your copy of the magazine here.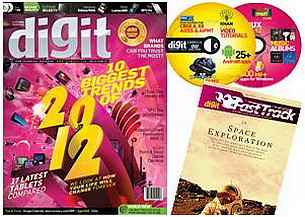 Digit's Top Ten Trends of 2012
---
I. Ultrabooks - Wafer thin laptops with 8 hours of battery life. It isn't science fiction. It's science reality!
Did you always wish your laptop to be a tad lighter, a bit faster, its battery to last a few hours more? The tech gods are surely smiling down on you, and the rest of us demanding lot, for there's a new kid on the block that will fight tablets for all the tech headlines in 2012. Ultrabooks, essentially thin-and-light laptops with improved performance chops, will go mainstream this year. The world beyond netbook.
II. Cloud migration - The cloud is the limit, bandwidth no bar. We see the silver lining, and it is approaching us, as we glide.
We have, not very long ago, been using email accounts that restricted us to 5MB of storage. Yes, 5 MB! Back then, 20 MB seemed like a lot. Wow, we didn't have to delete our emails anymore. Then back in 2004, Gmail stepped in and life wasn't the same. We're talking GBs now. Soon we found ourselves trusting our email service. We were being pampered all this while, because we were getting this for free.

III. Mobile OS Deathmatch - Google vs Apple vs Microsoft. It is literally the war of the worlds, but who will win it all?
First things first, Google's Android (since 2007), Apple's iOS (since 2008) and Microsoft's Windows Phone (successor to Windows Mobile since 2010) have been available to mobile consumers for only a few handful years now. Sure there's Nokia's Symbian, Samsung's BADA and RIM's Blackberry OS, but waning developer interest and lack of consumer support will effect their growth in the coming years. Yet, in this short but decisive period, Google, Apple and Microsoft have emerged as the strongest contenders — they currently enjoy a 69 per cent global mobile OS market share.

IV. Reign of the Smartphones - Smartphones more powerful than netbooks. It's bound to happen. The writing's on the wall...
Ever since Apple launched the iPhone back in 2007, the race was on among competing manufacturers leaving no stone unturned, to clone it. It's absolutely nuts how the mobile phone industry has just exploded over the past 5 years, especially the advent of smartphones. As a result, consumers have never been in a better position to buy just the right smartphone they desire. As smartphone sales continue to rise and enjoy a sizable chunk of the market, the pace of innovation is blazingly fast as different brands try to woo customers, and mobile phones are slowly morphing into devices we could scarcely imagine some time back.
V. Tablets go mainstream - Tablets will drive out netbooks, become more mainstream. In a matter of speaking, tablet sales will hit the stratosphere!
In today's day and age, tablets aren't exactly a dime a dozen. They're easy to get, but they aren't exactly cheap or inexpensive, with most of the good tablets still a bit too expensive. Of course, the smartphone industry has eclipsed everything in the consumer electronics domain, and cast a huge shadow on other technology products. But with tablets being a natural extension of smartphones, expect a bombardment of tablets this year that will flood the markets with enough and more brands and models. This abundance of products to choose from will eventually help bring down costs across the board, right from the most inexpensive tablet to the most expensive one. This year is a good time to be a tablet enthusiast.

VI. Apps to do it all - All hail the app internet, rise of smarter apps. Apps will increasingly become personal windows to the Web.
A combination of factors is helping drive the smartphone and tablet industry to ever greater heights. Great hardware alone can't make a successful tablet. An important ingredient of the winning formula is the abundance of apps available for the customer, whether it's an iPad or Android tablet -- just ask the PlayBook guys. A crucial component of the tablet experience is the apps you interact with, be it games, feeds, or any other activity. But there's a significant, almost fundamental change happening in the way these apps function, and going forward they're going to be our gateways to the internet.

VII. Malware takes its toll - Atleast 35% of Indian mobile users will click an unsafe link. Global mobile malware business will turn profitable in 2012.
While it's all exciting on the smartphone and tablet roadmap all through this year, there's a grim forecast emerging from security watchdogs monitoring malware trends. McAfee, Kaspersky, and other security specialists are unanimous in their prediction that Android smartphones will be the most targeted in 2012 -- 75 million unique malware samples by December 2011, according to McAfee, and most of them targeting Android. With close to 1 million device activations daily, there's no wonder why spammers and scammers are targeting Google's mobile OS.

VIII. Casual gets Serious - Handheld gaming goes beyond social games. The party begins with better hardware and cloud integration.
In many ways, 2011 was the year for social games on mobile devices. While the theme isn't going to disappear in a hurry, casual games with better graphics seems to be an emerging trend for handheld devices in 2012; also gaming on a cloud infrastructure.

IX. Visual Vistas - Flexible displays and the world beyond 1080p. Qualitative tweaks in display technology this year
On mobile devices, the display is an essential part of the buying decision. How much pixel does it pack? Is it Super AMOLED? Gorilla Glass layer? No end to customer nitpicking. This year will see the introduction of some new technology that will both amaze and excite the user's perception of display screens. One of the most anticipated trend in mobile.
X. Where house? - Online shopping estimated to cross $10 billion. Will witness increased consumer confidence.
Slow to take-off in the early years of internet, online commerce or e-commerce is rapidly picking up pace in India, and one of the fastest growing sectors of business and investment. By the end of 2011, the overall e-commerce sector was approximately worth around `50,000 crore, just shy off the US $10 billion mark. The #1 e-commerce website in India is IRCTC, and travel constitutes over 80 per cent of total money spent on e-commerce websites.