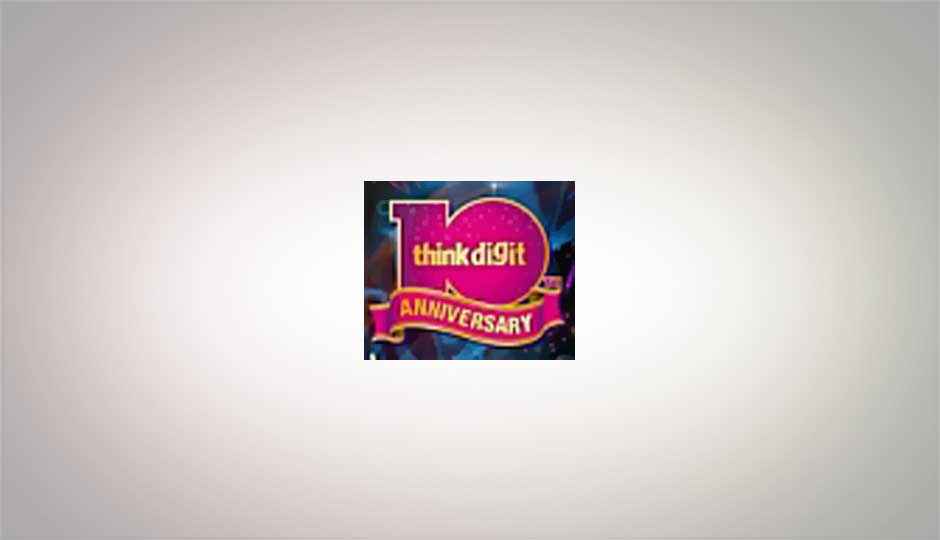 Digit – "Your Technology Navigator" turns 10 today, and as we celebrate 10 years of Digit Magazine with a Mega Anniversary issue, ThinkDigit celebrates its successful 10 years with you, the largest community of technology enthusiasts in India.
Over the past 10 years of covering the personal technology space, we at ThinkDigit along with the community have witnessed how technology has changed our lives and transformed our world tremendously. From desktop computers in 2001 to tablets in 2011, we have enjoyed our journey of discussing, debating, recommending and disseminating technology with you and cherished every bit of it. Join us in celebrating 10 wonderful years and raising a toast to an even more engaging and technology-laden next 10 years.
Celebrate 10 with the free ThinkDigit Android App (beta)

Our first attempt at an Android app, home-brewed as a small project, it is an early "beta" build. We look forward to positive reviews and encouragement to go all out and build a mega digit app with exclusive content soon for all mobile platforms.
While the ThinkDigit Android app is available for direct download now, to install it, you will have to enable "Install from other sources" on your Android device. Soon, the app will be available on the Android Market, where it is currently awaiting approval. Downloading and installing will become much simpler then. Check back to know when this happens, or subscribe to our newsletter to stay up-to-date via email.
Also note, that we will be updating the ThinkDigit Android app regularly over the next two weeks - so, please do share your feedback and suggestions with us at apps@thinkdigit.com, especially in this period, to help us make it the best app it can be. Download the ThinkDigit Android app (beta) here.
| | |
| --- | --- |
| | You can also download the ThinkDigit Android app (beta) by scanning the above QR code. |
Introducing Digit Top 10 on our 10th Anniversary
Nothing but the best products make it to the list, the Digit Top 10 is your reference for checking-out the best in the market, you simply cannot go wrong when you pick one from this list. We reckon the Digit Top 10 will also see a lot of action in the comments section, we look forward to your opinions and critical views on which products should make it to the Digit Top 10 list and the ones that don't deserve a spot. We are starting the Top 10 section with the most debated and hot category of phones today, Top 10 Android phones in India. We plan to introduce 10 major categories over the next 2 months, generating a list of Top 100 products in India. We will constantly update (weekly) the Digit Top 10 listings as we test more products to ensure that the list is accurate as it can be, so do check the Digit Top 10 listings to find out which products are the best in the market at that point.
Once again, Team Digit thanks you all for the support, encouragement and participation that we have received and hope that the bond gets stronger as we move into some very interesting and exciting times ahead.