Pathfinder PRG110C-3 is another technological marvel from Casio R&D, and integrates the green evolution concept with modern technology to make an innovative creation which includes an altimeter, a barometer, a thermometer and a digital compass.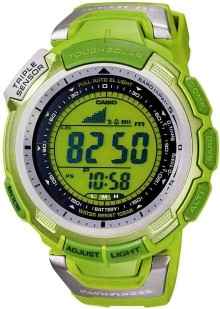 The integrated view of these gadgets at work is a treat to behold, including the 'green' eye-candy theme of the watch. And with a solar powered battery that recharges itself under Nature's care; you have an amazing piece of technology symbolizing the 'green' revolution. It might save a fraction of three billion batteries that are used and trashed by Americans annually on average, and when scaled to a global level, save a lot more.
This masterpiece of green technology is exclusively sold by Amazon and available only in 'green'. It's a perfect 'green' product sold at: MRP $250 (11,376 Approx.) quite on the expensive side!