I think it's safe to assume that hybrids as an amalgamation of a laptop and tablet are here to stay. It's the ultimate fusion of two categories that are high in demand – one, as a content consumption medium, and two as the ultimate mobile content creation device. Given the uber tech nerd that I am, I've been rooting for the category since I checked out my very first laptop and tablet device all those years ago. When the much-awaited fusion
Couple of years ago when I last wrote about them I was rather cynical about the whole segment, even though I craved for a 2-in-1 device that worked like a laptop when I wanted it to and also allow me the flexibility of using it like a tablet with a touchscreen. Back then I thought the space hadn't matured enough, every manufacturer was either over cautious or way too exuberant in their imagination of what the ideal laptop-tablet hybrid should be like. Because it was a new product category at the time, manufacturers were demanding a lot of money from customers to be afforded the privilege to own a hybrid.
Devices that truly worked as they should have both at a functional and aesthetic level only existed at the premium end of the market at a very high price. However, the 2-in-1 tablet-laptop hybrid devices are now available in 10 or 11-inch form factors, which is making it a lot more affordable than ever before. I've definitely looked at quite a few tablets announced and launched through last year and the beginning of 2016 – you know me, I like to keep a close eye on every new development in technology, not just here in India but all around the world – and what has me really excited about budget hybrids is the fact that they now come with detachable screens. Yes, this is not a completely new trend, I confess, but at the budget end the machines have gotten really sleek and sexy. What's more, the good ones seem to come with detachable screens – unlike rotatable screen that transformed the laptop into a rather thick, unwieldy tablet.
Another development in the budget hybrid space which I approve of is snap off magnetic latches on the screen and keyboard hinge. This has really unlocked (pun intended) the true potential of hybrid devices, in my opinion. This single biggest design feature makes a significant difference in how you use and perceive a hybrid device in your day-to-day life. I hope more manufacturers accept this trend and stick with it, because it's the right thing to do, in my opinion.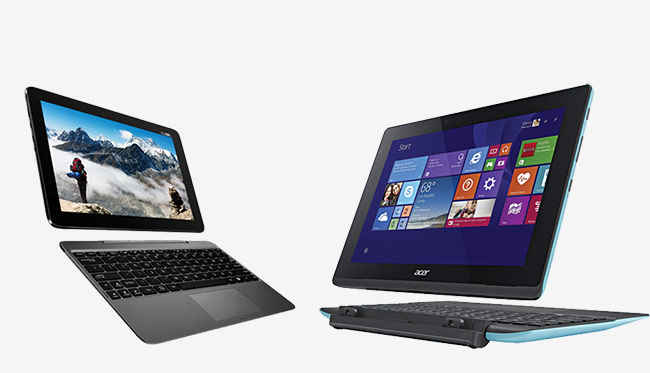 Hybrids are gaining popularity these days
I've taken a look at more than a few hybrid 2-in-1s that are sporting these and let me tell you the build and ease of use has really improved over the years. I really like the Acer Aspire Switch 10E's detachable hinge; ditto with the ASUS Transformer Book T100HA. The hinge lock on both their respective screens is snappy and secure, something I wouldn't have said a couple of years ago for sure. Although, I haven't tried it yet but from the looks of it the 10-inch HP x2's snap off hinge design seems very similar to the Acer Switch 10E's. This is the right evolutionary path for hybrids, in my view.
While hybrids with detachable screens are appearing in increasing number, 2-in-1s with 360-degree rotating screen hinge – the ones seen on Lenovo YOGA, for instance – are still prevalent in the market. Personally, I think this trend needs to end soon, because it's doing more harm than good, especially at the low-end hybrid market – I'm talking about the 10-inch form factor here. My rationale is simple – when I want my 10-inch hybrid to behave like a laptop, I appreciate its keypad. But when I want to kick back, relax and use it like a tablet, I don't want the keypad stuck to it – because it makes the tablet unnecessarily fat and bloated. Really bad.
Micromax's Canvas hybrids are the only ones selling at the Rs.11,000 mark. Acer, ASUS and HP's detachable hybrids are priced higher. Nothing separates them in terms of core performance – it's a question of picking the least slowest device, to be honest – and it all comes down to features, build and design. I recommend buying hybrids with detachable screens priced around the Rs.20,000 mark, if you really want to enjoy the best of both worlds. However, try to test drive them at an offline retail store before purchasing one online – hopefully at a discounted price.
Other Popular Deals
Samsung A7 2016 Edition Golden

Rs. 18990 *

Buy Now

OnePlus 6 (Mirror Black, 6GB...

Rs. 34999

Buy Now

Mi Redmi Y2 (Gold, 3GB RAM,...

Rs. 8999

Buy Now
*Includes Cashback
​