It's April Fools' day. It's not just your friends, family, and co-workers who are pulling out all the stops to embarrass you and share a few laughs in the process, but also tech giants. So, what is the best way to fool someone on April 1 in 2014? You try and exploit some of the hottest trends that have customers and industry watchers drooling in anticipation.
That's exactly the plan that Samsung and HTC seem to have had, going by their April Fools' joke unveiled (and identified) some hours ago. Both these tech companies had a common idea of exploiting the fast exploding world of wearable tech to trick their unsuspecting followers. All in the name of good fun, of course.
Samsung Fingers
Samsung's had a promising start in the world of wearables, with the Galaxy GEAR and GEAR 2 smartwatches. So no surprises why it wouldn't think that an April Fools' gag around the same category wouldn't bear fruit.
Hence, Samsung unveiled "Samsung Fingers", which it claims to be an "all-over-hand wearable device featuring a flexible Super Emo-LED for the technology-sensitive consumer." Way to go, right? If that wasn't enough to get you hooked, here's more…
"Samsung Fingers is the slimmest (0.2mm) and lightest (1g) wearable glove by Samsung and comes with a wide 3 inch flexible UHD Super Emo-LED display. Combined with an advanced 16 megapixel camera, Samsung Fingers offers the best-looking selfies you get your hands on. Samsung Fingers also supports the latest, fastest networks including 5G and Wi-Fi 902.11wz so you can keep in touch with the latest. Boost your creativity with dedicated features such as Finger Painter and S-tut."
If that's too difficult to understand, take a look at the following pictures. Samsung Fingers promises to empower your hand with technology unlike any other device in the market today, according to its April Fools' deception.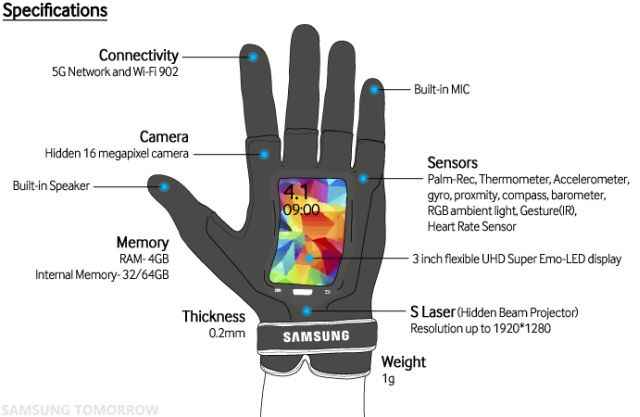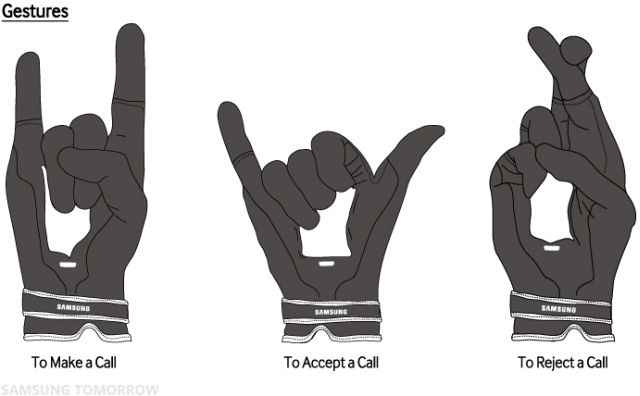 HTC Gluuv
HTC has had a slightly less convincing but nonetheless fun attempt at putting a spin on wearable tech for this April Fools' day with its Gluuv wearable device. Compared to the Samsung Fingers, at least the HTC Gluuv is not just a series of sketches. Images point to a nice product that we'd all like to put our fingers into (wouldn't you?).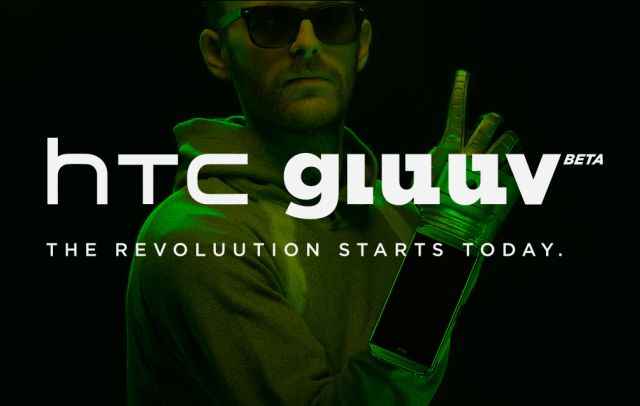 The HTC Gluuv (still in beta, mind you) is designed to be integrated with the HTC One (M8) smartphone. What this futuristic wearable tech glove promises to do is to allow Gluuv users the ability to conduct holographic video calls. Not just that, but by unlocking the potential of hand gestures, you can make social media interactions extremely convenient.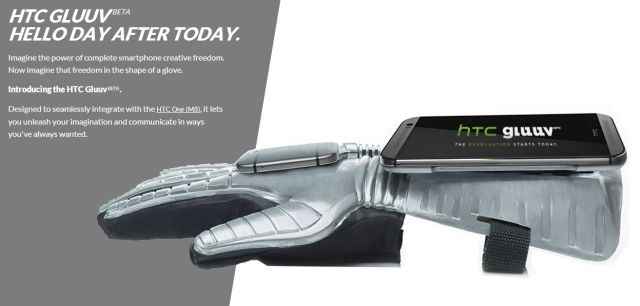 What's more, the HTC Gluuv easily overcompensates for the HTC One's (M8) depressing 4MP Ultrapixel camera… by packing in its very own 87.2MP clicker that will give all existing smartphone cameras a massive inferiority complex. Forget all the techno-geekery packed into the Gluuv… we love it for its futuristic appeal and its style quotient that's a cross between Daft Punk and Star Trek (and of course, the Nintendo Power Glove).