Facebook is adding a new feature that allows users to provide feedback related to posts. As a part of the feature, you will see two buttons below posts that ask them whether they wish to see more or fewer posts like it. The feature will help you fine-tune your feed and see less of what you don't like. As Meta is rolling out the update, it might take a few days for the feature to show to everyone.
How does the new feed customisation feature work?
In its official blog post, Meta says, "we're announcing new ways to customise what you see in your Facebook Feed so you can discover what's more relevant to you." The new ways include two new buttons appearing below posts in your news feed, including 'Show More' or 'Show Less.' As the name suggests, pressing the Show More button for a post will ask Facebook's algorithm to churn out more posts like it by temporarily increasing the ranking score of that post and the other posts like it.
Similarly, you can tap the Show Less button below a post, and Facebook's algorithm will temporarily decrease its ranking. However, the controls might not appear under every post as Meta says that Facebook will "periodically show this on posts in Feed." Soon, you'll be able to access the Show More and Show Less buttons by tapping on the three dots at the top right corner of a post. Facebook will also deploy the buttons for Reels.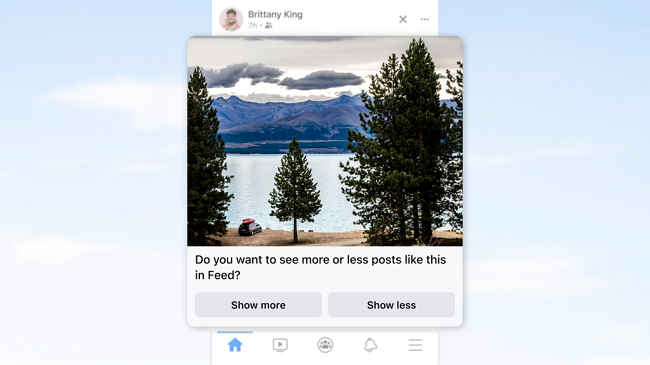 Facebook also has other feed customisation features in place
Clearly, Facebook wants you to feel at ease with your news feed as it adds more feed customisation features. The social media platform also allows you to hide specific posts and tweak the feed preferences among friends and family, groups or pages/public figures. Back in July, Facebook also released a Feeds tab as users complained about seeing too many recommended posts in the Home tab. The Feeds tab only shows posts from your friends,
For more technology news, product reviews, sci-tech features and updates, keep reading Digit.in.
Tags:
Meta
Facebook
Facebook Show More button
Facebook feed customisation