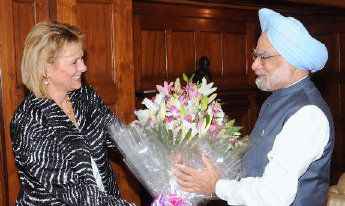 Yahoo CEO Carol Bartz meets Indian Prime Minister
Manmohan Singh to discuss the Unique Identification project
Image Credit: The Hindu Business Line
It seems that having data on 1.2 billion people is proving to be irresistible for big IT firms. After Microsoft and IBM previously showed interest in India's Unique Identification project, Yahoo and Cisco are now lobbying for the same.
The Unique Identification Authority of India (UIDAI), headed by former Infosys chairman Nandan Nilekani, is looking to give unique ID cards to every one of the 1.2 billion-strong population of the country.
Yahoo CEO Carol Bartz met Prime Minister Manmohan Singh on Wednesday and is reported to have lobbied to "help" the government with the project.
"The UID project involves a huge database. We, at Yahoo, have expertise in handling such huge amount of data. We met the Prime Minister today and discussed, among other things, how Yahoo can help the Government in the project," Bartz told reporters later.
"There is no commercial interest involved in offering Yahoo's services for the UID project. We have been in India for many years. It is time to pay back to the nation," Yahoo India (R&D) VP and CEO Shovick Mukherjee told the
Business Standard
. Call us skeptical cynics, but we find that a bit hard to believe.
Meanwhile, it seems that another Silicon Valley giant is looking to get in on the UIDAI project. Renowned networking and data management firm Cisco is said to be in active discussions with major players for the project.
"We are in talks with Mr. Nilekani on how to help and the kind of role Cisco can play," Padmasree Warrior, Chief Technology Officer, Cisco Systems, told
The Hindu Business Line
on the sidelines of the BangaloreIT.biz conference.