At the first ever Next@Acer global press conference Acer unveiled and launched a number of new products and we were there to cover it all. The conference, held at the iconic 4 World Trade Center in New York, served as a backdrop for new devices which Acer believes will improve people's lives in two functional areas: work and play.
The products launched can be categorised into broad buckets such as productivity, education, entertainment, gaming and connecting.
Jason Chen, Corporate President and CEO of Acer began the conference on a high note but also cautioned the audience with the way the PC market has been floundering. "More consumers will exit than enter this segment," he warned. "All 4-5 players in the PC industry are survivors. Acer will be the last man standing for the PC industry." he added.
The new range of products showcased and launched here are part of Acer's "back to school" season line up. This lineup for Acer represented a wide gamut of products -- from 1-inch to 100-inch devices. On the one inch side you had devices like the 1-inch Liquid Leap Fit and Curve, which are wearables, to the U5320W ultra-short throw projector that can project images up to 100-inches wide.
Some of the more interesting products are highlighted below. You can check out the detailed specifications about the best products here.
2-in-1s and convertible laptops (hybrids)
This product category ruled the roost at the event. Acer launched the Aspire Switch 10 E and Aspire Switch 10 – both with 10.1-inch screens and featuring Intel Atom quad core processors. The Switch 10 E is the trendier of the two, featuring six colour options, while the Switch 10 is inspired by the Aspire S7 – it had a glass lid and so does the Switch 10. No camera here, though, unlike the Switch 10 E.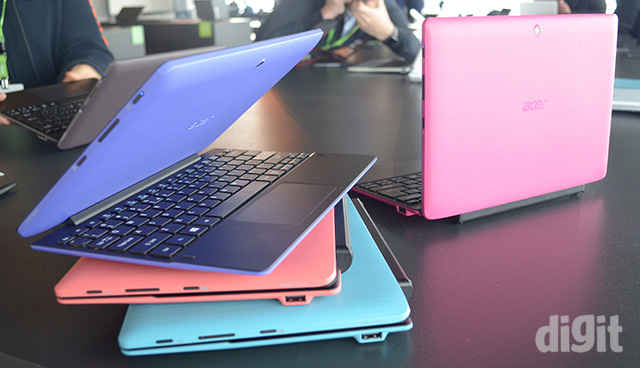 The 2-in-1 notebook series, Switch 10 E above, comes in a variety of colours, capable of running 12 hours in a single charge
Wearables
Acer's wearables strategy seems to follow a two pronged approach – create devices that enable fitness tracking as well as those that are fashionable and style accessories of sorts. To this end the Liquid Leap Fit can track not only regular things like heart rate, steps taken, etc., but also your stress levels. This is done through two gold plated sensors that measure your galvanic skin response. All that stress data isn't meant to reduce your stress, obviously, but rather to give you a historical data-backed timeline so that you can perhaps avoid regularly occurring stress-inducing activities. We had a chance to speak to S. T. Liew, Acer's President for Smartphones and Wearables, about this technology and he revealed it had been developed in conjunction with a few researchers from MIT. We will publish a detailed interview with S.T. Liew soon.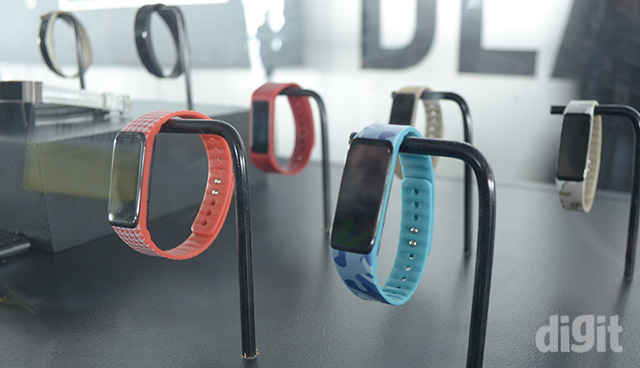 The new line of Liquid Leap wearable bands will be able to measure your stress levels along with your heart rate
The other device showcased as part of Acer's upcoming wearables lineup was the Liquid Leap Curve which is more high end compared to the Leap Fit and is more fashion focused. The showcased wearables are all Linux based but connect to Windows based phones and devices.
Notebooks
The notebooks category saw a whole bunch of launches and refreshes. A highlight was the new Aspire V 15 featuring a premium textured aluminium top cover imprinted using Acer's advanced nano-imprint technology. But it's not just about aesthetics here. Powered by a 5th generation Intel Core processor and packing the NVIDIA GeForce 940M graphics, the Aspire V 15 seems to be a powerhouse geared for gaming and entertainment. With up to 16GB of memory and 2TB of hard drive storage or a fast 1TB SSHD, its specs get even more impressive.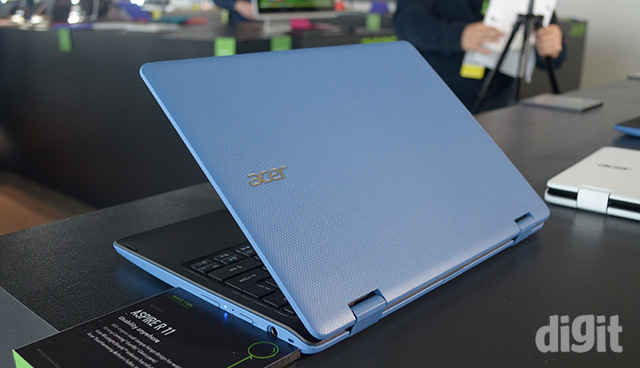 The Acer Aspire R 11 is an 11.6-inch convertible laptop that features a Gorilla Glass screen
Acer's E series – its most popular one – got a refresh, and now features a variety of colorful interiors to choose from and a new textile pattern cover manufactured utilizing laser engraving. The press conference also saw the launch of an entirely new series called the Aspire ES series which is supposed to balance productivity and portability while being ultra-affordable at the same time.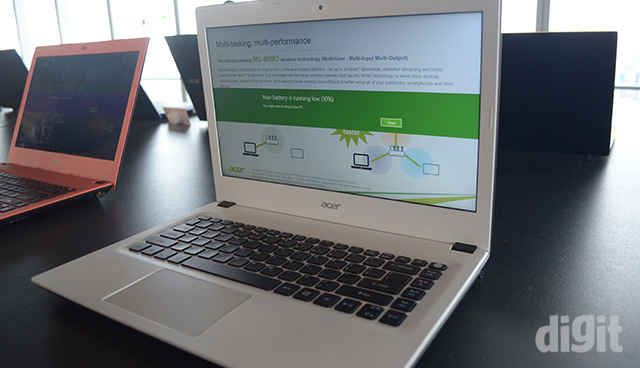 The fresh Acer Aspire E Series now comes in attractive colours in 14-inch, 15.6-inch and 17.3-inch variants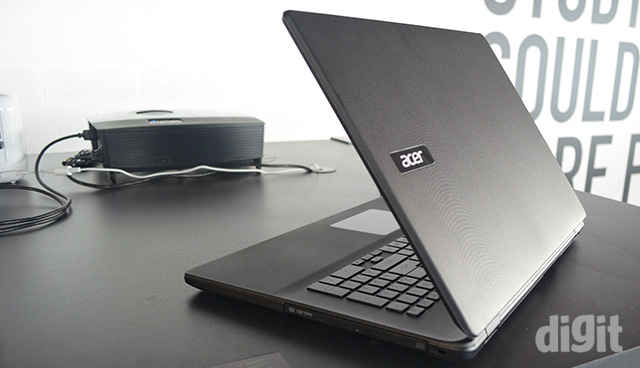 The new Aspire ES Series ranges from 11.6-inch to 17.3-inches and claims to provide a balance between productivity and portability
Chromebooks
The conference saw the launch of the world's first 15-inch Chromebook. The new Acer Chromebook is slated to come in three SKUs. The Broadwell micro-architecture based black one is meant for educational or commercial use, while the white version will be available for consumers and there is a third SKU that is based on Baytrail which will be entertainment focused. The kicker? You can stand on the education SKU laptop and nothing happens to it.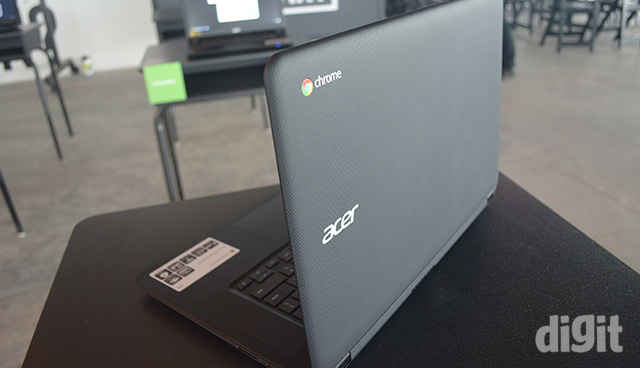 The world's first 15-inch Chromebook, the Acer Chromebook 15 (CB3-531) lasts for upto 11 hours on a single charge
Tablets
Two brand new Acer tablets were also launched – both featuring Intel processors. The first one was the Iconia Tab 10 tablet for education while the trendier one was the Iconia One 8 with advanced touch capability. Advanced touch capability enables regular pencils to be used on the tablets. No need for a capacitive stylus here.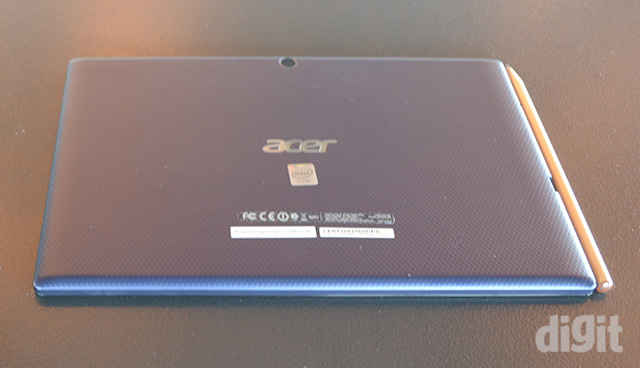 The Iconia Tab 10 is a 10.1-inch tablet that is directed towards classrooms and is also a part of the Google for Education scheme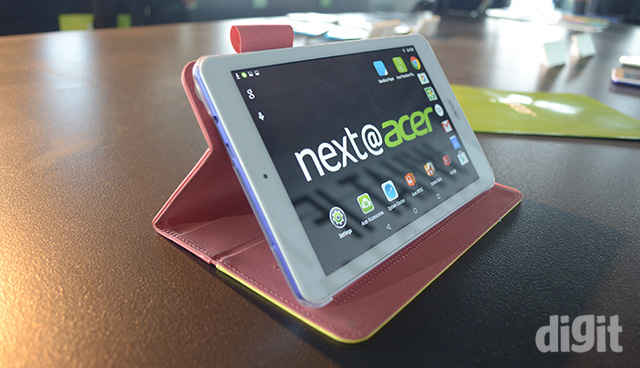 The next tablet, Iconia One 8, is an 8-inch budget-friendly tablet, providing upto 8.5 hours of battery life on a single charge
Smartphones
Acer's Liquid M220 and Liquid X2 was showcased at the event. The Liquid M220 is slated to come with Windows 10 when it launches. S. T. Liew from Acer believes this will be a successful model in the Indian subcontinent. The Liquid X2 that comes with a massive 4000mAh battery, houses 3 SIM-card slots.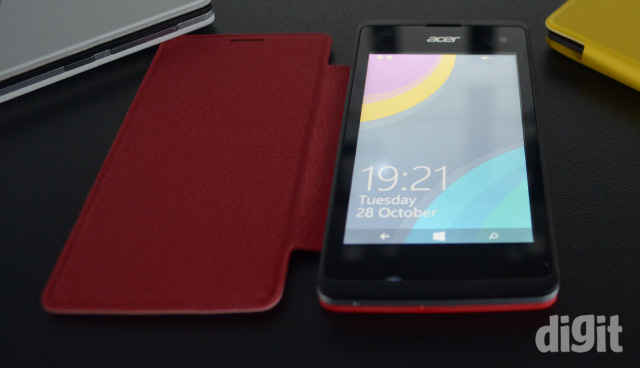 The Acer Liquid M220 smartphone running on Windows Phone 8.1, will support the free upgrade to Windows Phone 10.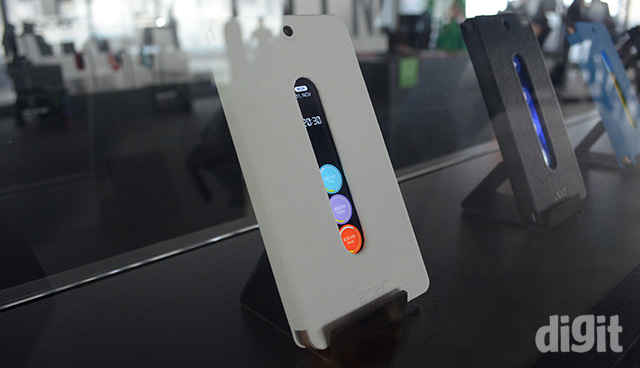 Packing a huge 4000mAh battery and 3 SIM-card slots, the Liquid X2 is Acer's new phablet
Gaming
Acer plans to get serious about gaming going forward. It unveiled its plan for the Predator family of devices designed for hardcore gamers across multiple form factors – tablet, desktop pre-assembled PC, and laptop. The Predator design language looks quite aggressive and chunky – in line with Dell's Alienware and ASUS' ROG series of products – and we're quite curious to see what it has to offer in terms of performance. Acer also demonstrated an industry first – a 34-inch curved gaming monitor featuring NVIDIA G-SYNC technology.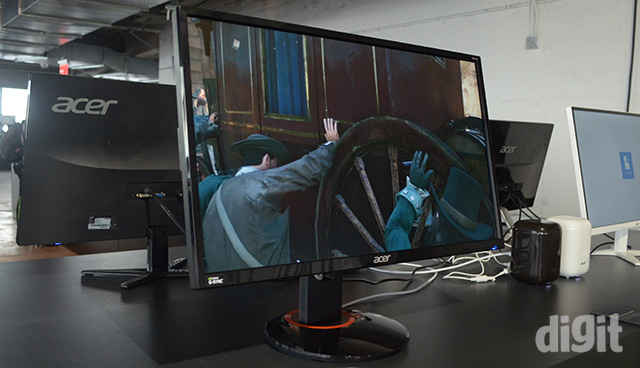 The 27-inch (2560x1440) Acer XB270HU gaming monitor that features NVIDIA's G-SYNC technology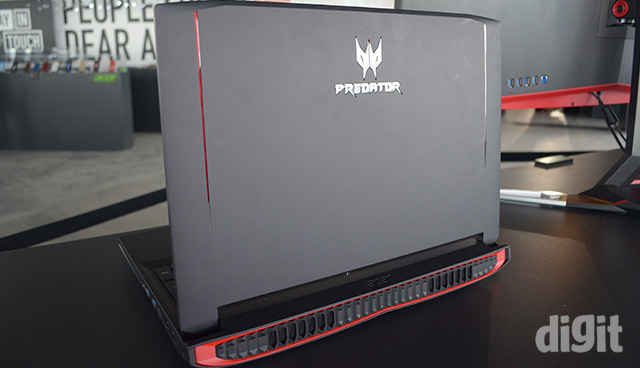 Shipping in Q3 2015, the Predator laptop will be available in both 15-inch and 17-inch configurations
All devices launched and showcased at this event will get free Windows 10 upgrades including the smartphones, tablets, notebooks, and desktops for a consistent user interface across devices, whenever Microsoft's upcoming OS launches later this year.
Other Popular Deals
Samsung A7 2016 Edition Golden

Rs. 18990 *

Buy Now

Redmi Y2 (Dark Grey, 4GB RAM,...

Rs. 10999

Buy Now

Redmi Note 5 Pro (Gold, 4GB...

Rs. 12490

Buy Now
*Includes Cashback
​