Swedish developer Zoink and Sony have announced that the publisher's new game, Stick it to the Man, will be launched on the PlayStation 3 and PlayStation Vita.
The game is in many ways similar to Media Molecule's upcoming PS Vita game Tearaway, but eventually takes a whole new direction."It's a mix of platforming and adventure games," Zoink's Klaus Lyngeled explained, and focuses on a "poor guy called Ray, who ends up in [a] coma and wakes up with a 16-foot pink spaghetti arm sticking out of his head."
"The arm gives him the power to actually listen to anyone's thoughts, which he hears as an inner monologue. But that's not all – he can also put thoughts into people's heads, change what they think about, and even pull objects out from people[']s thoughts."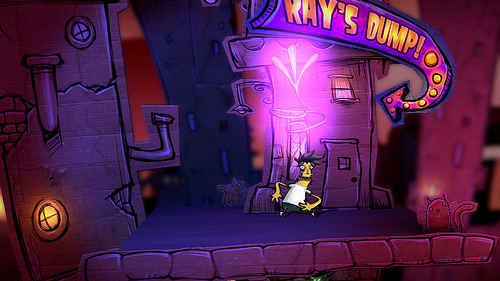 The game has over 100 characters to mind read and " more than 10 hours of voice acting according to Adventure Time writer Ryna North.
Lyngeled has confirmed that the game will be unveiled by the end of this year on both PS3 and Vita.Still on board, the studio will showcase more of the game before its final launch, with a playable version at E3 next week.
Source: IGN