Quite Attarctive
The game is attractive and graphics are superb . The will blooming the market .Cheap price is also one point that people will like t buy it .
See More
mind blowing game
this game allows full experience of real hacker in totally open world.as similar to gta series, its gameplay is depend on the strategy of player and skills. its graphics is dashing and its effects is more realistic as compared to other open-world games.
See More
Something New for Game Lovers
A delightful open-world playground with terrific graphics, lots of activities and brilliant hacking gameplay. Poor plotting and the lack of a more courageous treatment of its up-to-date scenario keeps Watch Dogs from playing in the same league as Rockstar\'s masterpieces.
See More
A must buy
Watch Dogs is an opened endedgame there are no cons here. Ubisoft have done a really nice thing. and its my personal favourite hacking concept. Well guys Watch Dogs is a very nice game I have been playing it. And for me there are no bugs. It has some really gr8 missions and it is hard to complete the gameand Hacking is our Weapon
See More
Watch Dogs is exactly what you think it is. Its Assassins Creed 4 meets GTA 5 meets Batman Arkham City.......
The plot focuses on the high-tech exploits of Aiden Pearce, hacker and self-styled vigilante. Hes a bit of a dullard, really, and prone to occasional bouts of hypocritical self-reflection (in between shooting men in the face, and running down hobos). Before the action starts we learn that Pearce and his partner Damien get involved in a risky hack job at a hotel, a mission that goes hideously wrong and ends up with an unknown villain retaliating against Aiden. His niece, Lena, dies in the crossfire and so begins a classic tale of one mans quest for answers / revenge. For all the games reliance on tech, its the basest of human emotions that drives the story forward, which is either a clever nod from the developers or a lucky coincidence. Im giving you the benefit of this one.
See More
Awesome Game,could have been better
Just a watch dogs fever you could say,pre ordered the game,coming to the game its pretty good,you hack the ctos accomplish missions as Aiden Pearce,but the gameplay is a pleasure the graphics is awesome every detail is hq.What you can do in the game is enormous,it will pass your time like air.But when you drive a car the driving experience is not that good,like gta 4.The story is touchy.You can hack traffic lights,cctvs,cell phones and what not.Love the graphics.The pc experience was told to be better than consoles which is not.You may get stuck at some point.The technological base of the game is futuristic.Thats what we all love.
See More
the gameplay is good but the graphics should have been made by amd cause it would have been more aweome
Best Game after GTA V
Best in Graphics ! Best in Game play!Best for Hackers !Best for College Going Studs! Mature Sexual Content !Parental Guidance Advised !
See More
best play gamming
At times, Watch Dogs can seem like a game we\'ve played before, just another open-world city to speed through in a series of stolen cars, another crowd of hoods and hitmen to add to your body count, another moody, growling protagonist to endure in cutscenes. When it deviates from the familiar, however, it really soars: hacking the city of Chicago and all its cameras, utilities, and communications is freeing and fun, and invading the games of unsuspecting players is an unusual and welcome thrill.
See More
Over hyped, not worthy
I\'ll rate it 2.5. There r a lot of glitches in this game. Ya driving is really a pain, also d game dats designed 4 stealth gameplay doesn\'t allows u 2 hide d dead bodies of guards. Costume option cud hav been better like GTA series, after all it was d most anticipated game of d year (as hyped). The physics in dis game sucks, if u try 2 takedown a guard if u r on a height (like, on any crate) and d guard is on floor, it tackles it d same way as if dey both r on same level.I was very excited abt dis game after its debut at E3, but all that went in vain.
See More
Could have been hacked better !!!
Lets have a short and fast review, the campaign mode spans for about 40-48 hours, awesome graphics at ultra settings, you can carry unlimited weapons and gadgets, character personalization is quite limited to dress and cap, vehicle handling is bad,Large collection of cars, but few bikes,, medium sized map.Quite very engaging environment. At times you can possibly eliminate your enemies by interactive environment than just your weapons. Lots and lots of side missions. Overall the game could have been a lot more better.
See More
The New Form of Gaming
Totally awesome concepts, new form of playing.Go get the game and experience it yourself
See More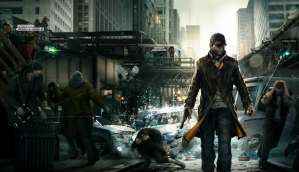 Have this Device?
Write a Review Now