UTV Indiagames has announced the launch of an official game for the Disney-Pixar movie, Brave, for the Java platform.
The game is set in vivid and beautiful Scottish Highlands and based on the protagonist of the movie, Merida. As per the storyline, the player, who assumes the role of Merida, is supposed to use his/her skills of archery to unfold the mysteries and save her family. User can also freeze opponents, shoot ropes, set fire with archery attacks.
Also, the player is supposed to solve various mysteries of a magical land. The game has five levels. To download the game, SMS 'BRAVE' to 55435.
"Disney Pixar's Brave has an excellent storyline which has all the elements adventure, mystery, action that lend itself into an engaging game, deepening the fantastical movie experience. With this Java game we want to reach out to 60 percent of India's mobile phone population." said Samir Bangara, Managing Director Digital, Disney UTV.
Disney's latest animation flick Brave has previously appeared as a Temple Run sequel for Android and iOS platform.
UTV India games has launched various India-centric games in the past such as Ra. One Genesis, T20 Fever 2011 and Mowgli in the Jungle Book. The gaming company recently hit 100 million downloads on the Nokia Store.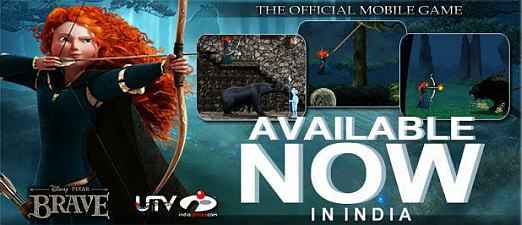 Brave official mobile game now available in India
Also read,