Temple Run 2 has added a new playable character, Usain Bolt - the fastest man on earth, for a limited period of time for its iOS users.
Bolt's digital character wears his iconic gold and green Olympic Jamaican garb, and is available for Rs. 55 for a limited period only. The character even performs the runner's trademark pose and has 3D graphics to make it even more lifelike. Players can run through steep cliffs, mines, zip lines and forests, in Bolt's avatar and will also get the new Bolt power-up.

This is not the first time Usain Bolt was used in a game – last year he launched the mobile game Bolt. The game was an instant hit and received positive reviews globally and got nearly 2.5 million downloads.
Keith Shepherd, co-founder of Imangi Studios, stated at the launch, "Personally, we are huge Bolt fans and watched him race to gold last year in London. We cannot think of a better personality and role model to represent the game and encourage our players to keep running."
Bolt added that he is very excited about his edition to Temple Run 2 as "people have always been tweeting at me that I should be a released character in Temple Run."
Temple Run 2 remains the most-downloaded app for iOS and Android users. It became the fastest-ever mobile game to reach 50 million downloads in just 13 days after its launch. The updated Temple Run 2 v1.4 for iOS users is available at the App Store and is meant for users with iOS 4.3 or later devices. This app has been optimized for iPhone 5 devices.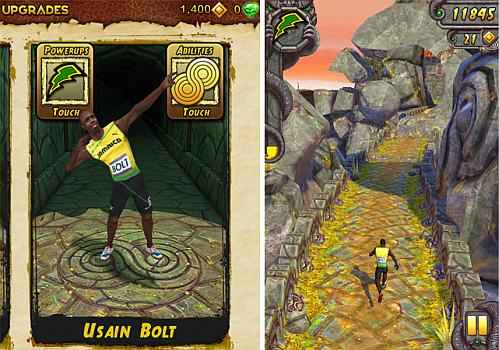 Source: AllThingsD