Temple Run is finally available on Windows Phone platform. The version launched on Microsoft's Windows Phone 8 platform is the original Temple Run game, not the recently launched Temple Run 2 (read our review).
"At the risk of stating the obvious, Temple Run sets you off on one of the most heart-pounding challenges ever," said Microsoft in a blog post.
"Swipe to turn, jump and slide as you race over obstacles and whip around corners on a pathway resembling China's Great Wall, all on your way to capturing hidden treasure. Collect coins, buy power-ups, and see just how far your feet can take you, with the beat of native drums setting your pace."
The original Temple Run has so far seen a massive popularity with more than 170 million downloads from Apple's App Store and Google Play since its launch in 2011. Following its success, Imangi Studios came up with a sequal for Android and iOS platforms – Temple Run 2. In the meanwhile, Imangi also tied up with Disney to launch two themed versions of the game called Temple Run Brave, and Temple Run Oz.
Temple Run is available for free on Windows Phone 8 platform. You can Download the game from here.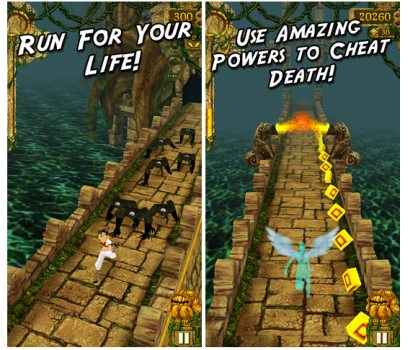 Temple Run for Windows Phone
Besides Temple Run 2, Microsoft has rolled out a slew of other games including the Gravity Guy 2, the next series of the popular Gravity Guy. The game priced at $2.99 is available for download now, and will be sold exclusively to Windows Phone for next month.
Other games that make their way to Windows Phone are Chaos Rings, 6th Planet, Propel Man, Orcs Must Survive, and Fling Theory. It's notable Chaos Ring is only available for Windows Phone 7.5 devices.
"New Windows Phone 8-compatible gaming engines make it much easier for programmers to quickly create Windows Phone versions of their Android and iOS games, so keep you eye on the Store in the months ahead for even more great titles to arrive," Microsoft's Michael Stroh wrote in a blog post Wednesday.