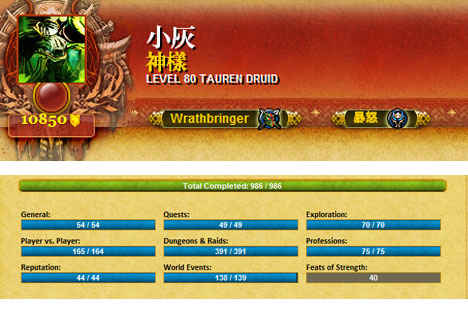 The current buzz in the World of Warcraft community is about a Taiwanese man who has "finished" the game. Technically it is not possible to finish an MMO game like World of Warcraft, since by design they are mean to be persistent. However, one could gauge this game's progress by tracking achievements offered by the game.

Our man here, who goes by the name of "Little Gray" (sounds kind of racist, doesn't it?), has reportedly become the first person to complete all of the 986 achievements; this is according to his World of Warcraft Armoury statistics. To understand why this is considered to be such a big deal, we need to look at some of his Level 80 Tauren Druid's stats. Little Gray has completed a total of 5,906 quest with an average of 14.58 per day, registered 4, 96,539 kills (his favorite victims are Humanoids) and died a total of 8,543 times.

However, it seems like some people will not let him have his glory until he completes one last achievement called "BB King", which is a World Events achievement. Apparently, he got around to 100% achievement on his stats by exploiting a glitch in the game. So the way it's poised, the community wants Little Gray to man up and legitimately reach this hallmark before he is fully recognized.