Sony announced the PSP2 early this morning in Japan, and called it a "Next Generation Portable" device. With the NGP, Sony looks to offer the "ultimate portable entertainment" using some killer hardware and cross-platform software.
PSP2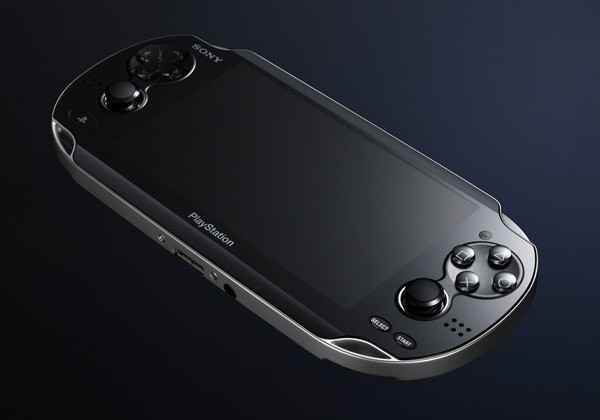 The PSP2 or NGP's hardware is certainly nothing to be modest about – it packs a quad-core ARM Cortex-A9 processor, dual analog sticks, front and rear cameras, dual rear touchpads, a high-resolution 960x544 pixel 5-inch OLED capacitive touchscreen, accelerometer/gyroscope (courtesy the PS Move controller), digital compass, GPS, and yes, both 3G and Wi-Fi connectivity. Check out full specifications at the end of the article.
Wondering where UMD went, and if it went the way of the PSP Go? Nope – looks like Sony is still sticking with removable media as the one of the means of game distribution, if not the primary, but the new SD card resembling media looks like it will be proprietary. It will be meant for both games and other software, apart from game save data.
Demos shown by various game developers from such companies as Capcom, Konami, Epic Games, Tecmo Koei and Sega showcased the PSP2's next generation graphics abilities, with the consensus being that it was nearly as capable as the PlayStation 3 console – if a little shy on the geometry front. Looking at Solid Snake below, it's not too hard to be convinced that this is not just marketing hyperbole. Kojima explained the demo was actual PS3 MGS4 game content, ported to run on the PSP2 – which ran it at the same detail level but a little slower – at 20 fps. Game titles include Resistance, Killzone, Little Big Planet, Uncharted, Metal Gear Solid, Monster Hunter, Dynasty Warriors, and more.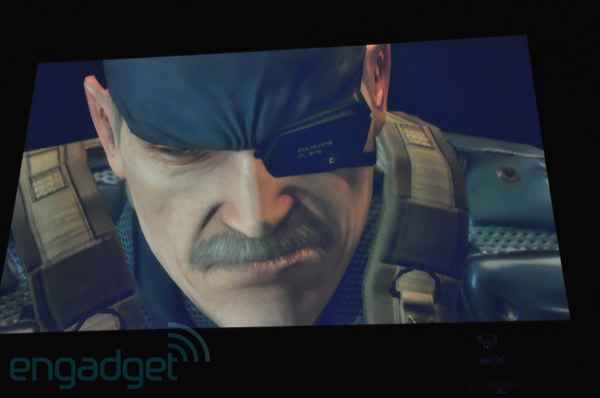 [RELATED_ARTICLE]As you can imagine, with a touchscreen, rear touchpads, and dual analog sticks in tow, the Next Generation Portable will certainly be offering a surfeit of input/interface options, and Sony calls it a revolutionary new interface. Gestures like "touch, grab, trace, push and pull" will be incorporated. The PSP2's menu UI etc., and looks to be a heavily customized Android 2.3 interface with navigable homescreens, and built in social-networking called LiveArea. LiveArea also includes location based connectivity and entertainment, where they will be able to chat with friends, keep track of their scores, the latest leaderboards, and what people are playing around them. The user will be able to seamlessly switch between LiveArea and the game...
The location-based interface also looks like it will also be partly responsible for game discovery. The NGP's UI and games can also incorporate augmented reality, using its two cameras.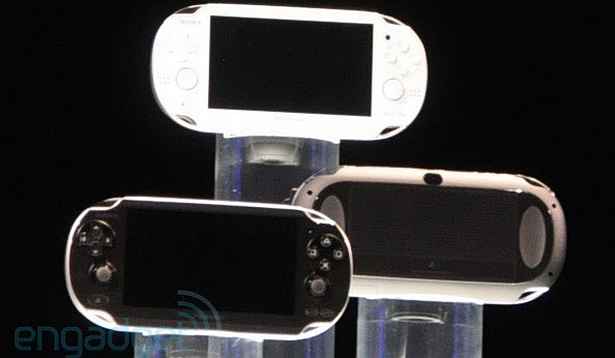 Sony plans to release the NGP only by the end of the year ("holiday" season) and we feel much of time the time remaining will be spent concentrating on creating the device's hardware-agnostic platform and library of game titles that will be called the PlayStation Suite. With the future unarguably moving towards converged devices, it should come as no surprise that the PS3 and PSP2 will one day share game titles, and this detail was certainly planted in the audience's minds at the announcement.
PlayStation Suite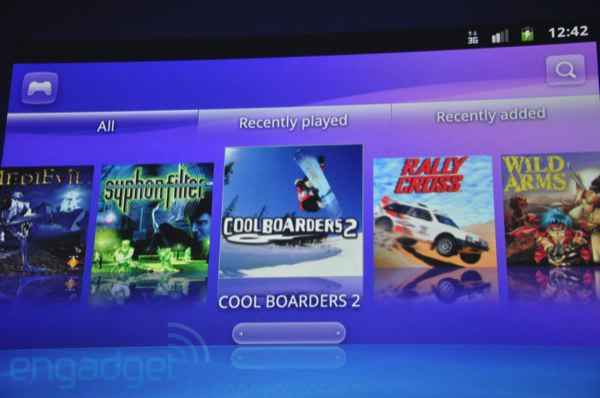 The PlayStation Suite of software and games titles will be based on a hardware agnostic development framework, and will work on devices operating on Android Gingerbread (2.3) or higher. This will obviously include the Sony Ericsson Xperia Play. To this end, Sony will soon be launching a PlayStation Store for Android, which will feature first party and third-party games that have been tested for quality and performance across 'PlayStation Certified' devices and platforms. To start things off, the PlayStation Suite for Android will offer emulated PlayStation One games.
The PlayStation Suite will undoubtedly support a variety of Android handheld devices, from tablets to smartphones, and will emulate the PSP2 controls on touchscreens for everything other than hardware PlayStation control bearing the Xperia Play.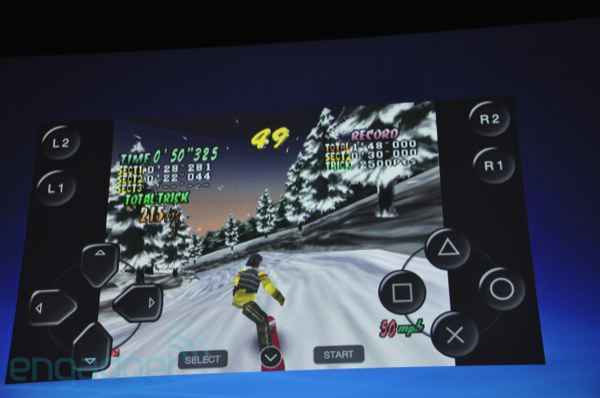 Next Generation Portable (PSP2) Specifications

| | |
| --- | --- |
| CPU | ARM® Cortex™-A9 core (4 core) |
| | |
| GPU | SGX543MP4 |
| | |
| Dimensions | Approx. 182.0 x 18.6 x 83.5mm (width x height x depth) (tentative, excludes largest projection) |
| | |
| Rear touch pad | Multi touch pad (capacitive type) |
| | |
| Cameras | Front camera, Rear camera |
| | |
| Sound | Built-in stereo speakers |
| | Built-in microphone |
| | |
| Sensors | Six-axis motion sensing system (three-axis gyroscope, three-axis accelerometer), Three-axis electronic compass |
| | |
| Location | Built-in GPS |
| | Wi-Fi location service support |
| | |
| Keys / Switches | PS button |
| | Power button |
| | Directional buttons (Up/Down/Right/Left) |
| | Action buttons (Triangle, Circle, Cross, Square) |
| | Shoulder buttons (Right/Left) |
| | Right stick, Left stick |
| | START button, SELECT button |
| | Volume buttons ( /-) |
| | |
| Wireless communications | Mobile network connectivity (3G) |
| | IEEE 802.11b/g/n (n = 1x1)(Wi-Fi) (Infrastructure mode/Ad-hoc mode) |
| | Bluetooth® 2.1 EDR (A2DP/AVRCP/HSP) |