Sony launched an India specific game for the PlayStation 2 and PSP platforms in which players can race around bullock carts, ridden by characters such as Shikari Shambhu, Supandi and Tantri the Mantri who are famous characters from Indian comic-lore. The arcade style game is titled – hold your breath – Cart Kings. Quite imaginative naming there, indeed, but judging by the reactions of kids lining up at the launch, the game itself may not be half bad. Of course in terms of graphics it is way behind and looks like a PS1 game, but gameplay-wise it might actually appeal to the intended audience – really really young kids. The game takes place in various Indian settings and landscapes such as Bollywood, Delhi and Tiger land. Players get to use corny powerups and weapons, such as chilly powder, soda bottles, and cow dung. No we're not bull$|-|*g here. Game modes include the standard fare i.e. split screen two player, time trial, quick race, and Championship which unlocks tracks. Watch the video for game play footage (following the trailer).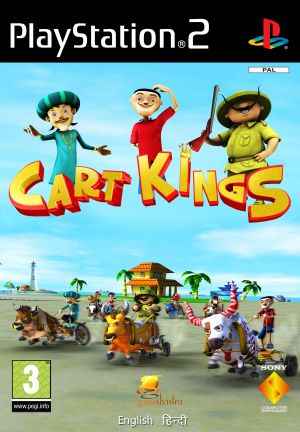 The game, developed by Gameshastra, is the fourth game release we've seen as part of Sony's partnership with Indian game development studios. The previous India specific games include Hanuman,
Desi Adda
, and Street Cricket Champion; developed by Aurona, Gameshastra, and Trine respectively. And do these games do well? Hanuman sold 95,000 units and Desi Adda sold 80,000 (on PS2). For drawing a reference point consider that the PS2 installed base in the country is around 6,50,000 consoles. Cart Kings is priced at an MRP of Rs. 699 for PSP and Rs. 499 for PS2.
Cart Kings is the first time Sony has worked with an Indian IP owner to licence characters that already have a following and a seeded base. Of course, Sony hopes to capitalise on this following while on the other hand for ACK media who owns comics Tinkle and Amar Chitra Katha, this is an opportunity to enter the interactive realm. With reading going out of vogue, bringing their characters to life on TV and the interactive (gaming) space is a logical step. Samir Patil, CEO and Founder of ACK Media wouldn't reveal the details of the deal though. Not even whether it is royalty or one time arrangement.
If by now you are wondering why this is a PS2 game and not for PS3 which is the more recent platform, so were were we. "As Indian game makers update their skillset, we will start to see games coming out for PS3 as well," said Atindriya Bose, Country Manager, Sony PlayStation - India. When would that be? "Well not later than next year", he added.