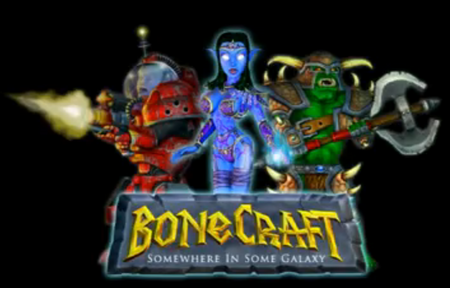 After our original Bonecraft post piqued the interest of some of our readers, I asked the game's designer, D-Dub, if we might be able to post a safe for work trailer on the site. Of course, it should come as little surprise that we've got different concepts of what precisely what qualifies something as "safe for work." That, after all, largely depends on where you work.
[RELATED_ARTICLE]I watched some of this trailer at my desk, but after the words "An Erotic Fantasy Quest, Somewhere in Some Galaxy" dissolve, things heat up pretty quickly. There's probably nothing on here that couldn't be show on, say, Comedy Central after midnight, but the subject matter may well get you a stern talking to from the boss.
For those who missed the first post, Bonecraft is a World of Warcraft/Starcraft parody from the folks who gave the world the erotic fighting game BoneTown. I spoke to a rep from the company who told me that it fancies itself something of an adult version of South Park.
There's a link to the trailer (we opted not to embed the thing on the site) and some relatively clean screen caps, after the jump.
Need more? Here's the trailer. Proceed with caution.

Copyright © 2010 Ziff Davis Publishing Holdings Inc.