The popular mobile game of late 90's, Snake, has made its return to the modern era and is all set to compete with other popular games such as Angry Birds, Fruit Ninja and NFS. Nokia has launched its classic game, 'Snake '97' for its Windows Phone-based Lumia phones. Since Nokia wanted to retain its classic-old look and feel, the Snake '97 looks exactly like the game that was available back then on the Nokia 5110. The Finnish company dubs the game as "realistic" Snake game.
The Nokia Snake game has the identical archaic sound effects and interface. Moreover, the touchscreen of the Lumia phone is transformed into a replica of a Nokia 5110, with the keys placed at the lower part of the screen. (As seen below in the image.) Users can control the difficulty level by hitting the settings key on the virtual keypad. By increasing the level, your snake will travel faster.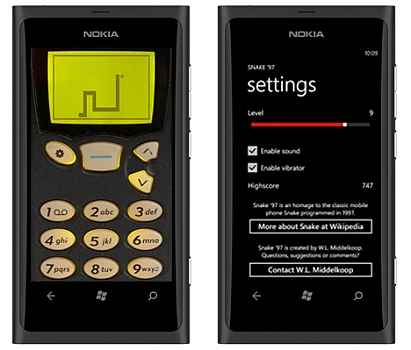 The Snake '97 game is available at the Windows Phone Marketplace for Rs. 55.