Angry Birds developer Rovio has posted a new promotional video on YouTube, revealing Angry Birds, Angry Birds: Seasons, and Angry Birds: Rio will be available on Nintendo Wii and Wii U consoles as a trilogy. The Angry Birds trilogy will be launched on Nintendo on August 13.
The promotional video starts with the Angry Birds gameplay and ends by displaying a boxed set of the trilogy meant for Nintendo's game consoles. The Angry Birds game maker Rovio promises over 140 hours of gameplay in 30 episodes as well as 40 hours of "bonus" gameplay in the promotional video.
The trilogy will support touch-screen controls, online leader boards, Wii U Gamepad and with TV swap capability. The game will utilize Wii U's Gamepad where users can use the touchscreen to fling the birds. You will also have access to online leader boards and can use Wii-mote to pull back on the slingshot and let go.
Recently, publisher Activision had announced the Wii U and Wii versions of the trilogy revealing that the game was a success on consoles as well. The Xbox 360, PS3, and 3DS versions of the Angry Birds game were released last year and a million copies were sold by February 2013.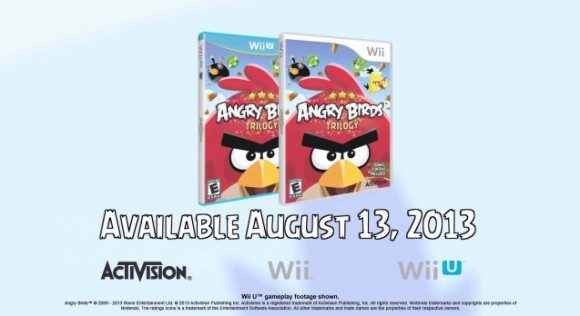 Rio had recently done a teaser for the new Angry Birds game called 'Angry Birds Go! A short preview of the game is available on go.angrybirds.com. In the preview you can see an animation of an Angry Bird running off into the canyon leaving smoke behind. Rovio has promised a late summer or early fall release date for game.